So, I've been on a bit of a flatbread kick lately.  It all started when Laurel emulated Cactus Club's flatbread.  SOOO good.  The great thing is that it can be a simple summer meal when served with a salad.  Or flatbread is the perfect appie to bring to a summer BBQ.  Here's another flatbread I have recreated after having one similar at a restaurant recently.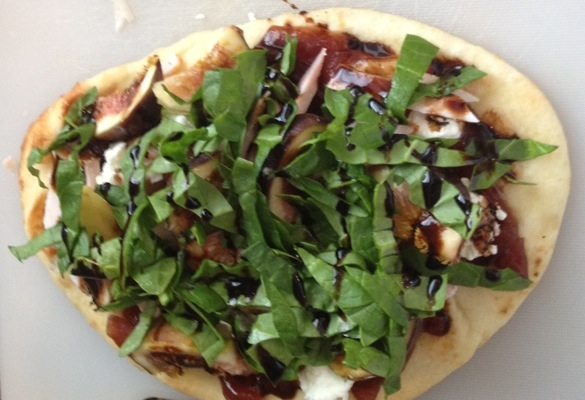 Chicken, Fig and Goat Cheese Flatbread
5 pieces of Naan bread
Sliced grilled chicken (you can use a roasted chicken from your grocery store or Lilydale Carved Chicken Breasts (fully cooked)
Carmelized onion relish (I used President's Choice found in the meat section)
Fresh or dried figs, sliced
Goat cheese, crumbled
Fresh spinach, sliced
Balsamic truffle glaze/reduction (I bought mine at HomeSense)
Heat up the Naan according to the package instructions.  Once out of the oven, cover each piece of Naan with a layer of the carmelized onion relish.  Add the chicken, goat cheese, figs and spinach.  Slice (a sharp pizza cutter works well) and then put on a platter for serving.  Drizzle with the balsamic truffle.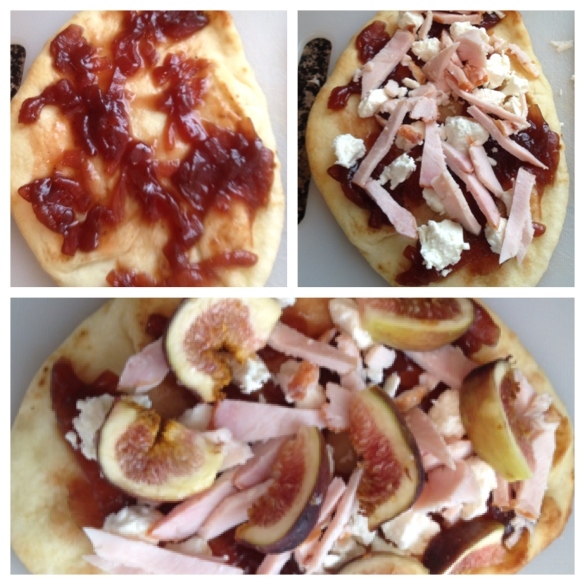 I have made this with both fresh Black Mission figs that I purchased at Thrifty's for $1.50 each…ouch!  But wow…they are REALLY good and incredibly sweet!  I have also used dried Kalamata figs that I sliced thinly.  They were still good, but if you have access to fresh, it's worth a splurge and you don't need more than 3 for 5 flatbreads.
It really is a simple recipe but packed with lots of flavor!!  You could even heat up the Naan on the BBQ!!  Enjoy!  Trust me, it's a party in your mouth!