I've had some of you ask if i have a favorite skincare line? Well, indeedy, i do! My teenage years were good to me…that is, when it came to my skin…let's not talk about haircuts, clothes or the "awkward stage". Shiver! So, breakouts and acne thankfully were not a struggle, but i have noticed that age has changed that a little. I tend to have dry skin, and i've seen some lines that have been making their unwelcome way, as well as a loss of the natural rosy look. To be honest, i should be banned from those silly magnifying mirrors you find in hotel bathrooms…literally, i can spend hours in front of one of those things, only to emerge with a seriously puffy red face and a low self esteem!! Scott thinks i'm a crazy.
So, i've been on the hunt for a good skincare line. My only conditions? It had to work and i didn't want to have to sell my children to pay for it. (i will admit, one day…yes, one day, i will try La Mer..sigh).
About a year ago, i happened on the Benefit line, when at an Ulta store. I've been using it ever since and i can truly say i love it!! I am also a sucker for pretty packaging..and Benefit does not disappoint!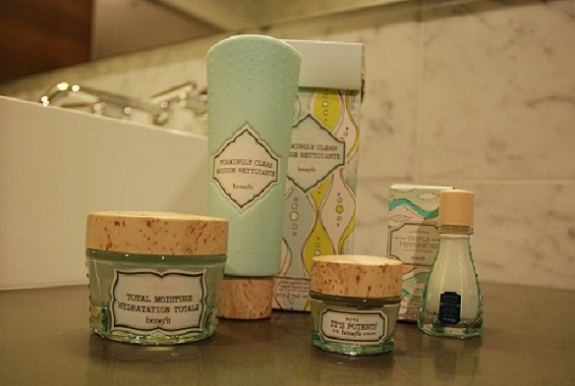 I'm not into using a ton of different products, so this Benefit line works great for me.
The 4 products are:
1. Foamingly Clean- a One Step Facial Wash
2. Total Moisture- a Hydra-Concentrated Facial Cream
3. It's Potent – Eye Cream
4. Triple Performing Facial Emulsion – Facial Lotion with SPF 15
Look for Benefit at Sephora, Ulta and, locally, at Shoppers Drug Mart. I love that it's readily available….because like most things in my life, i'm not that organized. The day i can't squeeze another ounce outta my cleanser bottle is the first time it dawns on me, that i should be buying more!