Spring has definitely sprung on the west coast….at least for now!  I'm itching to get my patio furniture out and start enjoying the yard.  Even though our summer season is rather short, I love outdoor rooms and often envy those in climates that can enjoy their outdoor spaces for months on end!  In any case, I love comfortable, cosy outdoor spaces that beg you to lounge and maybe even catch a nap outside!
Recently we added a covered area to our back patio.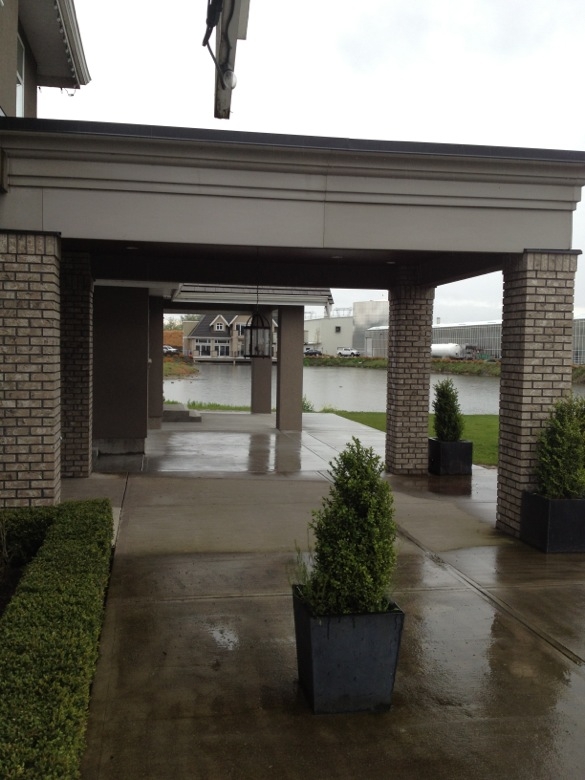 We usually pull out all of our patio furniture by Mother's Day…but after this last weekend, it may come out very soon! Our patio faces west, so in the heat of the summer, the sun and heat really linger.  I'm starting with a blank slate and have been researching ideas to fill the space and make it cosy and inviting. Here are some photos that I'm taking inspiration from….
This photo reminds me of my space being square-ish in shape and the posts, except that ours is adjacent to the house. We don't have a fireplace…budget constraints! But we are thinking of getting a firebowl. The TV to me is not necessary…kind of defeats the purpose of being outside and enjoying nature, but Jason would probably disagree!
I LOVE the fire trough!!! Stunning! Love the wood soffitting as well. The ceiling mounted heaters are brilliant and unobtrusive.
This outdoor room is SO appealing to me! I love the ample, modular seating! The real wood burning fireplace is such a focal point and I'm loving that outdoor kitchen. I like the idea of the shaped boxwood in the square planters. So simple and modern!
Here are a few things that you need to consider when planning your outdoor room….
1. How wet is your climate? Should the area be covered? Are you willing to take the cushions in nightly if necessary?
2. What is the exposure (north, south, east, west) of your space? Will you need shade? Consider an umbrella or curtains if the space is covered.
3. Lighting…make sure that all fixtures are approved for outdoor use.
4. Outdoor fabrics…these have come a LONG way in recent years. Make sure that all cushions as made of outdoor fabric, but do consider bringing them in or at least putting them under cover nightly (depending on your climate).
5. Fire feature and heaters….this really makes the space inviting and who doesn't like s'mores in the summer. There are SO many options out there from traditional fireplaces (both gas and wood burning), to fire troughs, to firebowls, to ready made gas campfires.  If you can swing ceiling mounted gas heaters, do it!  But if the budget doesn't allow, a lot of big box home improvement stores have moveable propane heaters for fairly reasonable prices.  If you can heat your outdoor space, it can act like an extension of your home when entertaining large groups, even in months you wouldn't necessarily think of entertaining outside.
I hope to outfit my space this year…still looking for a fire feature and it really could use curtains…..stay tuned!!!