Last fall, I felt as though i made a new friend..her name is Alice…only thing is, Alice didn't know me!! Ahhh..the quirkiness of social media! i happened across this now favorite blog of mine: Savory Sweet Life. This blog features amazing, yet simple recipes that can be made by people, like you and me! No fuss, no muss…just great, flavorful food! What makes this blog different? Take a look and you'll find Alice's personal touches all over your screen. Her honesty, sense of humor and kind spirit are infectious!
We are thrilled that Alice took the time to talk with us…
1. We feel a connection to you in that we are both stay at home moms, we both have 3 kids and we're both bloggers. How do you manage to juggle everything?
I'll never forget the night I started Savory Sweet Life. I was awake nursing my son long after my two daughters and husband was in bed. Holding him in one hand and using my other hand to type, I posted my first recipe for Mango Pico De Gallo. Since then, not much has changed. I take care of my kids and manage the household during the day and I work on my site (and PBS Parents) after everyone else has gone to bed. My "work" typically starts around 9:30pm and I go to bed after midnight.
2. I love it that you make brunch a big deal on Sunday mornings with your family. What is your favorite brunch recipe(s)?
I love baking something warm and comforting on Sunday mornings for brunch. Sometimes it's a casserole or muffins, but lately my kids love eating my Perfect Buttermilk Pancakes (http://savorysweetlife.com/2012/01/buttermilk-pancakes/).
3. Easter is the most important holiday that we celebrate. We like to make a really big deal of Easter. What would be your favorite Easter dinner dish?
Easter is a day of joyous celebration for our family too. Typically one of my siblings or I will host Easter dinner and we all contribute a potluck dish. I don't really have a favorite because I always enjoy other people's cooking. With that said, I love dessert – any kind of dessert, especially homemade cake.
4. We can't wait for your cookbook to come out in June. What was your inspiration for this book? Will it be available in Canada in June?
Two years ago I turned down the opportunity to be represented by a NYC literary agency to write a cookbook because I did not feel inspired to write one. However, a few months later I re-considered writing a cookbook after speaking with my-now editor, Cassie Jones at William Morrow/HarperCollins. Before I signed with them, she felt very strongly that if I were to write a cookbook I should write one based on my blog instead of a singular topic. Guided by her suggestion, I felt writing a cookbook inspired by everyday life moments was a true reflection of how my family and I enjoy life together -with great food. The Savory Sweet Life Cookbook : 100 Simply Delicious Meals for Every Family Occasion will be released June 5, 2012. To the best of my knowledge the cookbook will be available in Canada the same day.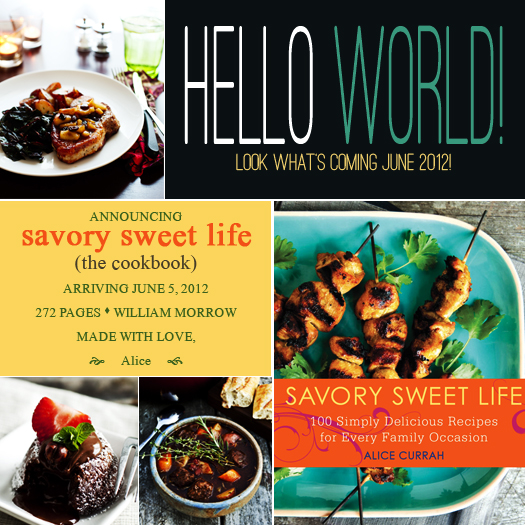 5. We live on a farm where we grow red, orange and yellow bell peppers. We eat A LOT of peppers. Any favorite pepper recipes?
I am obsessed with red bell pepper relish. I make this savory and sweet condiment once every other week; and always make it for parties or as an appetizer to bring to potlucks. Everyone always raves about it and it is one of the first dishes to disappear quickly. The recipe can be found on my site  and has also been included in the cookbook.
6. What are 5 ingredients that you cannot be without in your kitchen?
This is an easy question for me – coffee, chocolate, bread, cheese, and salt..in that particular order..
7. And one last one….i gotta know…do you paint Easter eggs? I have to admit, this is one thing that seems like way too much work for me!!
Paint? Uh, no. However, we dye Easter eggs using the traditional food coloring and vinegar method. My kids also love using crayons to draw on the eggs before dipping them to create a very cool artistic effect.
Thanks, Alice, for inspring us moms to pursue our passions, while never losing touch with the things that matter most: our families!
For more of Alice, visit Savory Sweet Life, or her personal blog: Everyday Alice … I always ALWAYS feel encouraged reading her posts!
You can also find her weekly contributions for PBS Parents Kitchen Explorers as well, Alice is a regular contributor for The Pioneer Woman's Tasty Kitchen Blog.
PS..our farm's first pepper harvest of 2012 was just last week. Can't wait to try the red pepper relish recipe..it's going to be a winner, i can tell!
~All photos courtesy of Savory Sweet Life~