I love to celebrate…and Easter is no different! Besides being a meaningful weekend for our family, i embrace the color, the entrance of all things new and bright and joyful…it's like the bear (that's me!) is coming out of hibernation…and i want to breathe a big sigh of relief. High hopes, hey??
Here's a couple ways you can bring the joy to the Easter table very simply:
1. Individual Nests—- takes minutes… all you need is some raffia and Easter Egg bonbons. Scrunch the raffia and form little nests with your hands, add the bonbons and seriously, you're done!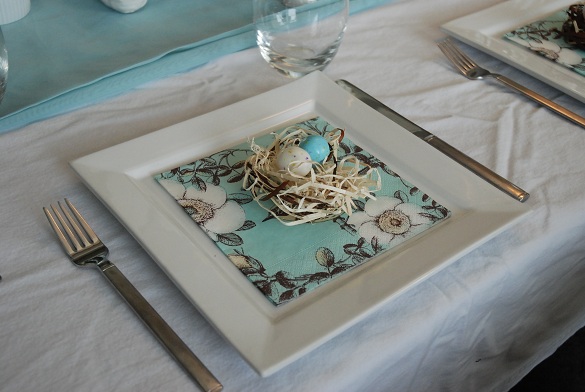 2. Flowers— you don't have to be "pro"…a little color goes a long way! Tulips and gerber daisies are favorites for me…and are the combination of yellow, white and green!
3. A Centerpiece– i love to combine both flowers and eats with this tiered stand.
4. Fabric— pick up discounted remnants of fabric to use as a runner (or runners if laid vertically)…i'll admit, i didn't even touch the sewing maching for this!
4 simple additions to match the table to your mood!
We wish you a very Happy Easter and hope you are able to find yourselves in the company of those you love most! We leave you with some Easter "pretties"…from many of the blogs that i love

HGTV Kim Stoegbauer's Easter Party


The Party Dress' Easter Treat Box