We recently received this question from some of our readers…
"We have been having this discussion at work about what style of jeans are appropriate for 30-ish to 40-ish women. So we thought let's ask you gals…."
Well ladies, the Sugarplumsisters are all over it! We LOVE jeans but you are so right…not all jeans are appropriate for the office!
Here's a list of what is definitely taboo for the workplace…
Faded jeans
Ripped jeans
Distressed jeans
Too tight jeans
Too short or Capri jeans
Rolled up jeans
Mom jeans
Blinged out jeans (that's right…leave these for Vegas!)
For work, there are three types of jeans that are appropriate…
1. Trouser Jeans – these are essentially trousers made out of denim. Always go for a super dark wash. Not only is this dressier, but will also make you look thinner! Trouser jeans look best with heels, whether they are pumps, wedges or boots. Trousers look great with a blouse tucked in and a cute cardi.
Try these from Madewell
http://www.madewell.com/madewell_category/DENIM/widelegger/PRDOVR~39456/39456.jsp  on sale for $79.50 down from $125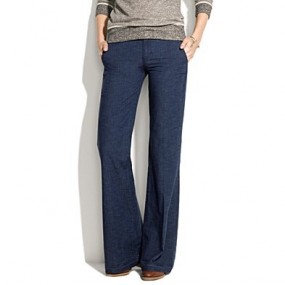 Try these Paper, Denim & Cloth trouser jeans sold by Bluefly
http://www.bluefly.com/Paper-Denim-Cloth-rinse-wash-Sophia-trouser-jeans/SEARCH/305908401/detail.fly $63.99, regularly $160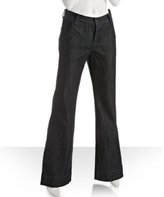 You can do this!!
2. Bootcut Jeans – You can't go wrong with a great pair of bootcut jeans. They are perfect for the office, going out for dinner and even just everyday wear. The only issue that comes up is hem length. For everyday wear, you'll probably want them hemmed for flats which means you may need a longer pair to wear with heels. Bootcut jeans can be worn with most anything, but watch proportions….tops should not be too long to avoid looking frumpy. Once again, go with a plain dark wash.
Try these from Bluefly by Seven for All Mankind
http://www.bluefly.com/7-for-All-Mankind-soho-rise-stretch-denim-bootcut-jeans/cat290024/315030201/detail.fly on sale for $94.99 from $198  They also have a bit of stretch.

Laurel favors Hudson jeans because their denim is super soft and comfortable.  Try these bootcuts from Hudson
http://www.hudsonjeans.com/Signature_Bootcut/pd/c/1009/np/1009/p/1465.html $198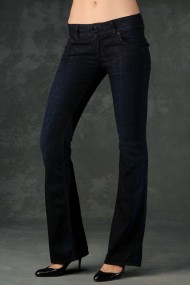 You can do this!
3. Skinny/Straight Leg Jeans – these aren't a true skinny or a true straight leg jean. Skinnies are too casual and too tight for office. But you need a skinnier straight leg that will work with ballet flats. These need to be hemmed for flats and aren't appropriate with heels for the office…too sexy. Pair these jeans with a boyfriend blazer. You could even tuck them into a pair of riding boots. Go for a plain, dark wash as well. Do NOT wear them rolled up with ballet flats for the office!!
Try these from Hudson – the back pockets don't work for everyone, so trying on is a must!
http://www.hudsonjeans.com/Carly_Flap_Pocket_Straight_Leg/pd/c/1010/np/1010/p/1359.html $167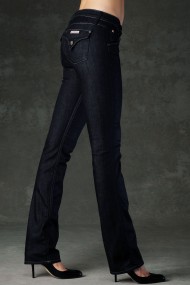 Try these from James Jeans, sold by Bluefly http://www.bluefly.com/James-Jeans-nassau-stretch-Hunter-straight-leg-jeans/cat540030/317116401/detail.fly $85.99 down from $185.  The pintucked pockets are extremely flattering.  They also have a bit of stretch.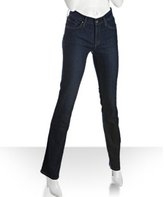 You can do this!
Bling up your office outfits with costume jewelry. Rhinestones and some sparkle are ok for the office.
Keep your eyes out for designer jeans at discount outlets. My friends get sick of me running into TJ Maxx and Nordstrom Racks, but after diving through piles of messy clothes I usually emerge with a great pair of heavily discounted designer jeans!!
My favorite places to score great jeans deals are…
Nordstrom Rack, Marshalls, Saks Off Fifth, Joes Jeans Outlet Stores, www.Bluefly.com , and London Drugs (yes, it's true!).
And I usually pay no more than 50% of the regular price!