Laurel and I have planned two events in the last month where we have set up at bar. We've found it's a great way to literally break the ice with your guests, especially if you have someone outgoing behind the bar!  With New Year's Eve just around the corner, we thought we'd share a few tips with you on setting up a bar for your party.
At our blog launch party, Laurel's husband Scott and her brother-in-law Shawn tended the bar. They surprised us by getting shirts made up to help us celebrate our new endeavour! My hubby Jason wore one too! Thanks guys for the support!
For our blog launch, we converted my den into the bar. I was concerned that we might be tight on space in my house for the party, so why not use the den for the bar and turn a a usually non-entertaining space into something useable!! I cleared off our glass bookshelves and used them for glasses. We used halogen puck light kits just placed on the ground to light up the glass shelves. Our electrician made up a light bar to go under the desk. Jason and Scott zap-strapped it to the underside of the desk and we covered the desk with a somewhat sheer fabric. The effect was to create a cool glow. Thanks so much to our friend Ernie the electrician for his help and expertise on the lighting!! We have learned that having an electrician on board is super helpful when putting a big event together!
We did want real glasses for the cocktails, so Laurel and I both bought three boxes of Entertain All Purpose Goblets from Bed, Bath and Beyond…12 glasses for $14.99!! A friend of ours also had three boxes, so we had 108 glasses in total! We've decided that we can always borrow each others, so there's no need to rent!
Friends of ours mentioned that when they host a party, they put a twist on one of their favorite drinks and name it for the special event. What a fantastic idea! I wish that we would have created a "Sugarplum" for the event, but we'll save that for next time…
We did offer two mixed cocktails, Barefoot in the Park and Lemon Rose Bellini, red and white wine from Mt. Lehman Winery, a local winery, and sparkling water with limes.
We also included some munchies at the bar….praline nuts from Walmart and cheese straws.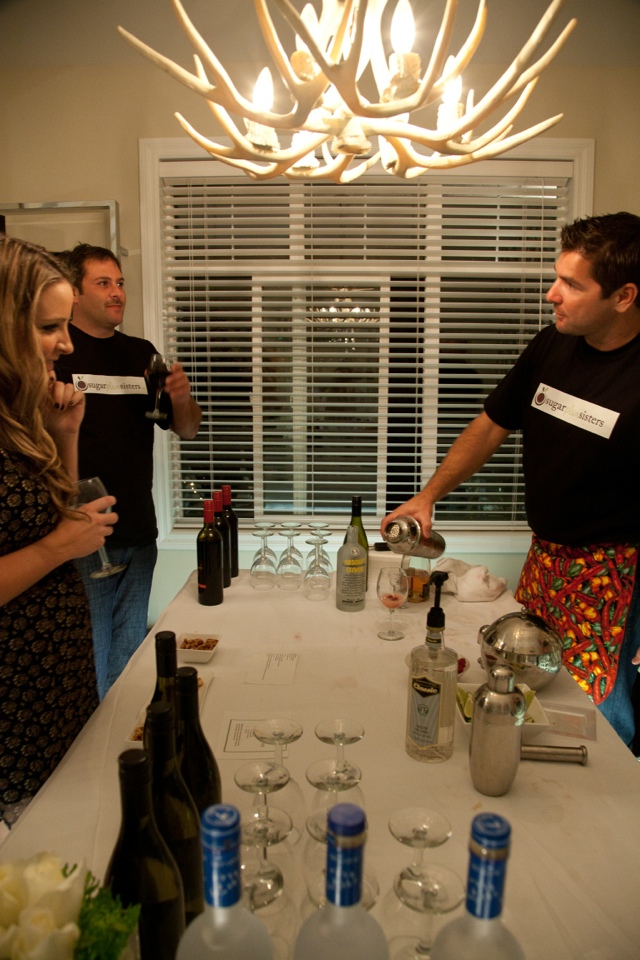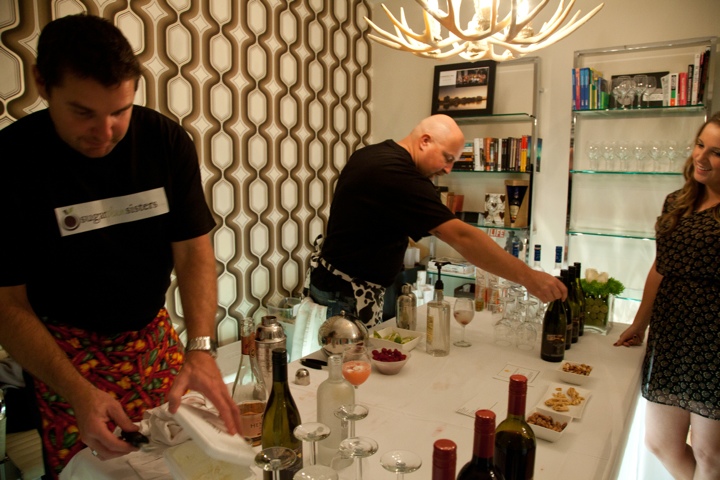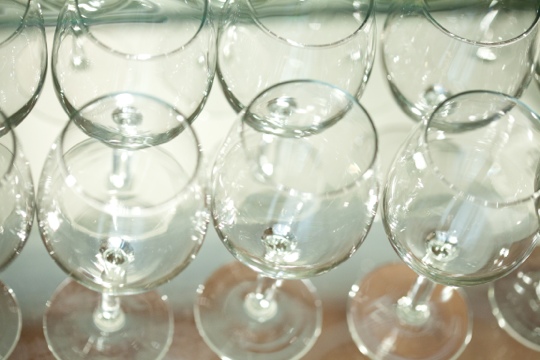 At the Christmas in New York party that we just put on, we set up at bar using my parents dining room. This event was a cocktail party with an abundance of appies and desserts and we've found in the past that people rarely sit at the dining room table. So once again,we decided to convert this space to a bar to make it useable. Mom and Dad have a unusually large glass dining room table and at first thought it seemed way too big, but it actually worked out very well, giving our two bar tenders lots of space to work it.
We used the light bar again under the table and just covered it with rented table cloths. It created a really funky effect.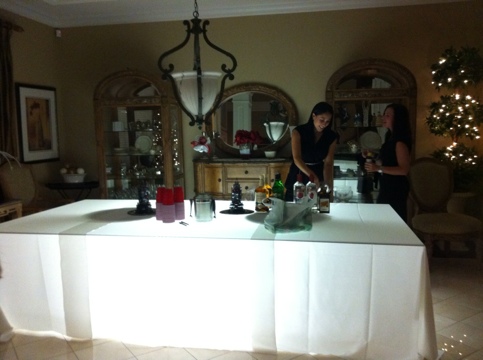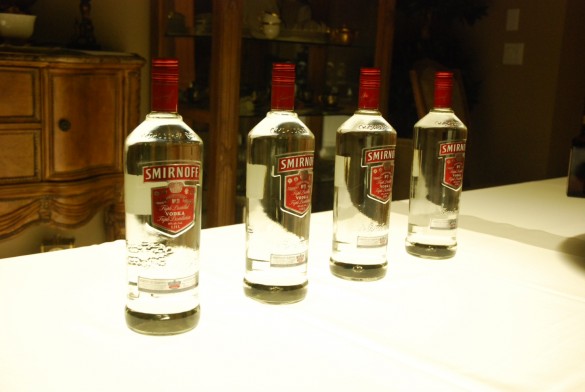 To go with the theme we served Cosmopolitans, that was my drink of choice!! We also served Manhattans, red and white wine and Pellegrino and limes.
Here are some bar essentials you should have…
Shot glasses
A good corkscrew
Muddler
Bamboo picks
Coolers and lots of ice (to keep ingredients cold if you are using a space other than your kitchen for the bar)
Martini shaker
If you are setting up a bar for a party, big or small, use a space or a piece of furniture you have in a different way. You can always cover a sofa table or side table with a piece of fabric or a tablecloth. Use light interesting ways. Don't feel you have to offer every drink under the sun. Have a signature cocktail or two, wine, maybe beer and water (bubbly or not). And have some munchies too!! Have fun with it!