I don't consider myself a accomplished book critic in the least, but i am an avid reader. I love few things more than sinking my teeth into a good story… i suppose it serves as a little escape from the daily grind. Pair the book with sunshine, palm trees and a starbucks and wow, my poor family begins to feel neglect!
Here are a few of my favorite reads from this past year…and some of the ones I'm looking forward to delving into:
1.  The Kitchen House by Kathleen Grissom– i've recommended it before and I will again! I loved this book. A book set in the 1800s sheds light on the days of slavery and proves that family often runs thicker than blood. Find it on Amazon.ca http://www.amazon.ca/Kitchen-House-Novel-Kathleen-Grissom/dp/1439153663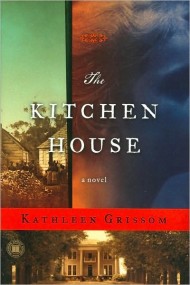 When a white servant girl violates the order of plantation society, she unleashes a tragedy that exposes the worst and best in the people she has come to call her family.Orphaned while onboard ship from Ireland, seven-year-old Lavinia arrives on the steps of a tobacco plantation where she is to live and work with the slaves of the kitchen house. Under the care of Belle, the master's illegitimate daughter, Lavinia becomes deeply bonded to her adopted family, though she is set apart from them by her white skin.
Eventually, Lavinia is accepted into the world of the big house, where the master is absent and the mistress battles opium addiction. Lavinia finds herself perilously straddling two very different worlds. When she is forced to make a choice, loyalties are brought into question, dangerous truths are laid bare, and lives are put at risk.
2.  Winter Garden by Kristin Hannah — it's like a puzzle that is slowly put together…gotta admit, i ended up in tears. One of those books that you will think of long after you've finished it. It's been carried at Costco, but Amazon will be selling it indefinitley http://www.amazon.ca/Winter-Garden-Kristin-Hannah/dp/0312364121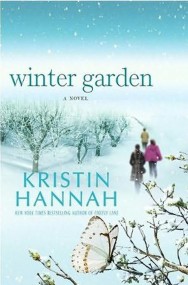 Meredith and Nina Whitson are as different as sisters can be. One stayed at home to raise her children and manage the family apple orchard; the other followed a dream and traveled the world to become a famous photojournalist. But when their beloved father falls ill, Meredith and Nina find themselves together again, standing alongside their cold, disapproving mother, Anya, who even now, offers no comfort to her daughters. As children, the only connection between them was the Russian fairy tale Anya sometimes told the girls at night. On his deathbed, their father extracts a promise from the women in his life: the fairy tale will be told one last time—and all the way to the end. Thus begins an unexpected journey into the truth of Anya's life in war-torn Leningrad, more than five decades ago. Alternating between the past and present, Meredith and Nina will finally hear the singular, harrowing story of their mother's life, and what they learn is a secret so terrible and terrifying that it will shake the very foundation of their family and change who they believe they are.
3.  Secret Daughter by Shilpi Smaya Gowda – this story brings together 2 families..one in India and one in America. A glimpse inside a different culture where motherhood and love prove just as powerful no matter the geography. http://www.chapters.indigo.ca/books/9780061974304/9780061974304-item.html?s_campaign=goo-Books%20By%20Title-E&gclid=CK7vkvDyha0CFRBphwodcV6cUg&cookieCheck=1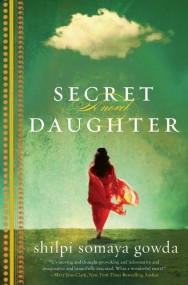 On the eve of the monsoons, in a remote Indian village, Kavita gives birth to Asha. But in a culture that favours sons, the only way for Kavita to save her newborn daughter's life is to give her away. It is a decision that will haunt her and her husband for the rest of their lives, even after the arrival of their cherished son. Halfway around the globe, Somer, an American doctor, decides to adopt a child after making the wrenching discovery that she will never have one of her own. When she and her husband Krishnan see a photo of baby Asha from a Mumbai orphanage, they are overwhelmed with emotion for her. Somer knows life will change with the adoption, but is convinced that the love they already feel will overcome all obstacles. Interweaving the stories of Kavita, Somer, and Asha, "Secret Daughter" poignantly explores issues of culture and belonging. Moving between two worlds and two families, one struggling to survive in the fetid slums of Mumbai, the other grappling to forge a cohesive family despite their diverging cultural identities, this powerful debut novel marks the arrival of a fresh talent poised for great success.
4.  Cutting for Stone by Abraham Verghese- a story rich in the history of Ethiopia, I found myself engrossed in the plot..  http://www.amazon.ca/Cutting-Stone-Abraham-Verghese/dp/0307357783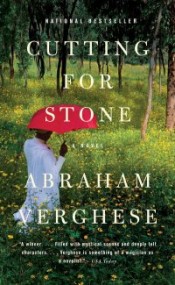 Marion and Shiva Stone are twin brothers born of a secret union between a beautiful Indian nun and a brash British surgeon at a mission hospital in Addis Ababa. Orphaned by their mother's death in childbirth and their father's disappearance, bound together by a preternatural connection and a shared fascination with medicine, the twins come of age as Ethiopia hovers on the brink of revolution. Yet it will be love, not politics — their passion for the same woman — that will tear them apart and force Marion, fresh out of medical school, to flee his homeland. He makes his way to America, finding refuge in his work as an intern at an underfunded, overcrowded New York City hospital. When the past catches up to him — nearly destroying him — Marion must entrust his life to the two men he thought he trusted least in the world: the surgeon father who abandoned him and the brother who betrayed him.
An unforgettable journey into one man's remarkable life, and an epic story about the power, intimacy, and curious beauty of the work of healing others.
5. The Hunger Games by Suzanne Collings. I'm taking a chance at putting this out there, but any book that has me staying up way past my bedtime deserves mention! Though written more for the tween/teen age groups, it nonethless pulled me in as i found the main characters means of  survival brilliant. (ps. i havent decided if my tween is allowed to read this…yet) http://www.amazon.ca/Hunger-Games-Suzanne-Collins/dp/0439023483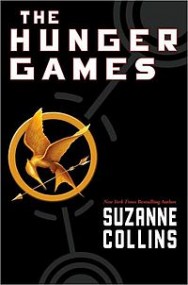 In the ruins of a place once known as North America lies the nation of Panem, a shining Capitol surrounded by twelve outlying districts. The Capitol is harsh and cruel and keeps the other districts in line by forcing them to participate in the annual Hunger Games, a fight-to-the-death on live TV.
One boy and one girl between the ages of twelve and sixteen are selected by lottery to play. The winner brings riches and favor tohis or her district. But that is nothing compared to what the Capitol wins: one more year of fearful compliance with its rule. Sixteen-year-old Katniss Everdeen, who lives alone with her mother and younger sister, regards it as a death sentence when she is forced to represent her impoverished district in the Games.
But Katniss has been close to dead before — and survival, for her, is second nature. Without really meaning to, she becomes a contender. But if she is to win, she will have to start making choices that weigh survival against humanity and life against love.
6. Mark of the Lion : A Voice in the Wind, An Echo in the Darkness, As Sure As the Dawn (Vol 1-3) by Francine Rivers. Ok…these books had me HOOKED. I happened to be reading them on a weekend away with my husband so….let's just say that his loss was my gain…yikes I don't know that i was great company!!! Be prepared that it will take some time to get into the first book…the author takes this time to set the stage. It's worth the continued read! http://www.amazon.com/Mark-Lion-Voice-Wind-Darkness/dp/0842339523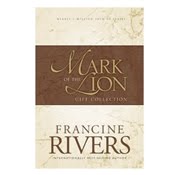 #1 A Voice in the Wind: Torn by her love for a handsome aristocrat, a young slave girl clings to her faith in the living God for deliverance from the forces of decadent Rome.
#2 An Echo in the Darkness:Turning away from the opulence of Rome, Marcus is led by a whispering voice from the past into a journey that could set him free from the darkness of his soul.
#3 As Sure As the Dawn:Atretes. German warrior. Revered gladiator. He won his freedom through his fierceness . . . But his life is about to change forever.
~~~~~~~~~~~~~~~~~~~~~~~~~~~~~~~~
Here are some reads I have stacked on my nighttable…which to start first?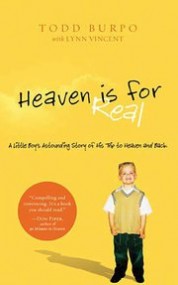 A young boy emerges from life-saving surgery with remarkable  stories of his visit to heaven.
Heaven Is for Real
is the  true story of Colton Burpo, the four-year old son of a small town  Nebraska pastor who, during emergency surgery, slips from  consciousness and enters heaven. He survives and begins talking  about being able to look down and see the doctor operating and his  dad praying in the waiting room. Colton said he met his miscarried  sister, whom no one had told him about, and his great grandfather  who died 30 years before Colton was born, then shared  impossible-to-know details about each. Told by his father, but  often in Colton"s own words, the disarmingly simple message is:  heaven is a real place, Jesus really loves children, and be ready,  there is a coming last battle.
2.  Bonhoeffer by Eric Metaxas My sister in law, Jana, has lent this book to me and i can't wait to start it…the biography of a man who stood against Hitler. http://www.amazon.ca/Bonhoeffer-Pastor-Martyr-Prophet-Spy/dp/1595551387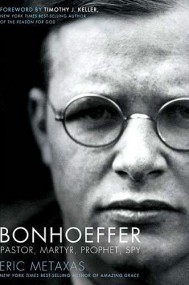 From the
New York Times
bestselling author of
Amazing Grace
, a groundbreaking biography of Dietrich Bonhoeffer, one of the greatest heroes of the twentieth century, the man who stood up to Hitler.
A definitive, deeply moving narrative, Bonhoeffer is a story of moral courage in the face of the monstrous evil that was Nazism.
After discovering the fire of true faith in a Harlem church, Bonhoeffer returned to Germany and became one of the first to speak out against Hitler. As a double-agent, he joined the plot to assassinate the Fuhrer, and was hanged in Flossenberg concentration camp at age 39. Since his death, Bonhoeffer has grown to be one of the most fascinating, complex figures of the 20th century.
3. The Midwife of Venice by Roberta Rich. Historical Venice, as well as the elements of slavery, midwifery, and heroism made me purchase this read. http://www.amazon.ca/Midwife-Venice-Roberta-Rich/dp/0385668279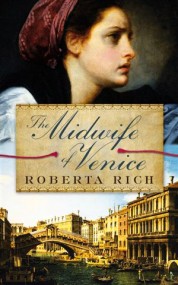 Hannah Levi is known throughout sixteenth-century Venice for her skill in midwifery. When a Christian count appears at Hannah's door in the Jewish ghetto imploring her to attend his labouring wife, who is nearing death, Hannah is forced to make a dangerous decision. Not only is it illegal for Jews to render medical treatment to Christians, it's also punishable by torture and death. Moreover, as her Rabbi angrily points out, if the mother or child should die, the entire ghetto population will be in peril.
But Hannah's compassion for another woman's misery overrides her concern for self-preservation. The Rabbi once forced her to withhold care from her shunned sister, Jessica, with terrible consequences. Hannah cannot turn away from a labouring woman again. Moreover, she cannot turn down the enormous fee offered by the Conte. Despite the Rabbi's protests, she knows that this money can release her husband, Isaac, a merchant who was recently taken captive on Malta as a slave. There is nothing Hannah wants more than to see the handsome face of the loving man who married her despite her lack of dowry, and who continues to love her despite her barrenness. She must save Isaac.
What are some of your favorite page turners?