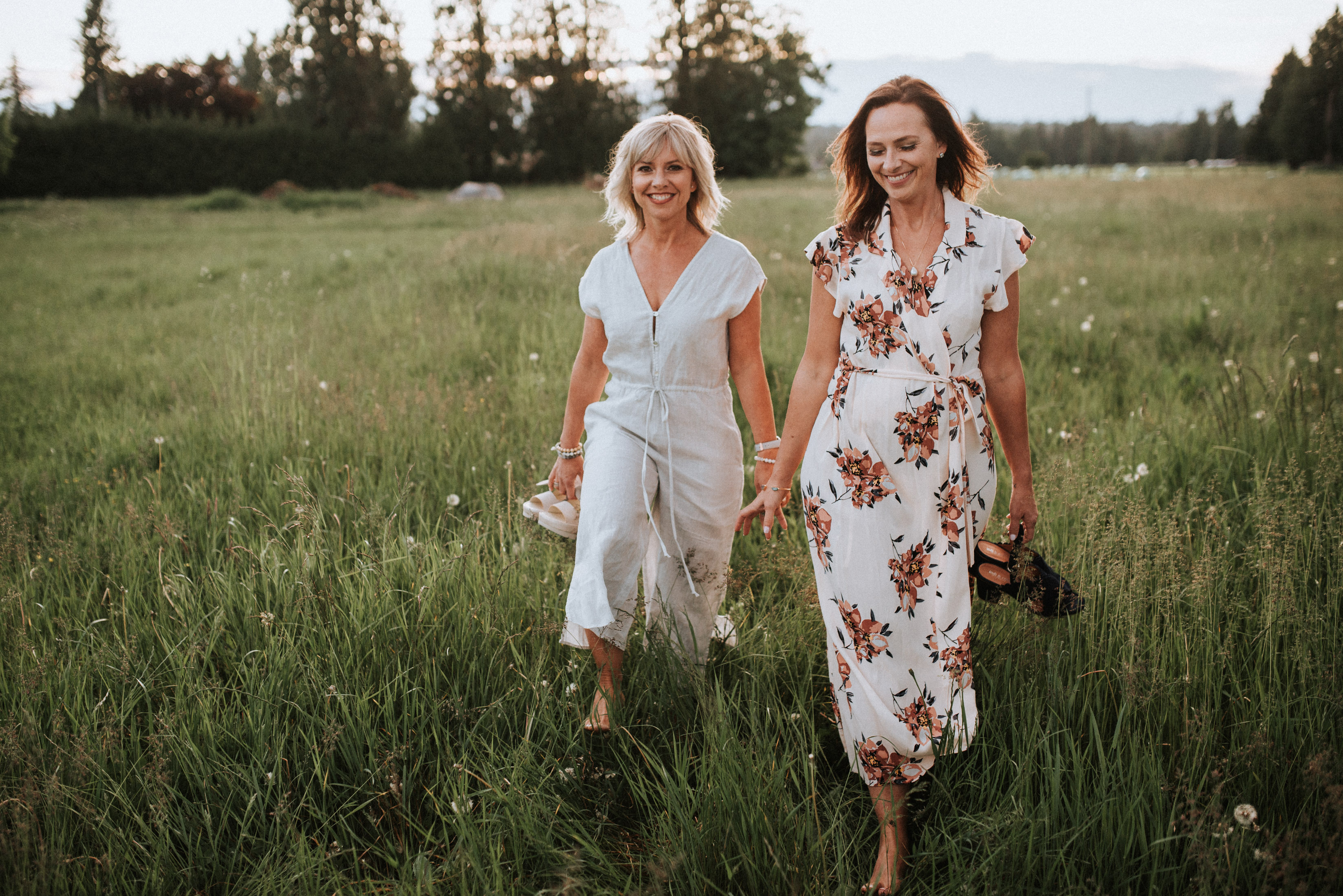 Tis the season for weddings and al fresco events…which calls for some flowy and feminine pieces. Pam and I had the pleasure of spending an evening at Tuscan Farm Gardens enjoying their meandering paths, lined with colourful blooms,  as well as the field beyond, which felt incredibly magical as the sun dipped behind the mountains. It was a sunset to remember. Ahhh…we slipped our shoes off and went for a meadow stroll and kept saying to each other: "We're feelin it tonight!"
Pam's recent trip to Paris inspired our shoot this evening with Bella & Wren. Not only did the gardens feel completely French, but we chose clothing that reflected some trends that Pam saw and loved while spending time in the City of Love (Side note, I so want to have that "elegant-without-effort" look that Parisian women have!!).
Hope you enjoy our sisters shoot! And hope this inspires you to visit Tuscan Farm Gardens…we can't wait to bring our mom and daughters here for some lavender ice cream this summer. The lavender hadn't quite bloomed on this visit, but we got to enjoy other gorgeous blooms like roses and clematis…we will come back for the lavender:)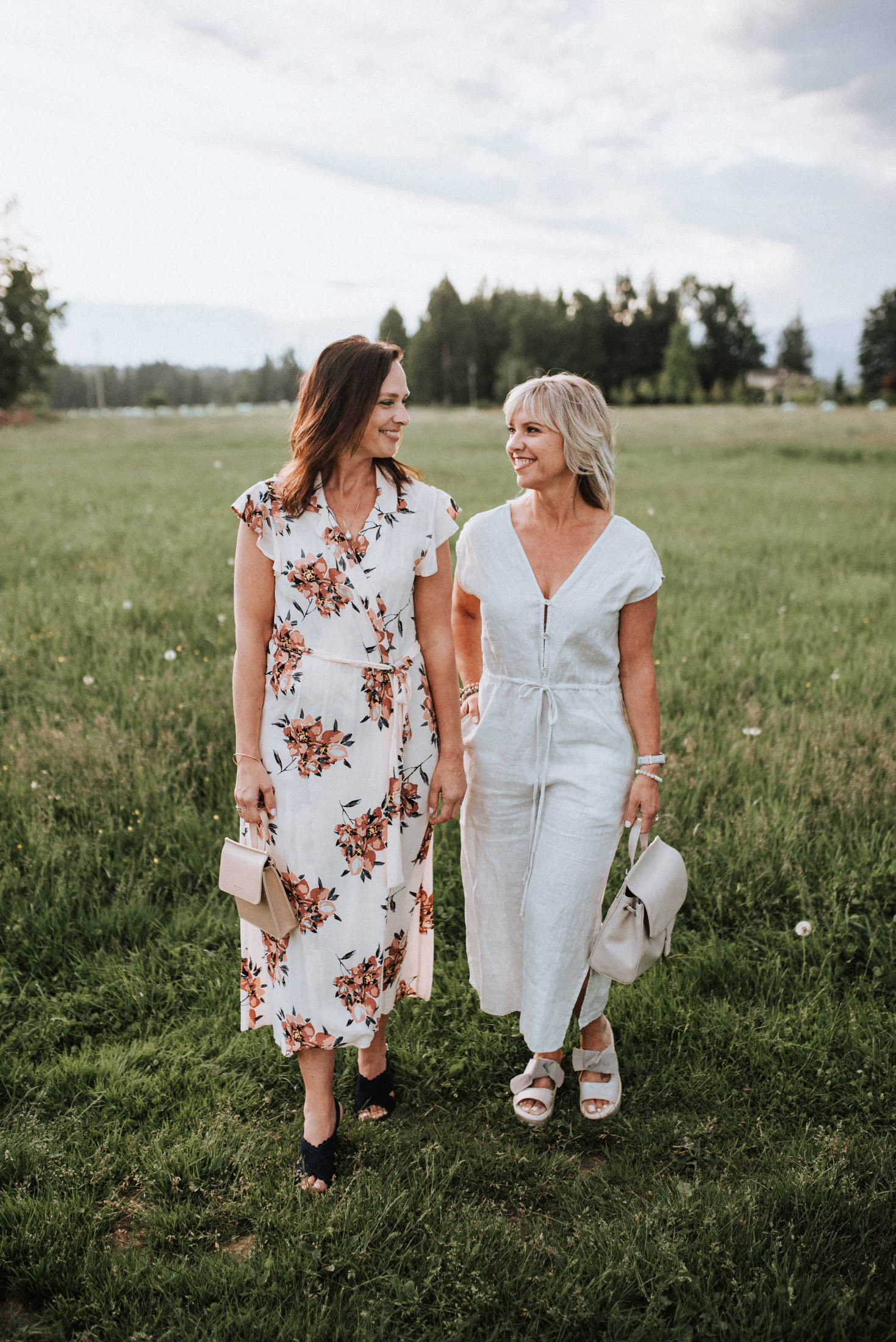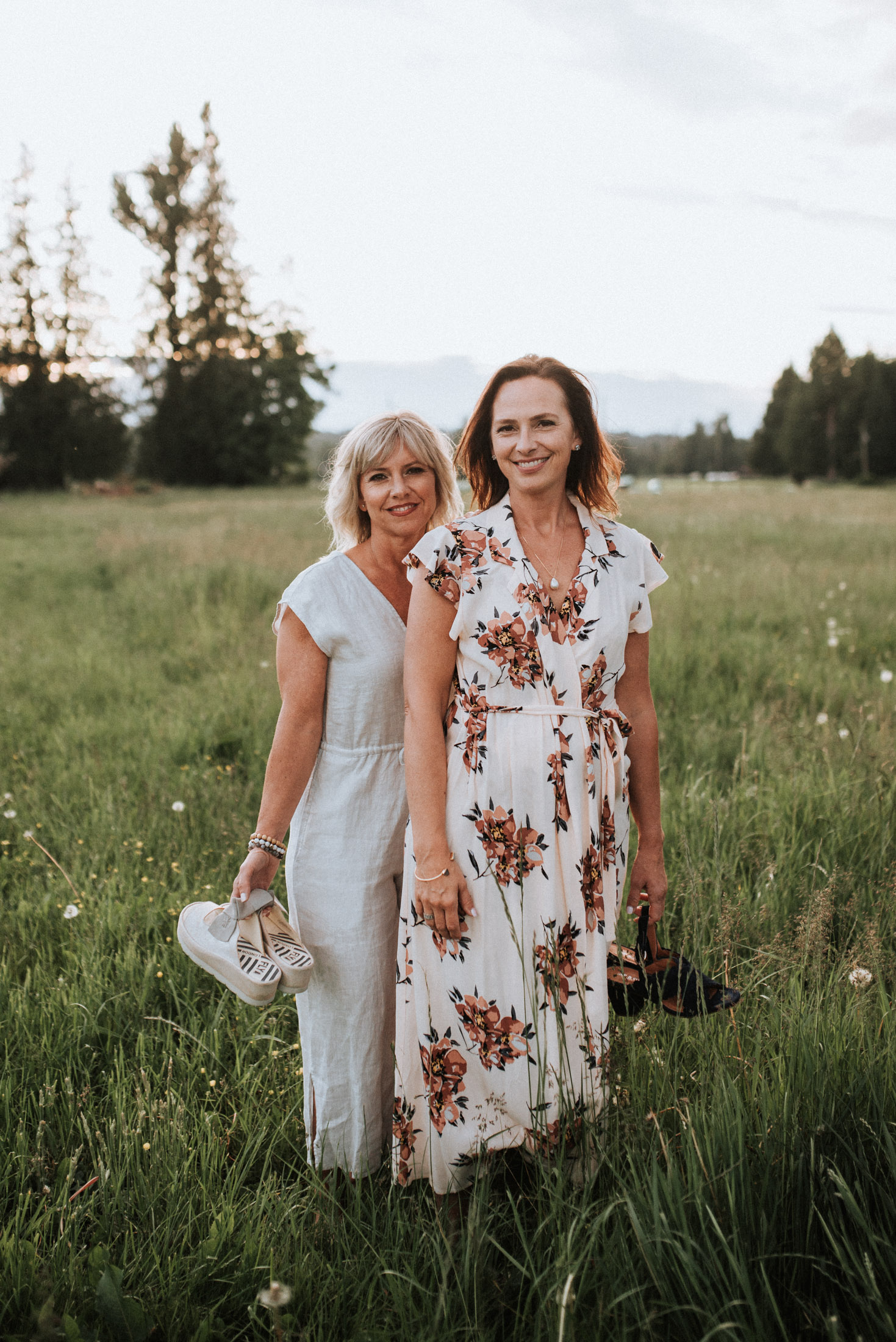 Stepping into the lovely Fort Langley boutique, Bella & Wren, Pam went searching for linen as she said it was everywhere in Paris. An amazing fabric, linen is not only sustainable but super breathable, making it perfect for summer. Pam chose this putty coloured linen jumpsuit, which looked ah-mazing on her and really does act as a blank canvas for adding accessories. I  love the v-neck detail on the back! Keep it casual with flat sandals and a denim jacket or seamlessly move it to a more formal look with heeled wedges and more dainty jewelry.
Pam kept tonight's version soft and monochromatic with the wedged slip ons and mini backpack.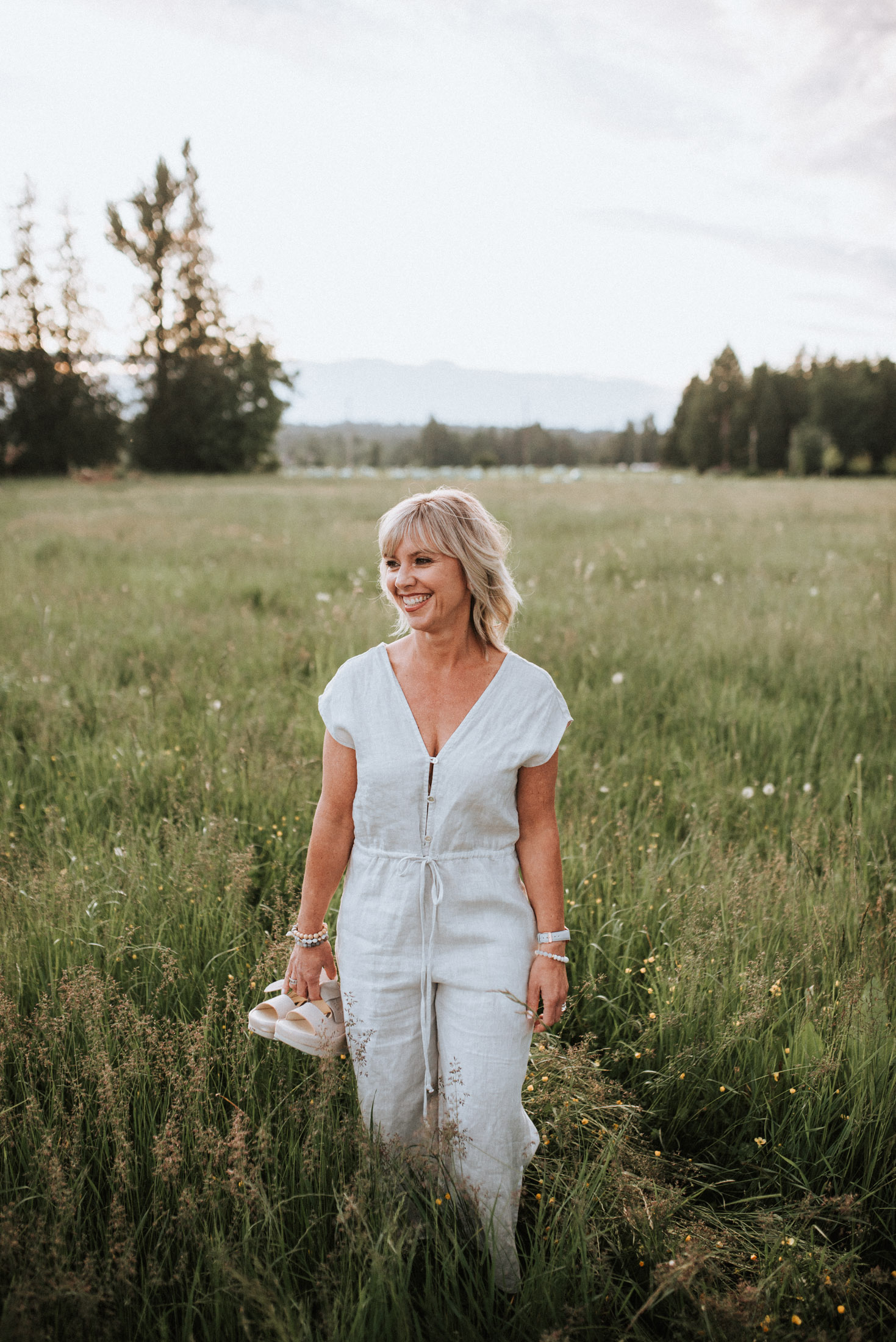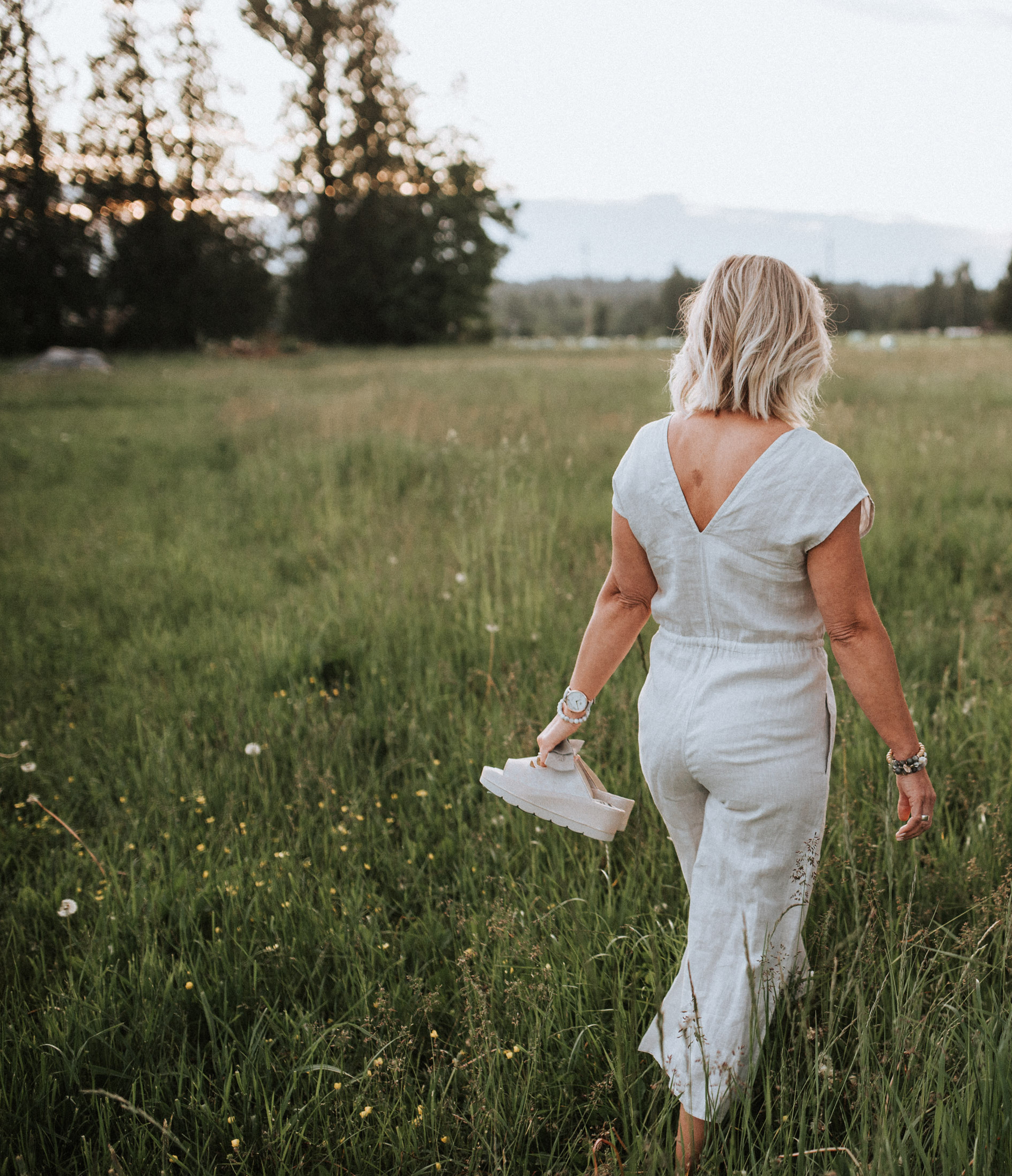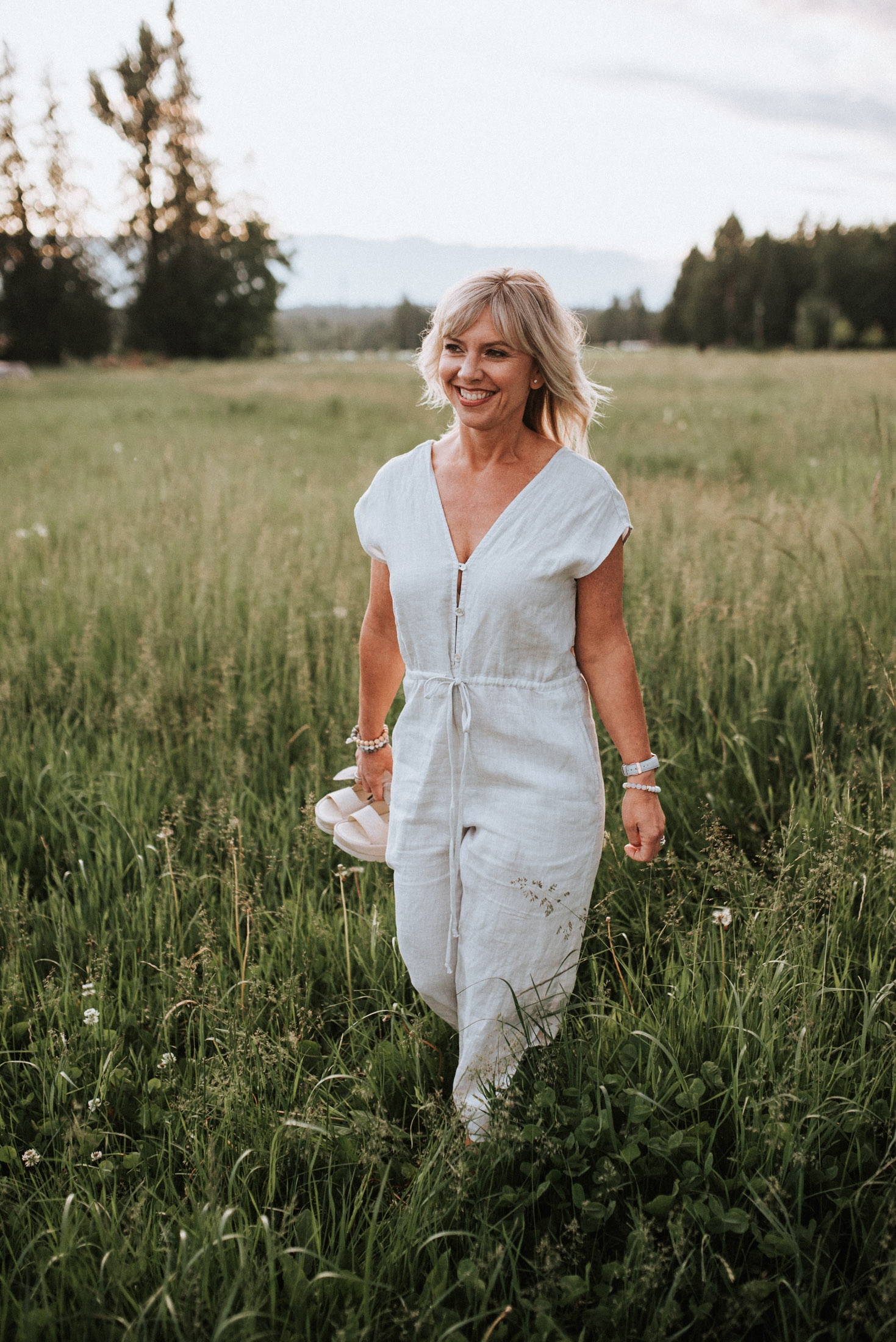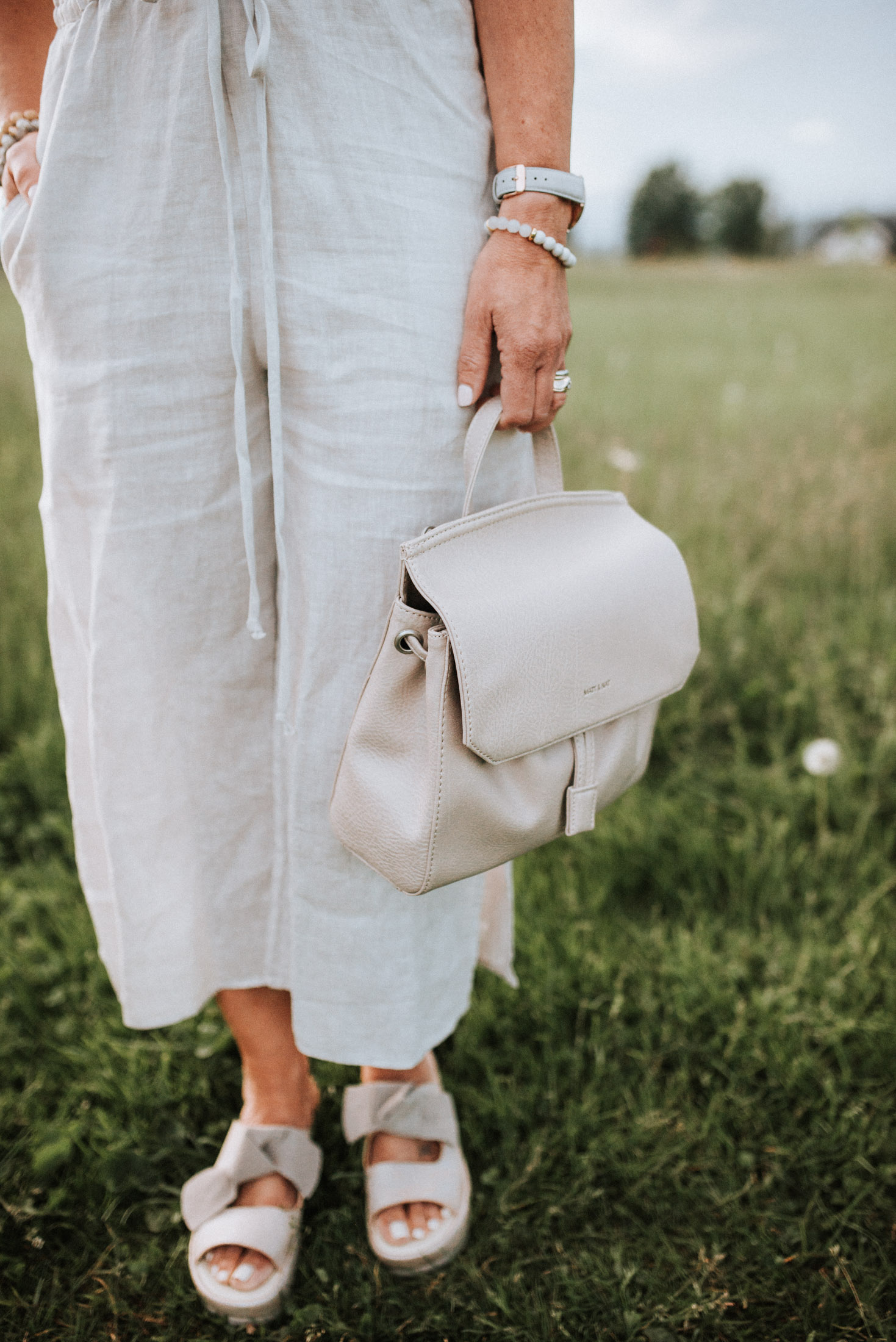 Jumpsuit, backpack, wedge sandal all available at Bella & Wren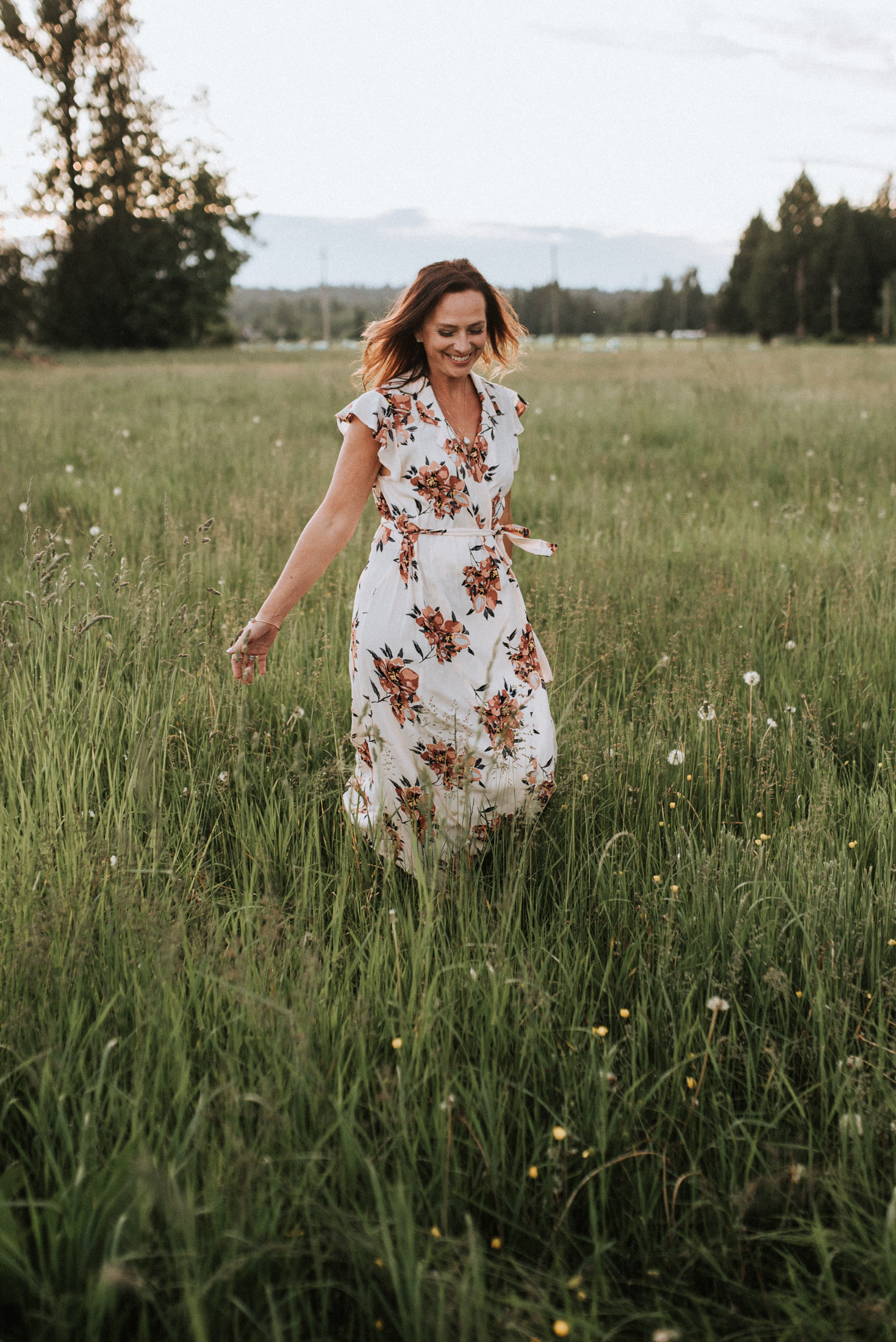 I'm a maxi dress girl (no shocker there!) so I was drawn to this delicate and soft floral dress. Subtle ruffles on the sleeve, wrap around detail and ummm…blush (anything blush!) made it feel like this was a "Laurel" dress. Walking barefoot in the field with a light breeze allowing the dress to flow softly just felt surreal. Can I do this again sometime? Oh and cue, the sunset too. It was the full package that evening!
I paired this dress with a rich blue suede sandal to add an unexpected pop. Side note, these shoes would also look amazing with a great pair of denim…stay tuned for my take on that!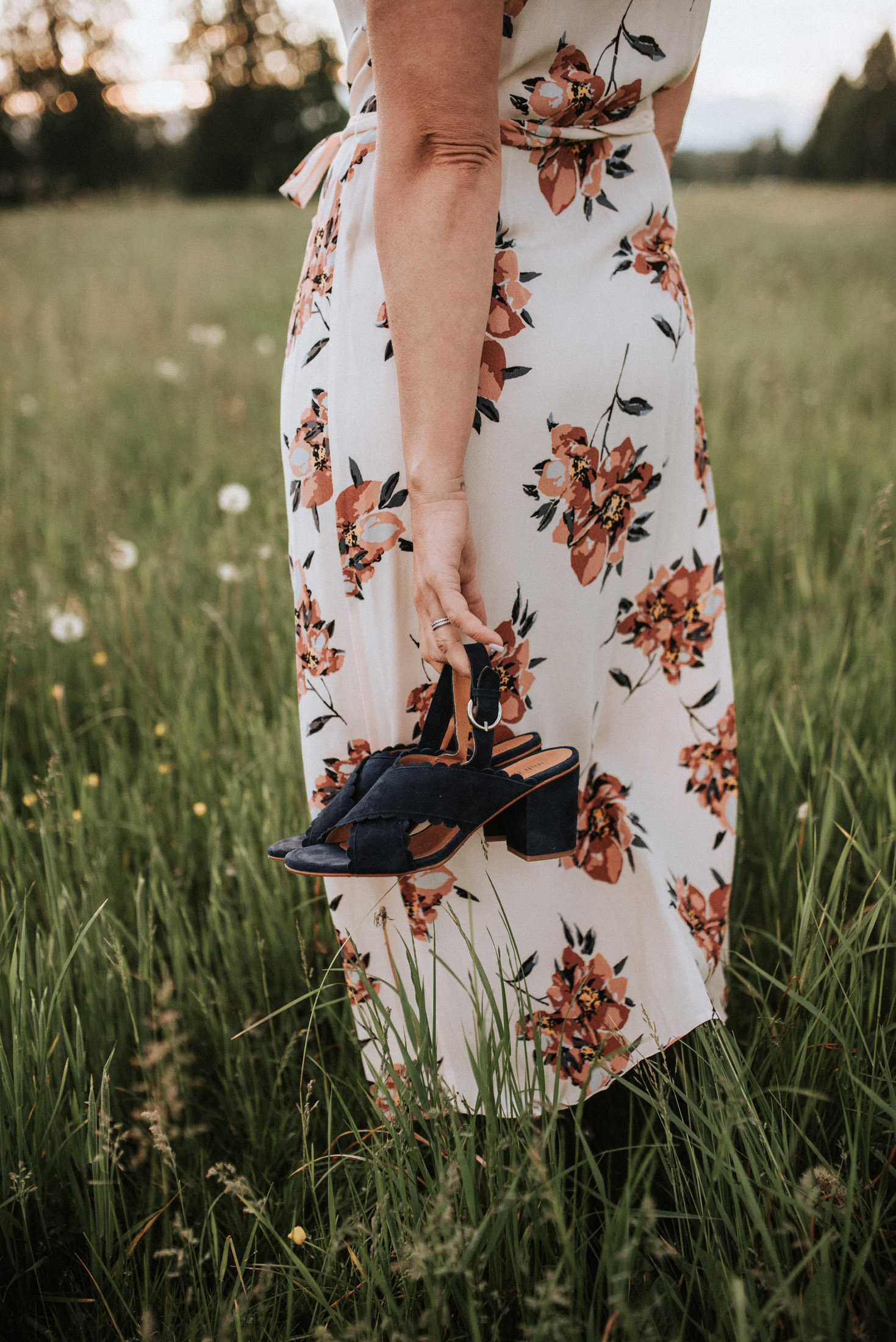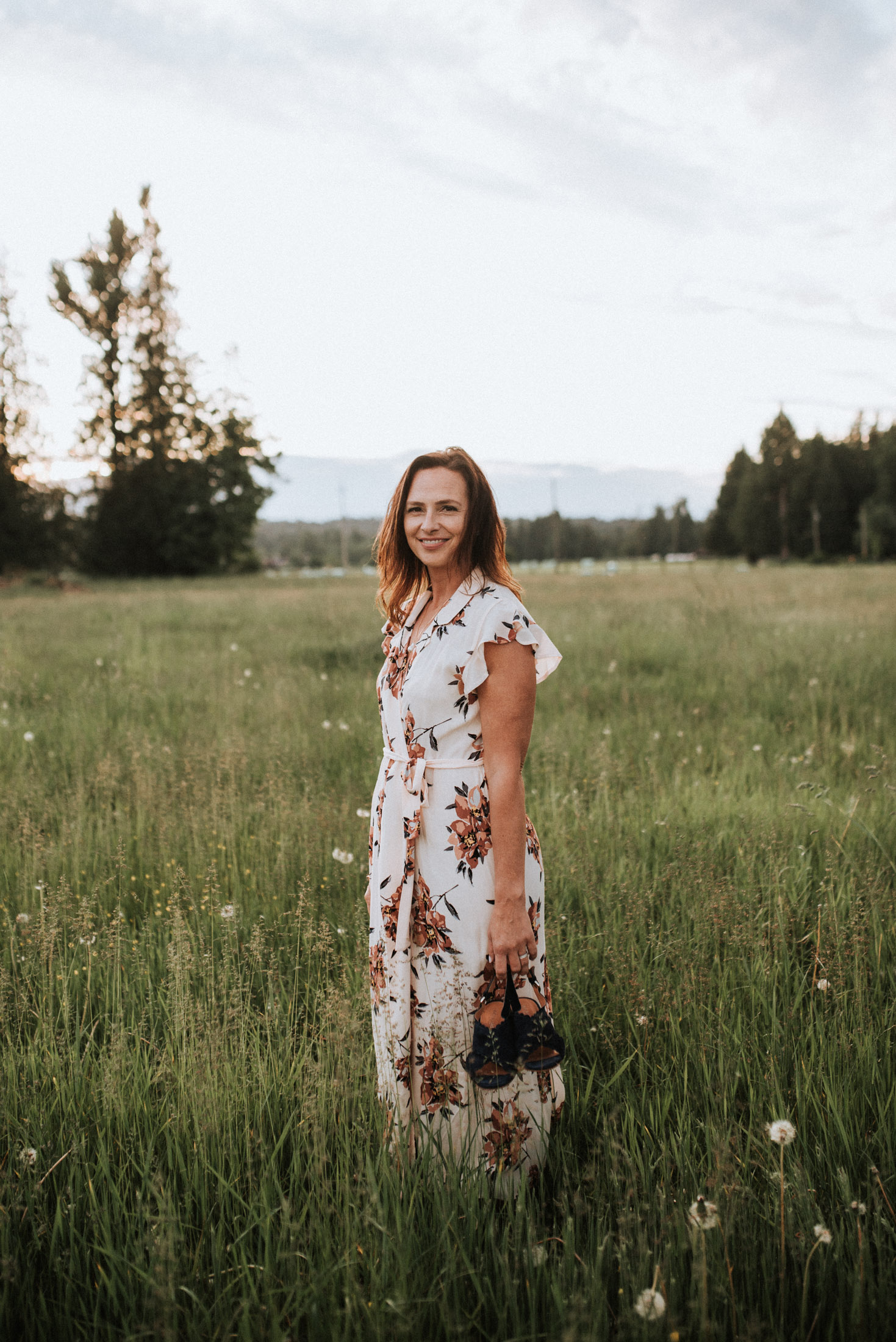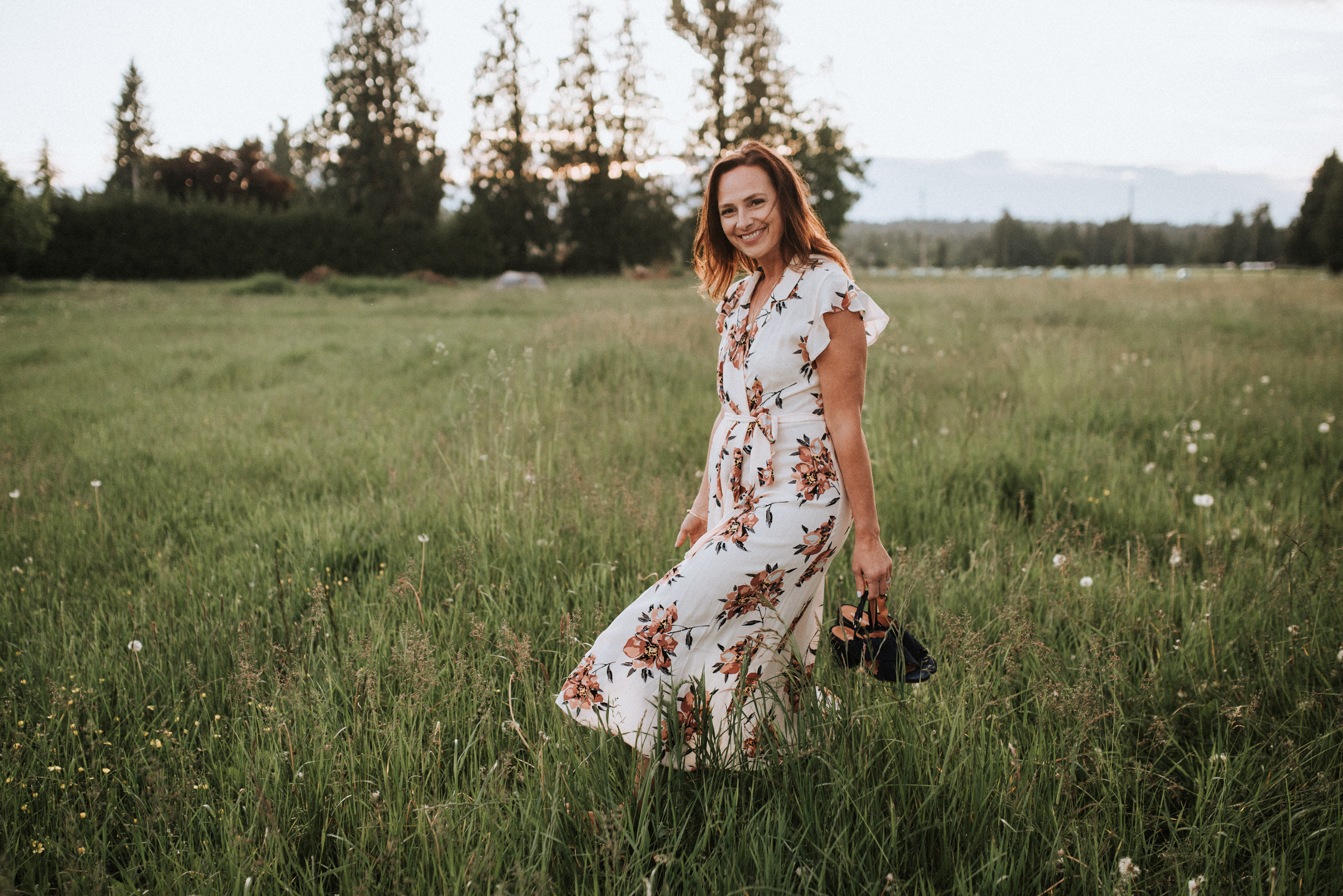 Dress, shoes, necklace and handbag all available at Bella & Wren.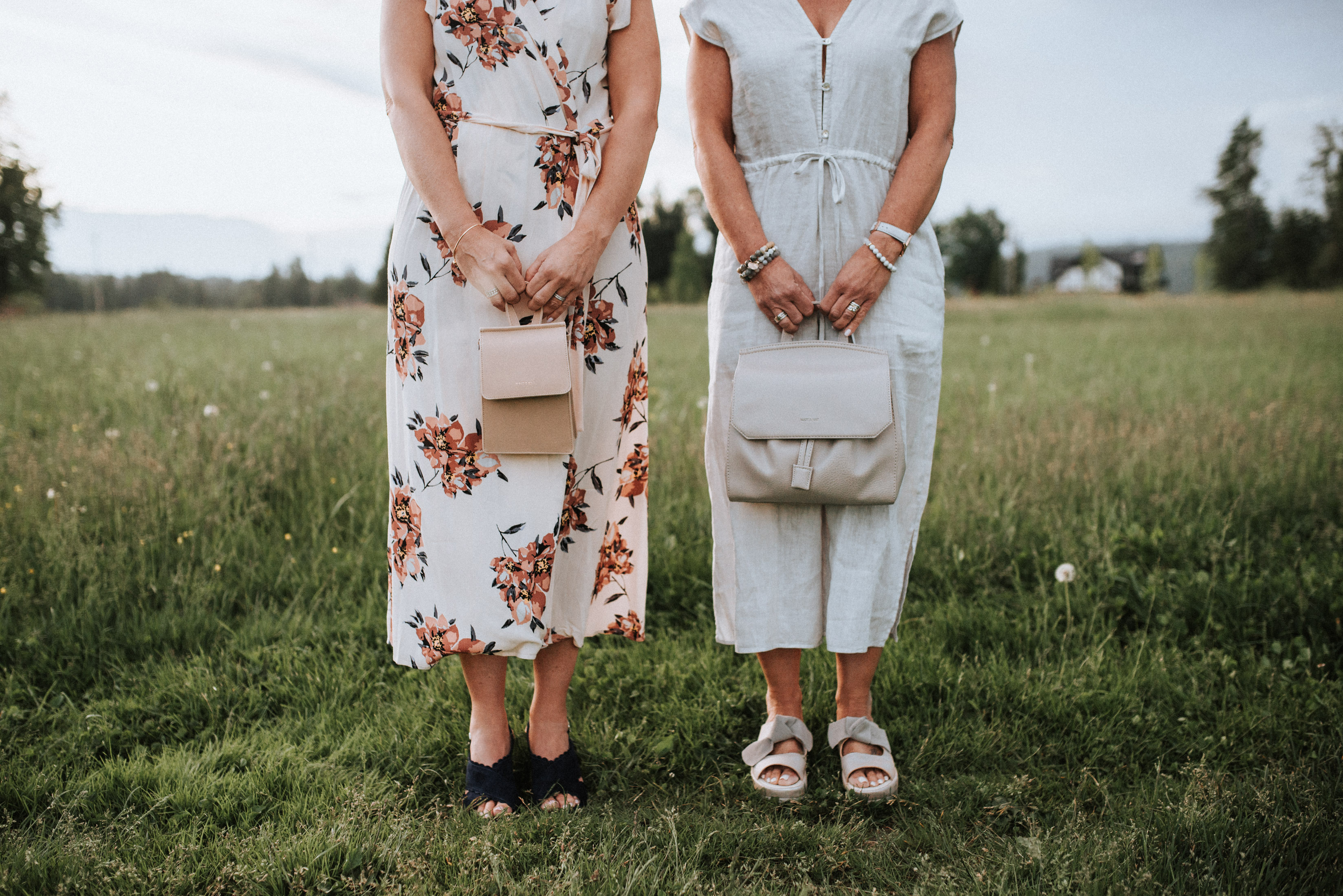 Thank you to Bella and Wren (located in charming Fort Langley) for allowing us to play dress up! Pam and I love visiting this boutique, not only because it's filled with so many gorgeous pieces, but because they are the best at making your shopping experience successful AND fun. The staff is so warm and welcoming and incredibly talented at helping you find pieces that work for your body and make you feel good about yourself (thank you, Carrie!).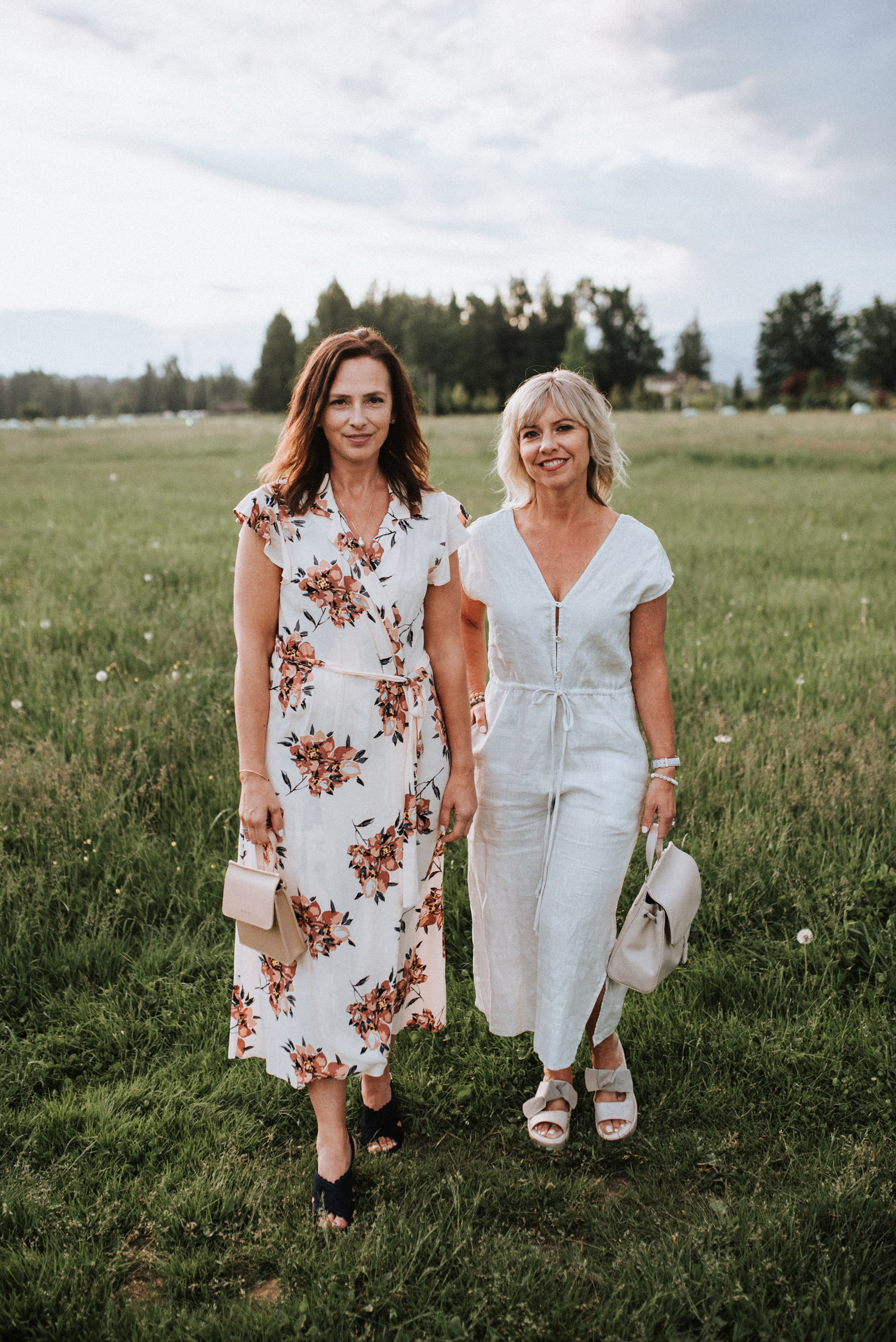 **Pam and I were thrilled to partner with Bella & Wren to create this post. They are such a genuine fit for us as we find ourselves coming back there time and time again to shop for our closet. As always, all opinions are our own.
Photos taken by the talented and uber patient (posing Pam and I can take some work lol) Kat of Art and the Aerialist.