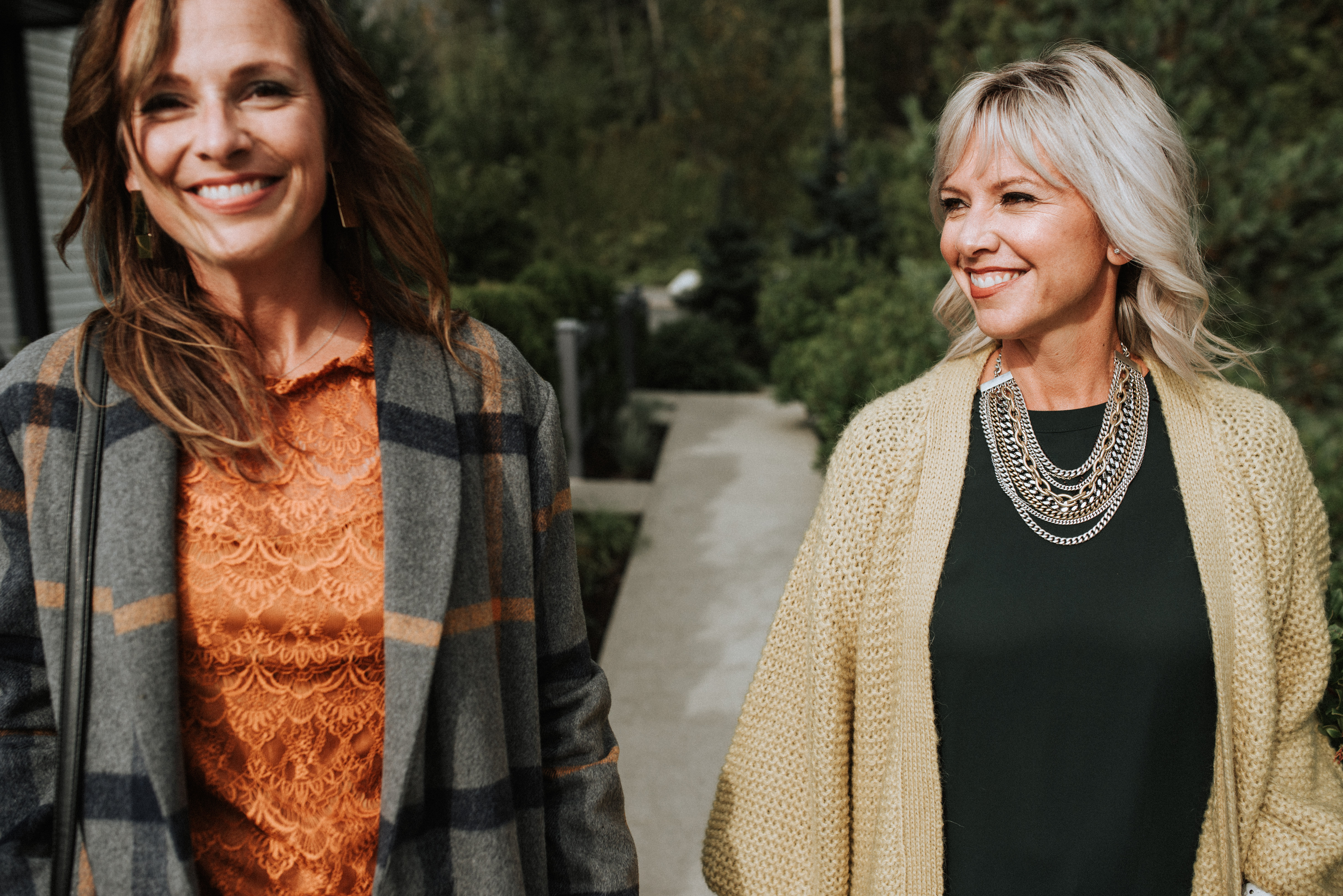 Pam and I tend to enter fall with skid marks behind us! We kinda sorta live for summer. But a visit last week to Bella and Wren might have just had us reconsidering…we found ourselves lured into the season with cozy sweaters, chunky layers and sleek booties.
Bella and Wren has got fall dialed. Their space is a delight to browse as they've created colour stories and pairings to inspire looks for you. If you're the type that needs help visualizing pieces together, this set up is highly effective in getting you started.  I went straight for the blush/neutral tones while Pam gravitated towards the jewel tones.
We had so much fun putting together some looks that we are confident will elevate your wardrobe this fall and have some staying power for future seasons. That's the key, don't you agree? Staple pieces with some injections of interesting patterns or textures…that's our version of a balanced closet.
Our first outfits highlight some beautiful jewel tones. We are loving the bold pairing of rich colors this fall. The burnt orange lace blouse is a departure from my usual muted pieces and it's a welcome pop of rich color layered between the darker base pieces of the denim and plaid jacket.
And mustard?!? We may have been scared of anything resembling mustard on our bodies in past lol. Not so anymore. Worn with the deep ink green, it's just so striking! And while it's a strong color, this hue looks fantastic with denim, black, navy, olive, charcoal…versatile, right?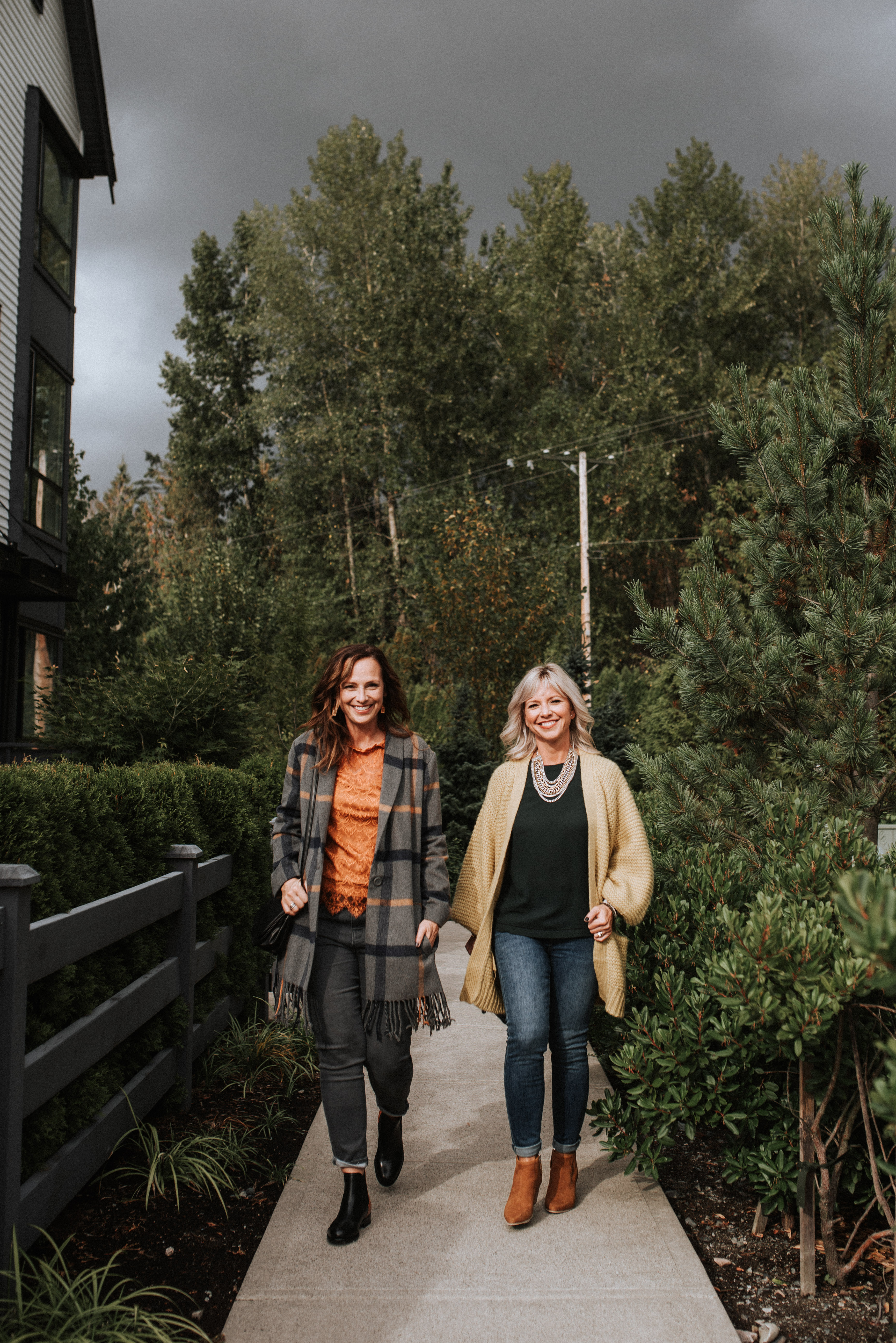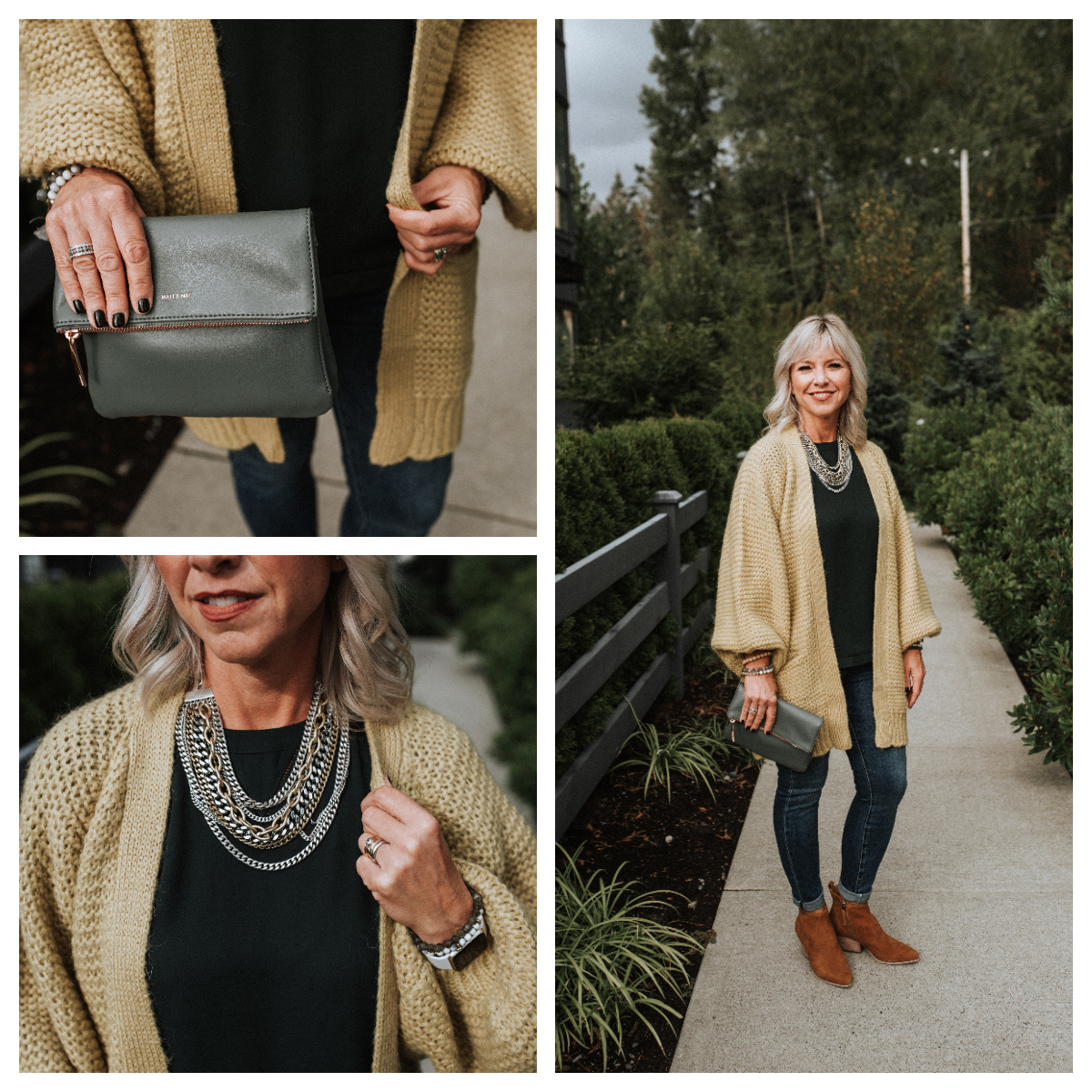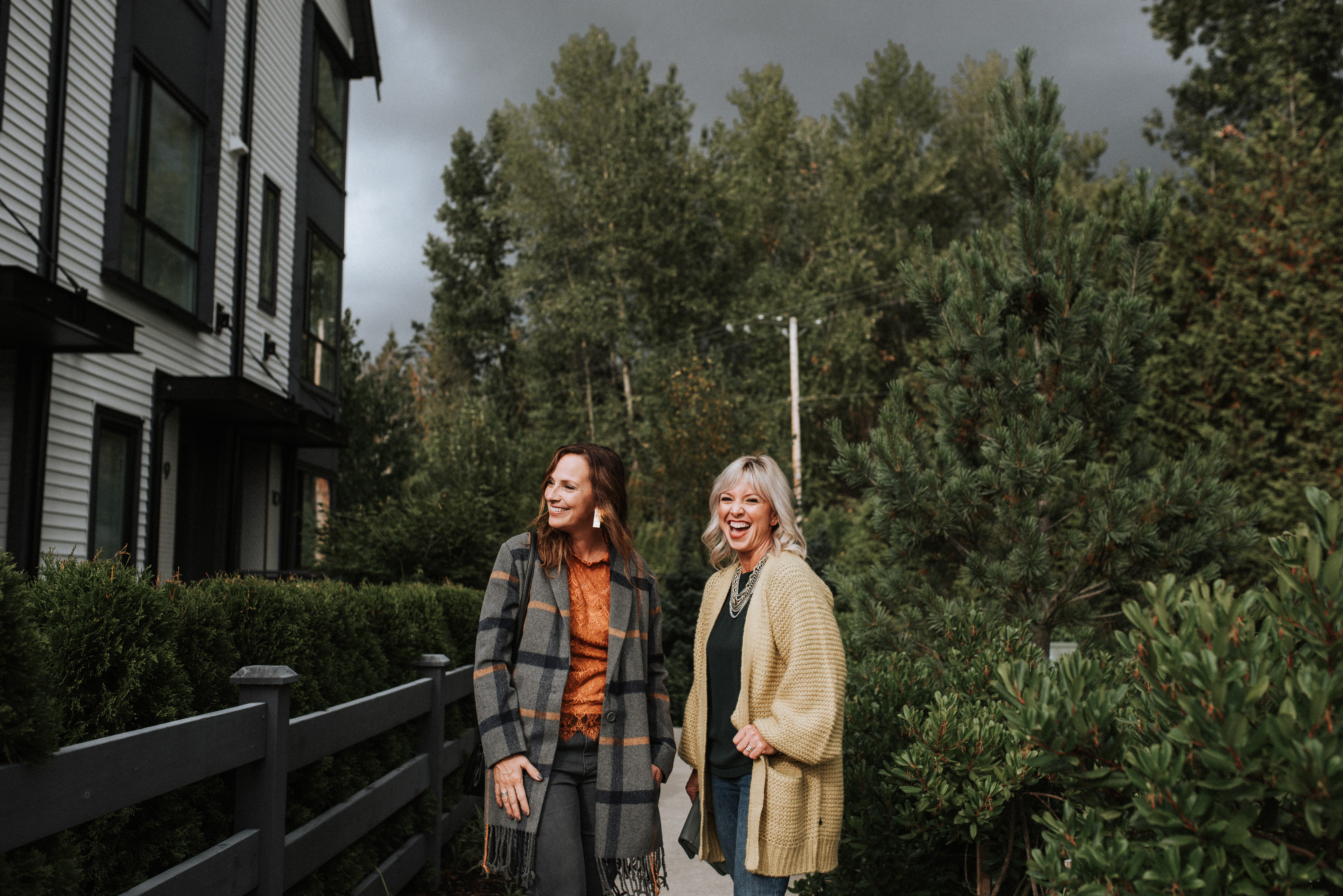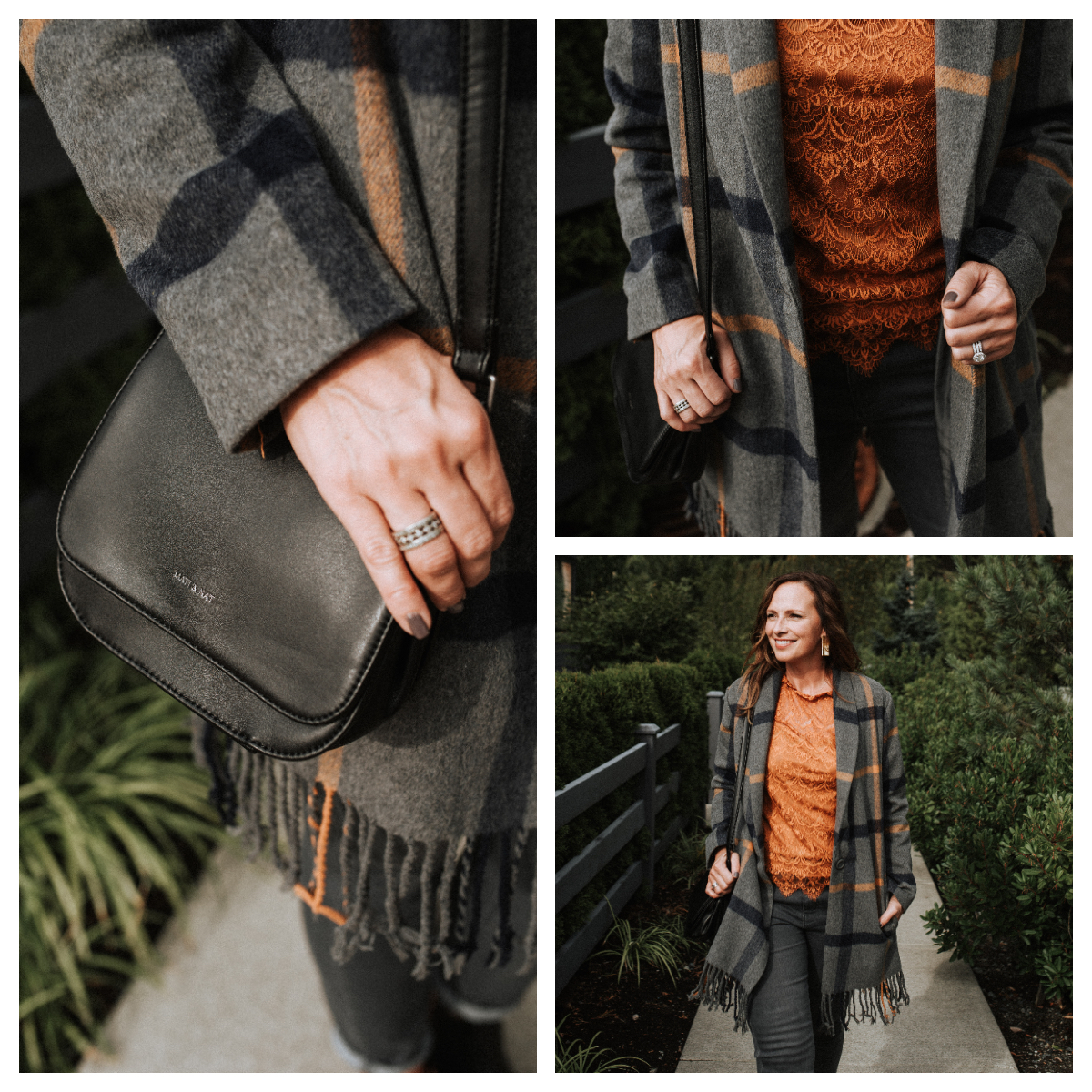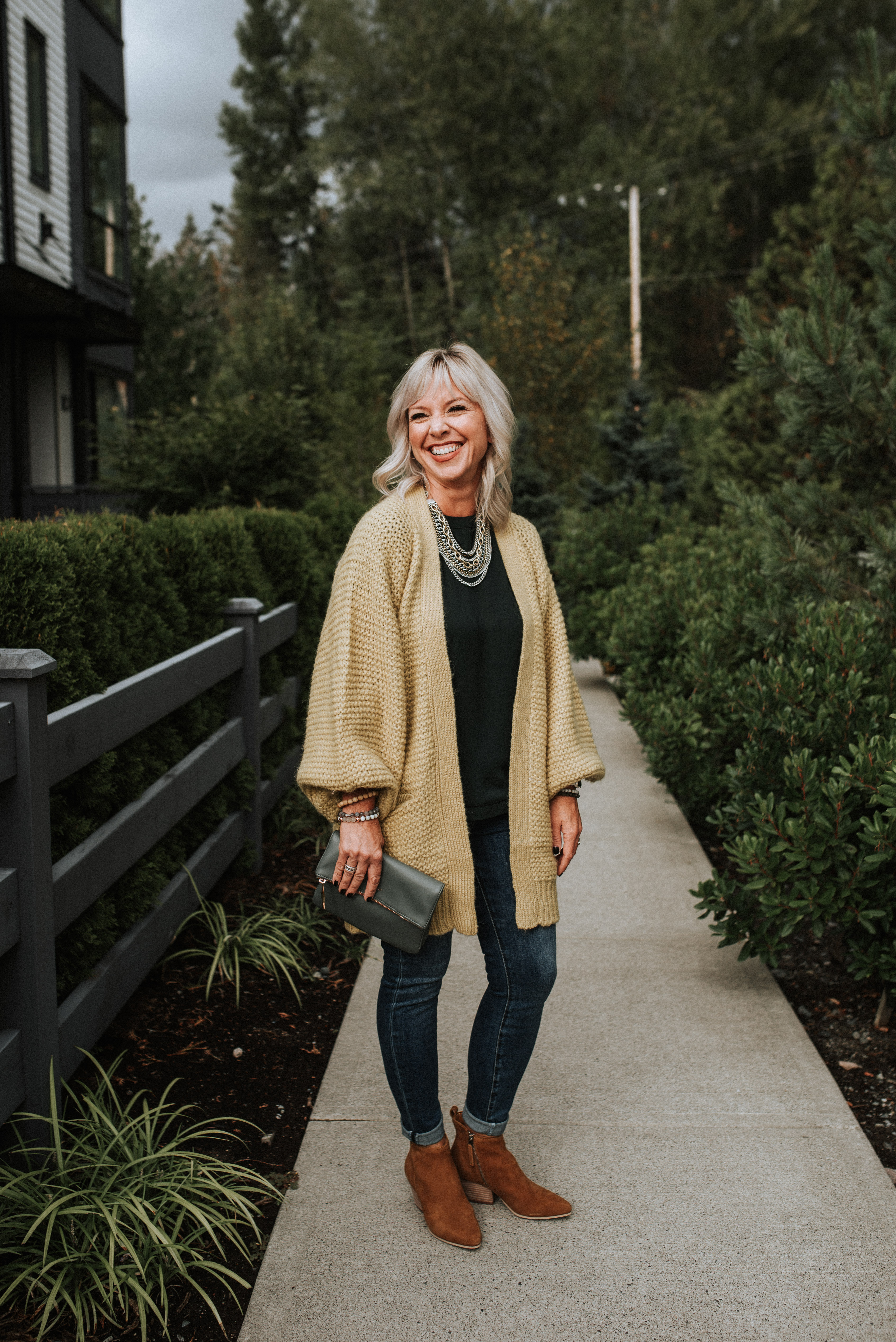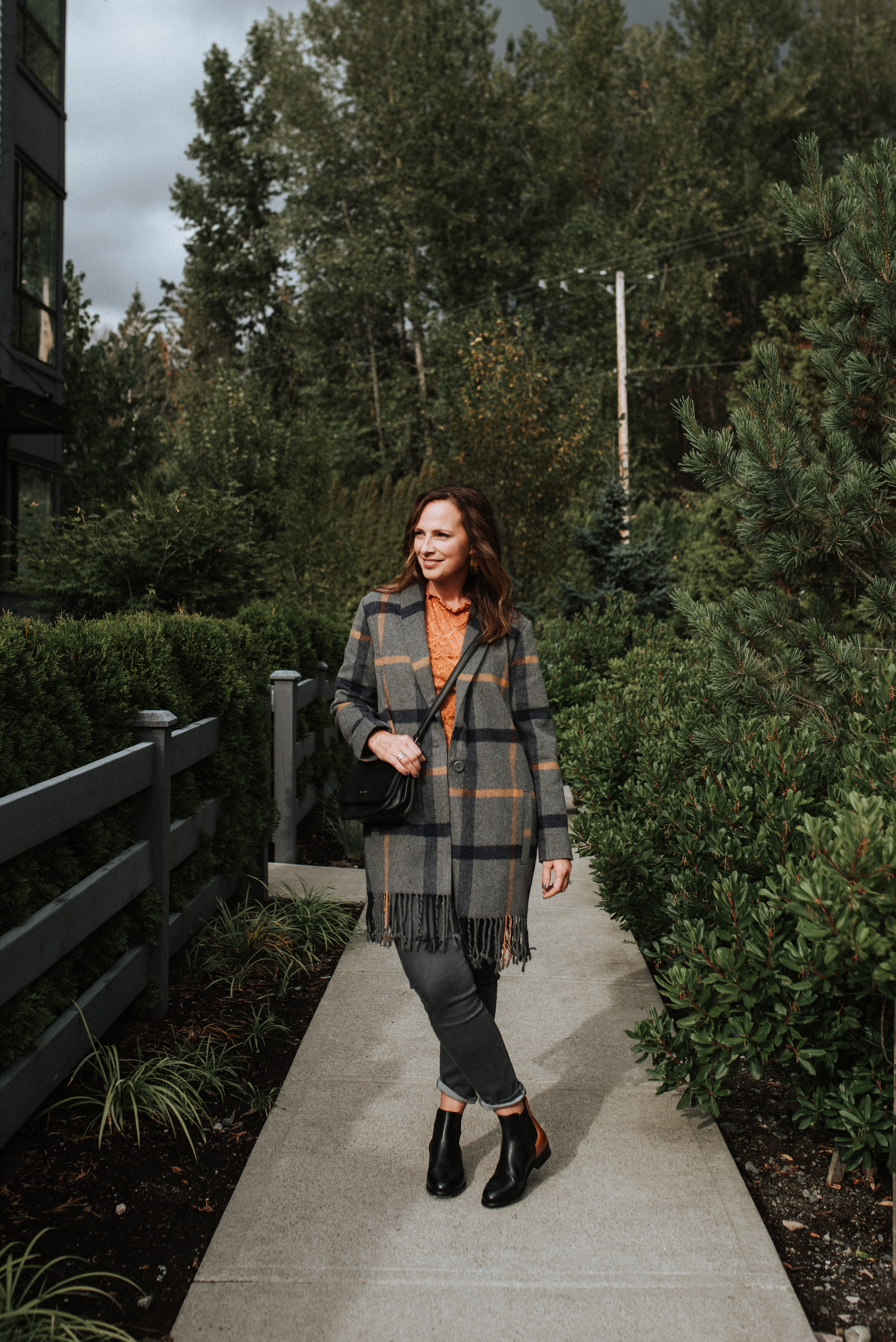 Pam's Outfit | Cardigan | Shell Blouse | Denim | Boots | Clutch | Necklace |
Laurel's Outfit | Wool Plaid Jacket | Lace blouse | Denim | Chelsea Boots | Earrings | Cross body |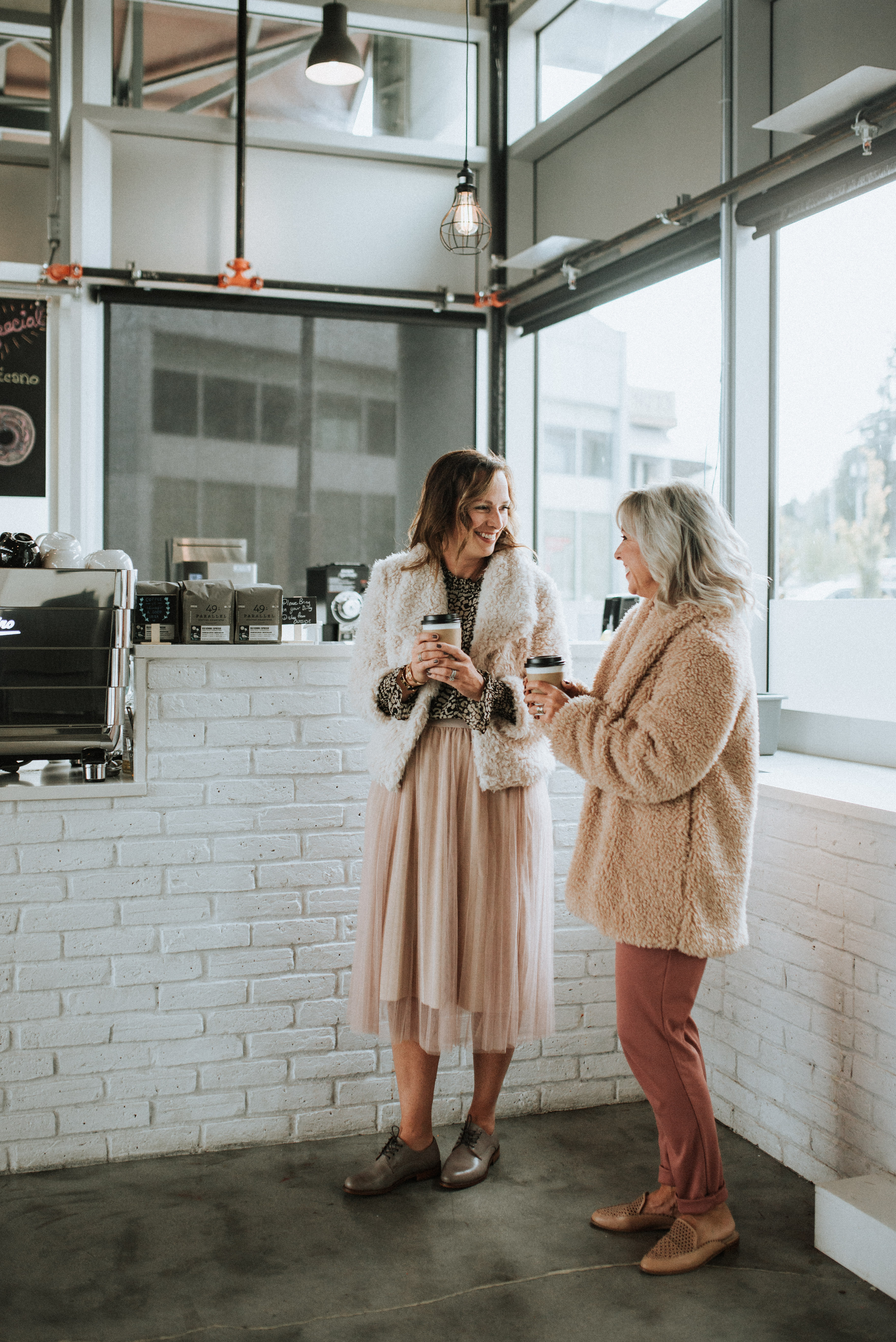 Pam and I also adore the softer, more delicate look of a neutral palette. Blush is everywhere and comes in variations of tones which can be layered together. This neutral also creates the perfect canvas to add  some stronger pieces. I chose a leopard print blouse which was softened by it's delicate cut and light fabric. Friends, leopard is baaaack!
And…the fuzzy coat! It was top of my list to find one this season. If you know me, I'm all about wearing different versions of "security blankets". There's usually a couple in rotation…whether a cozy cape, oversized cardigan or…this fuzzy coat.  Pam and I love the versatility of a piece like this: Functional in its warmth and comfort and clever in its ability to be worn both casual and dressy.  I have a feeling our girls are going to be on the prowl to borrow them #teenagedaughterstruggles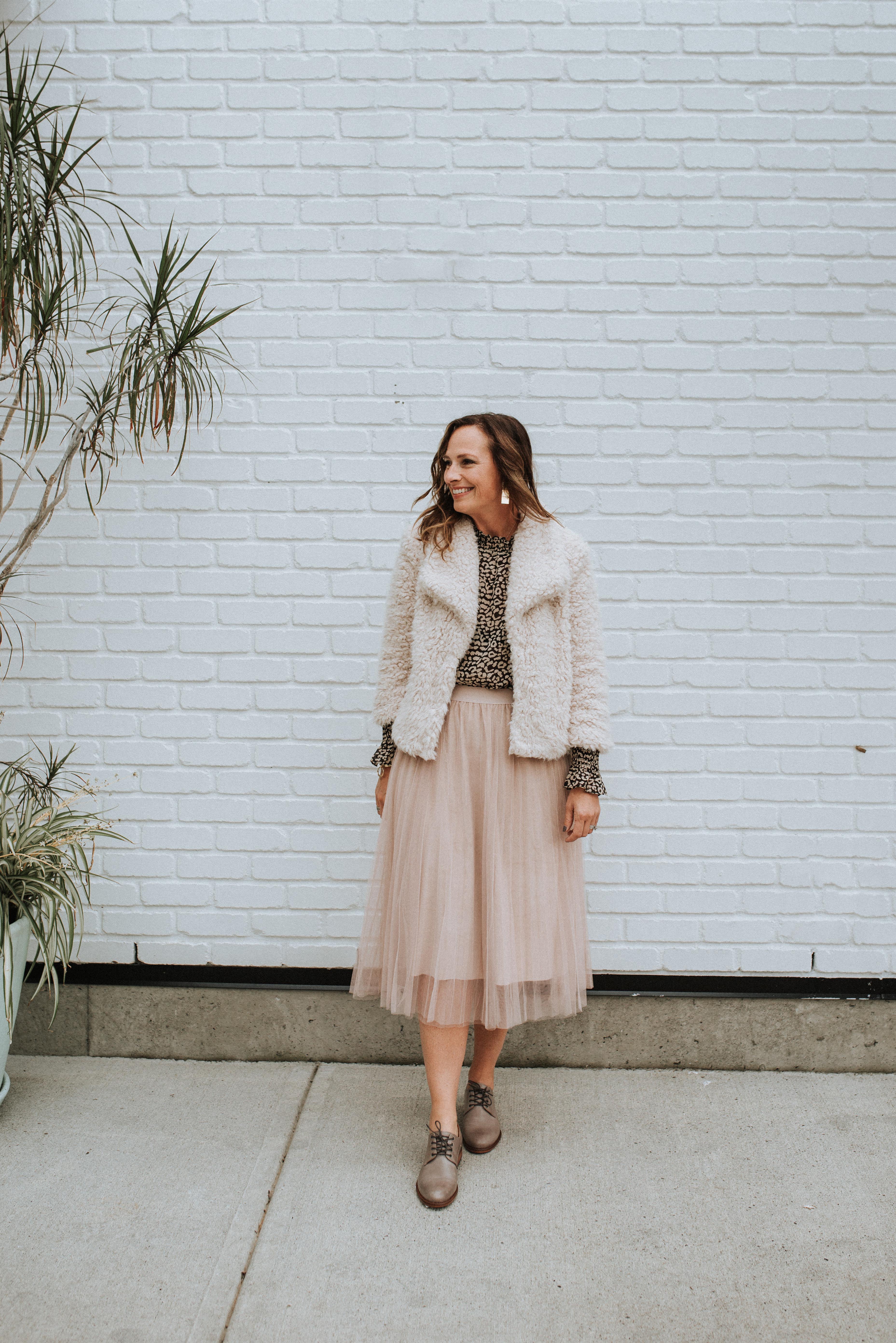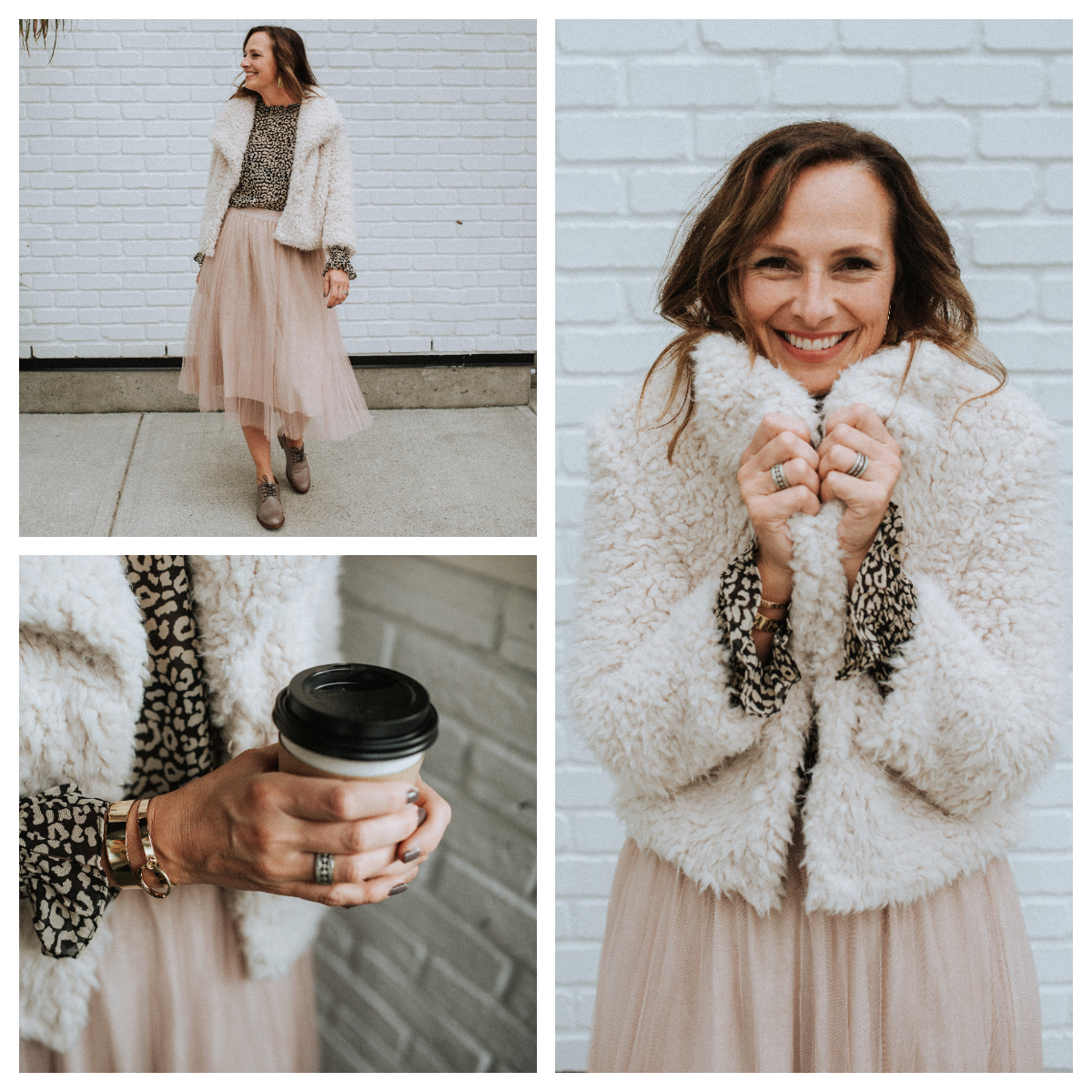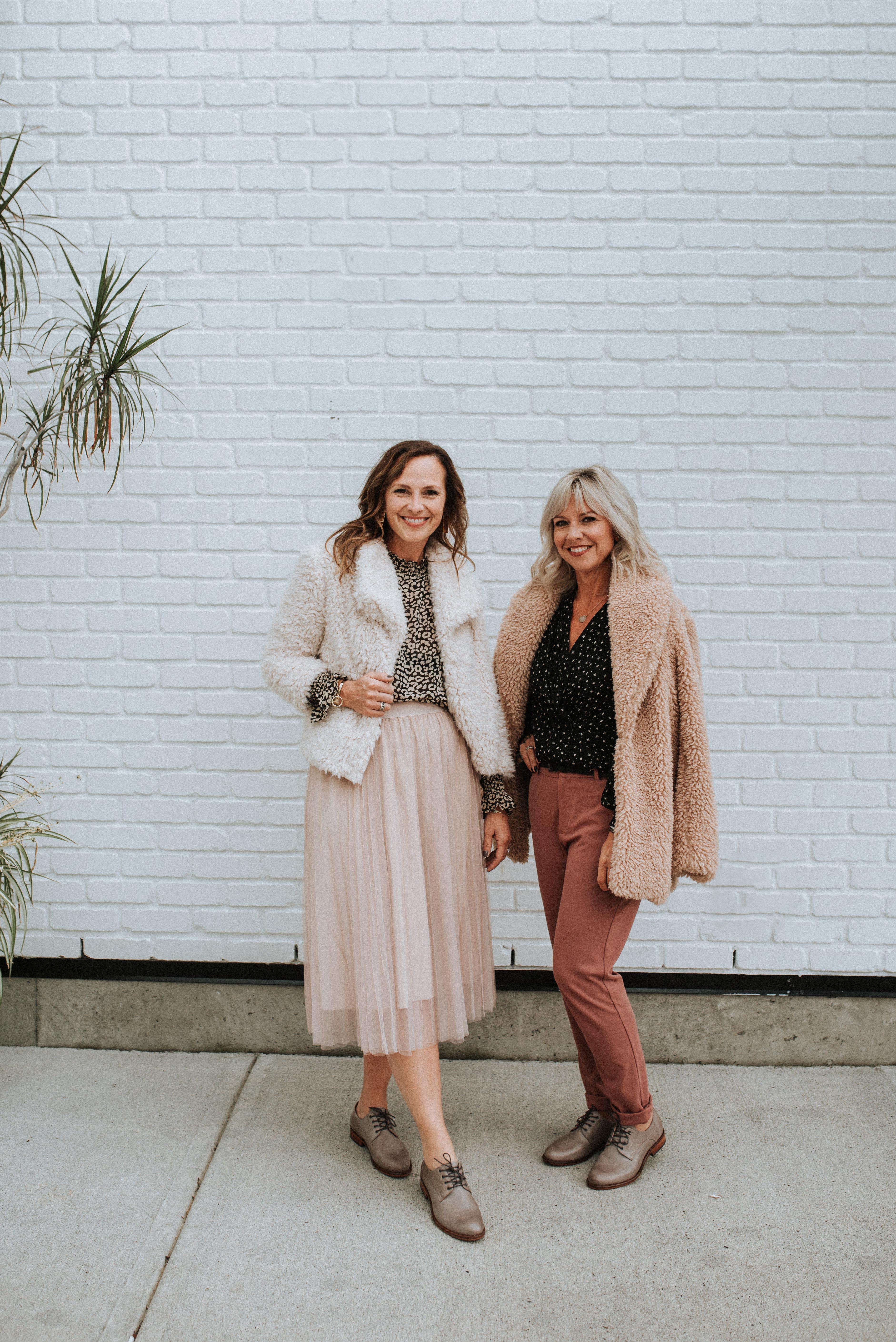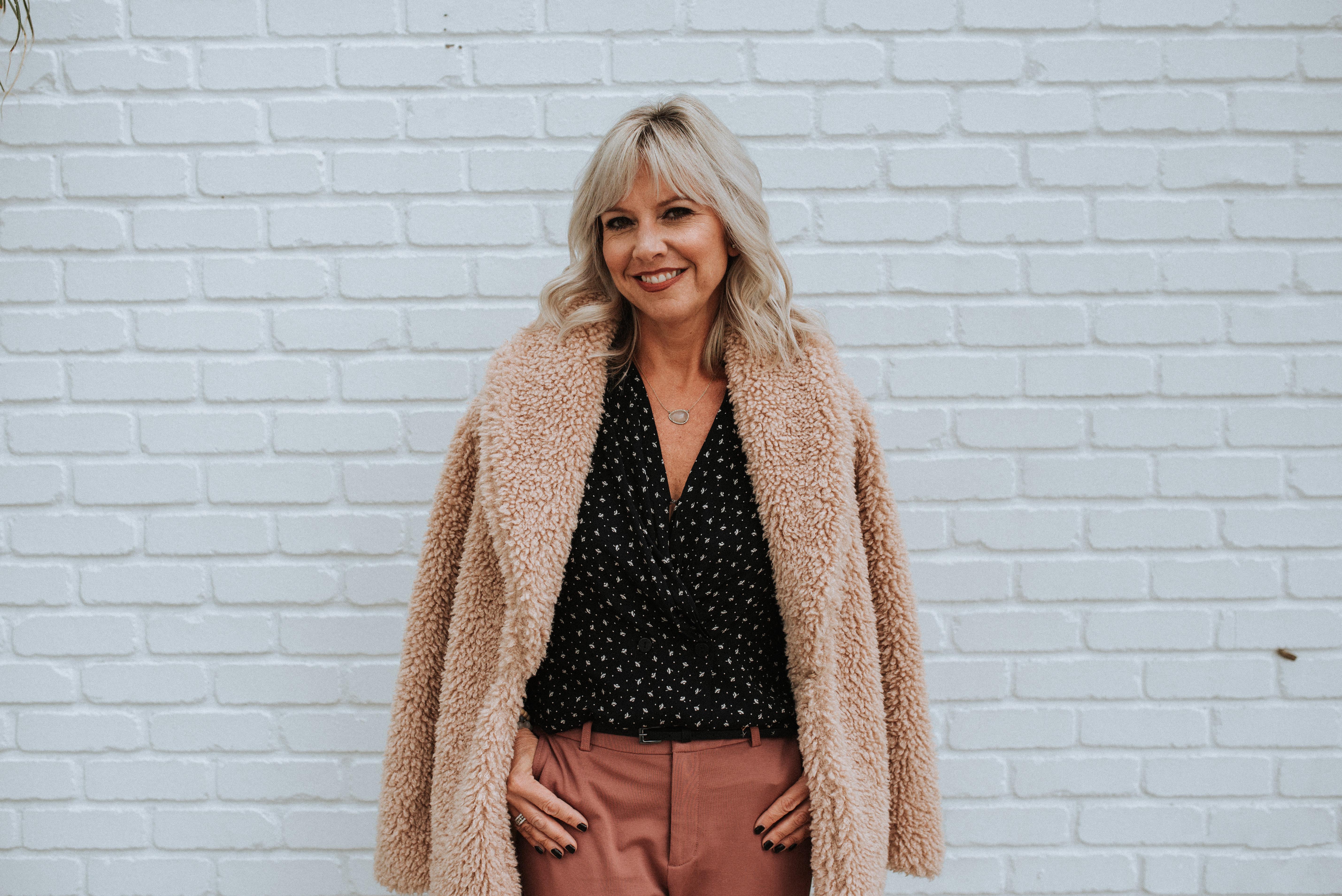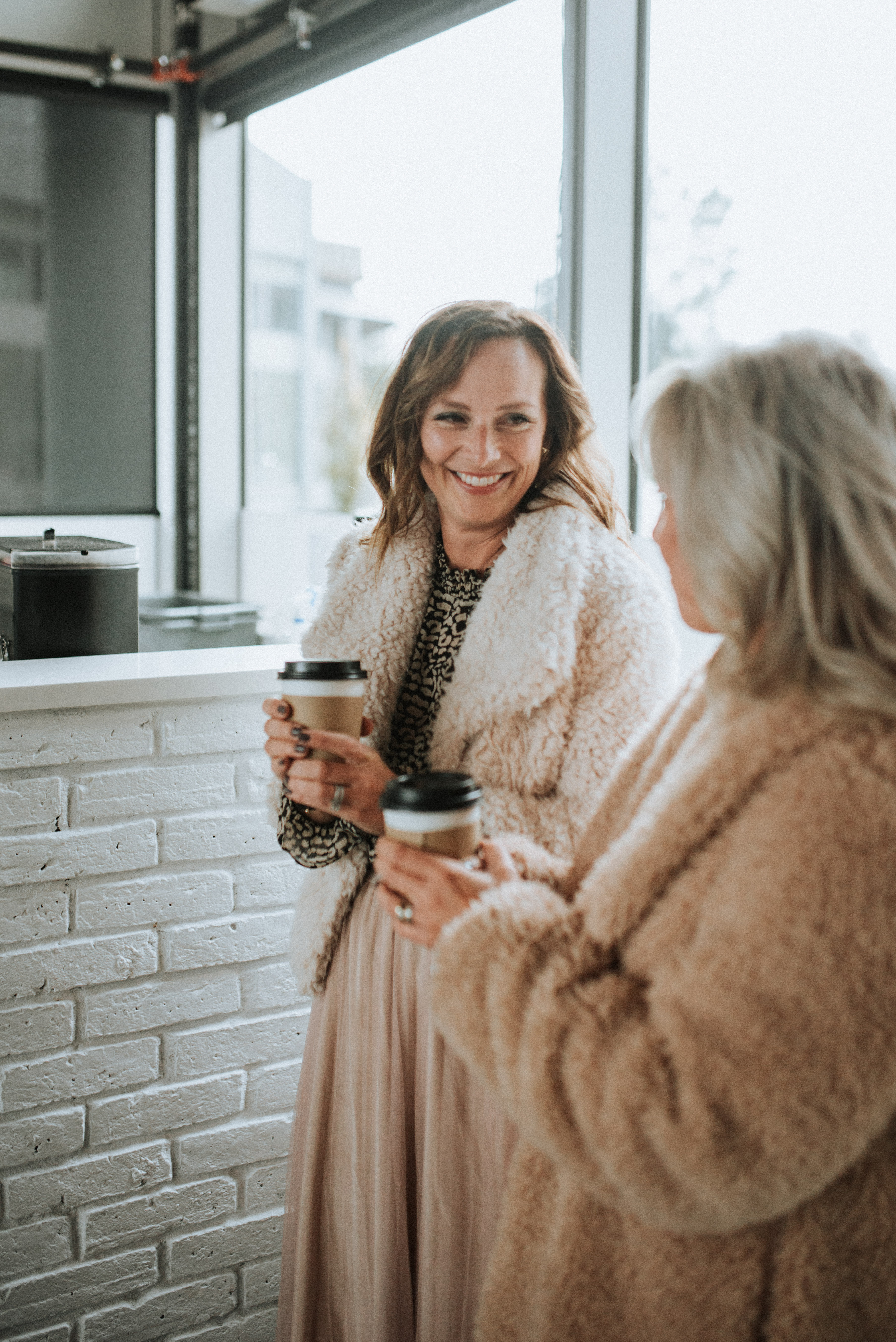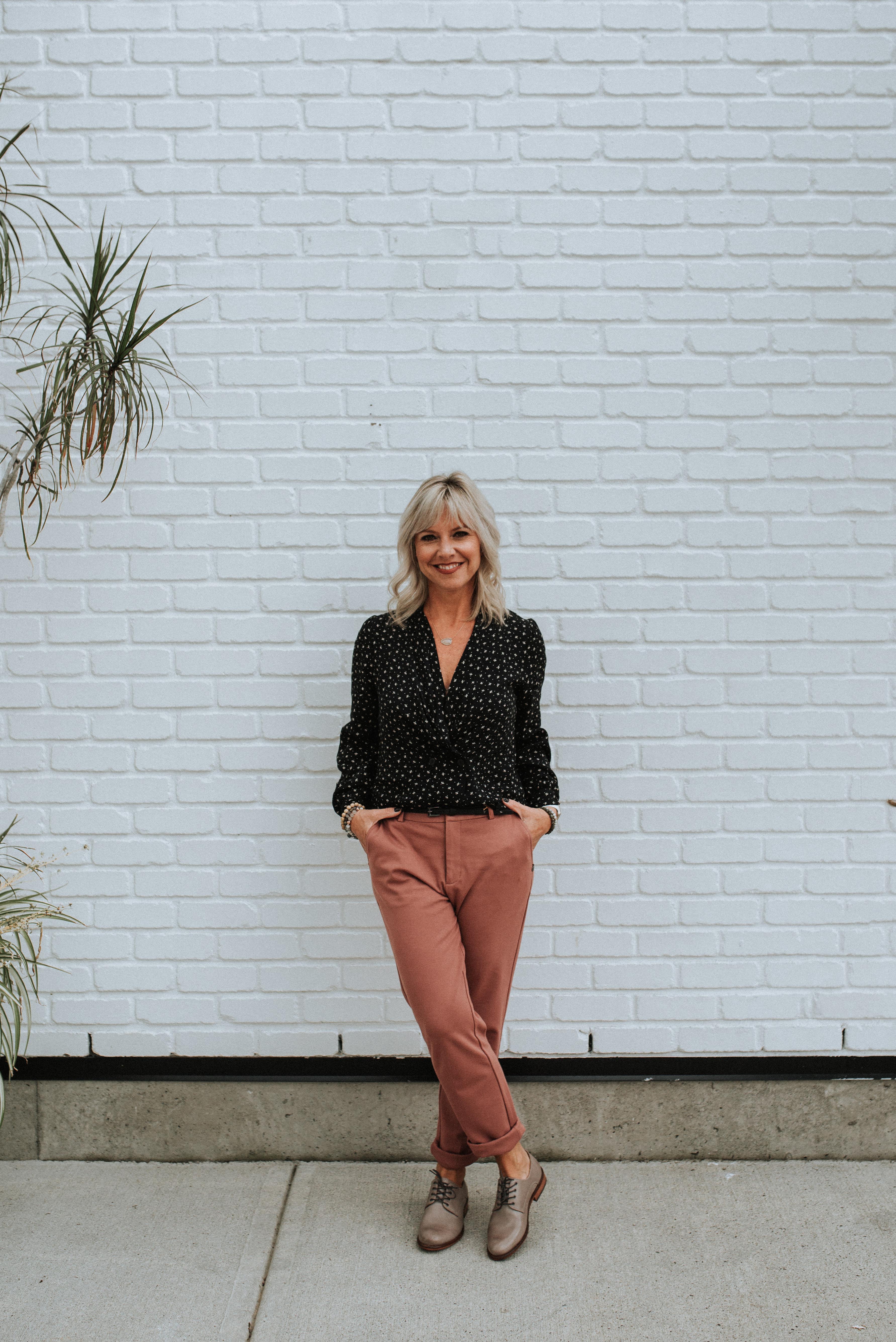 Laurel's Outfit | Fuzzy Coat | Leopard Blouse | Tulle Skirt | Oxfords | Earrings | Bangles |
Pam's Outfit | Fuzzy Coat | Blouse | Pants | Oxfords | *note that Pam's shoes in the first photo are her own.
*All clothes can be found in-store at Bella and Wren  #2-9110 Glover Rd. in beautiful Fort Langley.
Thanks to Kat of The Art and The Aerialist for taking these photos…you are a joy to work with!
*We were so excited when Bella and Wren approached us to work on a fall campaign with them. As I customarily visit them to add some new pieces to my wardrobe each season (and then some!), it was a fantastic fit. We so appreciate them sponsoring this post. As always, all opinions and product choices are our own. Thanks friends for supporting the brands that we are privileged to work with!
Can we leave you with some inspiration? Oh we had fun…and if we ever get invited to NYFW we are SO ready!! (I just might not tell you that I pretty much got stuck in the pose…ouch)