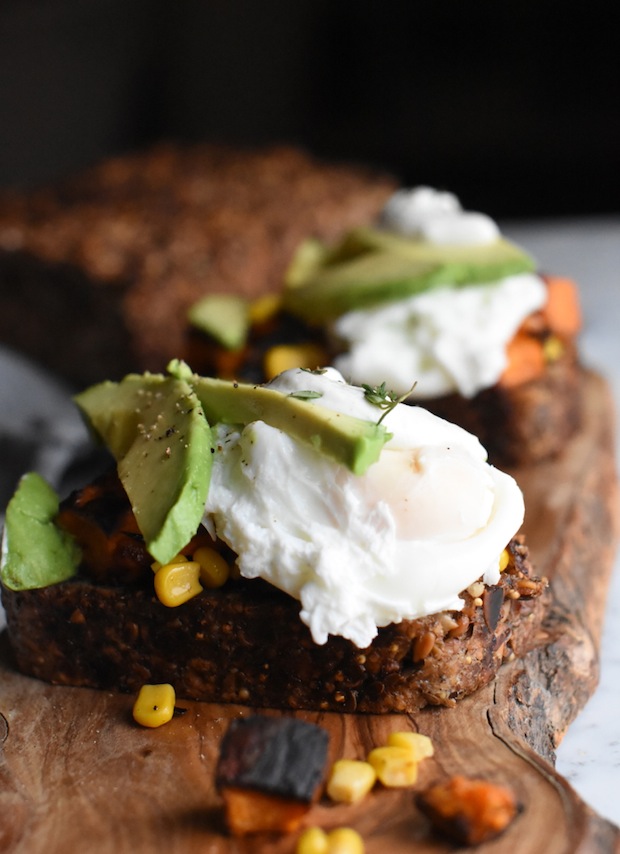 Brunch. Seriously. It just gives me all the warm and fuzzy feels! There's something so unrushed and decadent about brunching.  In fact, I love it so much I sometimes make it for dinner. Brinner, you ask? I'm not sure…we just call it brunch for dinner ha!
Today's dish is a curation of some favourite recipes that come together to make a darn good creation. I've made versions of this on a bunch of occasions and it just seems to be a hit. It really is the marrying of all the components together that make it so good. So my opinion is not to forgo any of them. Just my two cents but you just need to try em as a collective bunch.
It starts with a yummy dense and hearty bread. This recipe is so delish…it's gluten free, aka celiac friendly, which is such a bonus in our household. But more than being wheat-free, it's so full of nutrition.  And…well..it's just so pretty. If you find food to be pretty (is it just me?), you will appreciate this seedy, nutty loaf that looks beautifully rustic.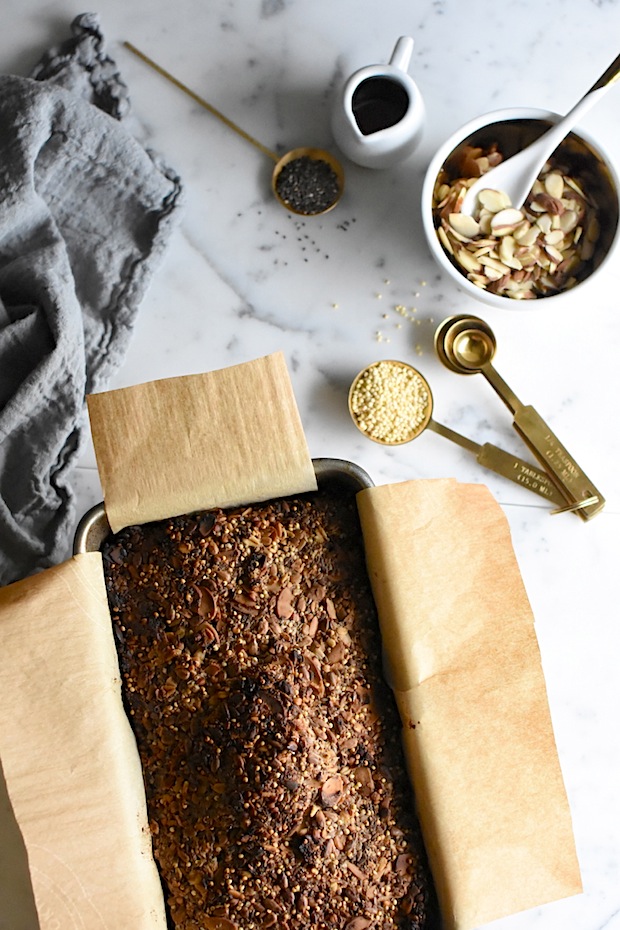 The second killer component is a Sweet Potato Hash… this recipe is my absolute favourite! Little note for you advance "preppers", I like to cube the sweet potatoes the evening before and store covered in water overnight to get brunch on the table more efficiently in the morning.
Third, the cumin yogurt is ridiculous. I came across this recipe  (scroll down to the "yogurt sauce") when making a Lebanese dinner…it paired incredibly with the chicken shawarma and lamb I was making. Since then, I just keep making it! It's a go-to for topping buddha bowls, grilled proteins AND this little heavenly brunch dish. This topping can be made super quick…plain yogurt, garlic, cumin, salt and pepper…done!! *Save time by making this the evening before too.
Fourth, poached eggs. By no means am I an expert at this..but I think I'm getting better…it's all about practicing! It adds the perfect protein component to brunch.  If poaching isn't your gig, fried eggs are completely acceptable:)
And..of course…some sliced avo. You just have to.
Put them all together and you've got one messy and delicious breakfast sandwich…of a healthier variety.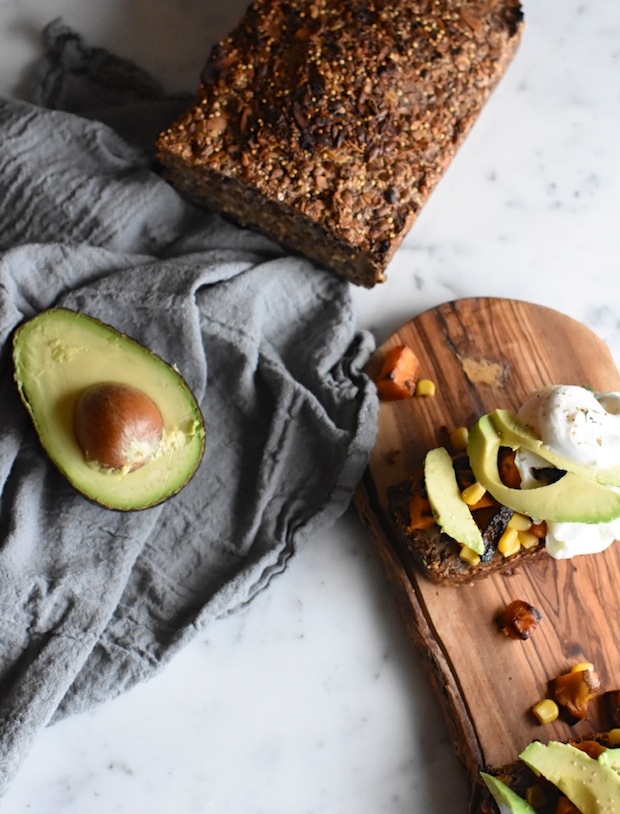 Ok, so the Cole's notes:
Nut/Seed bread….make sure to toast it!
Sweet Potato Corn Hash
Poached Egg
Cumin Yogurt
Sliced Avocado
Garnish with chives or fresh herbs or your choice.
So easy, right??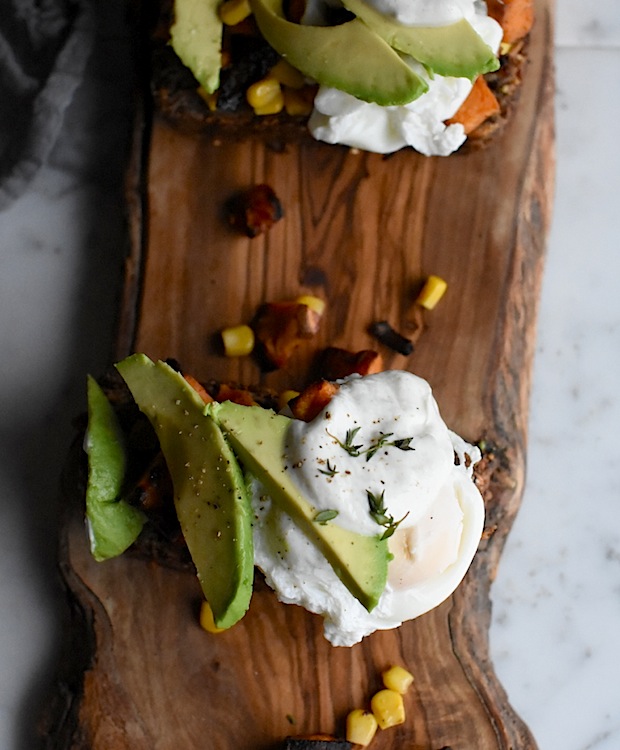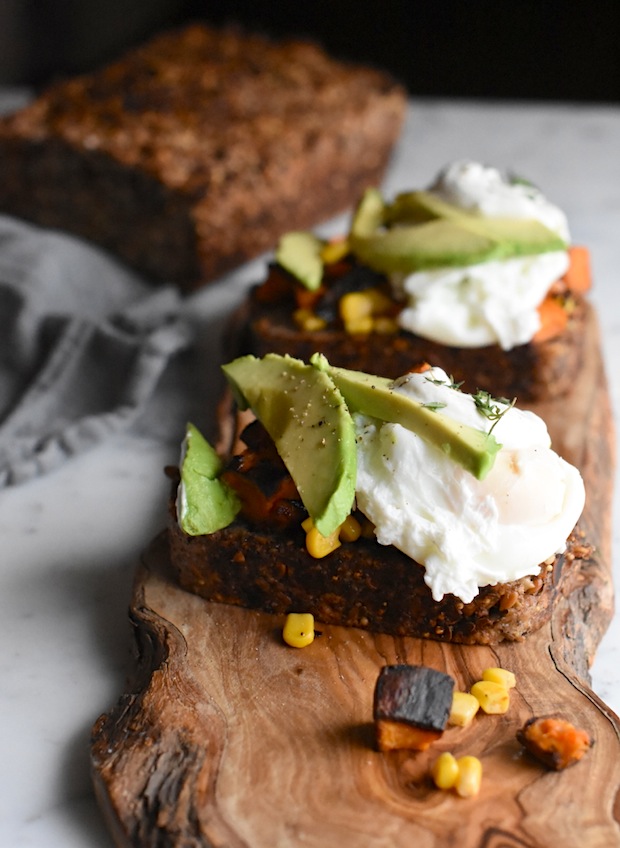 Hope you enjoy this brunch favourite as much as I do. I'll make it last for a number of mornings to get my fill…the sweet potato hash holds up super well in the refrigerator, as does the bread and yogurt.
Wishing you all a great weekend! As always, I thank you for taking the time to read our posts…I hope this makes it into your repertoire for home brunching with family, friends…or even just yourself. You're worth it! xo Laurel