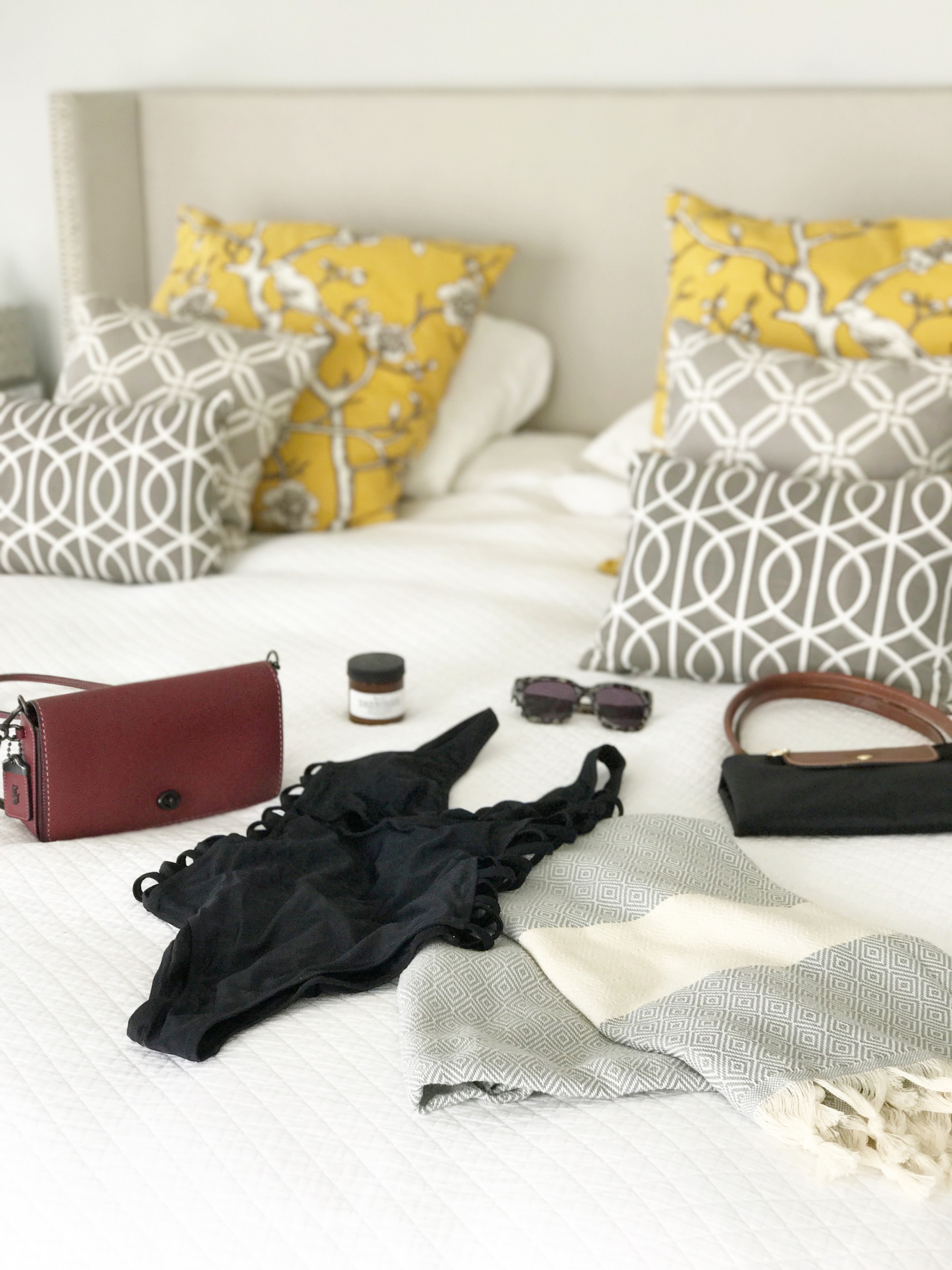 Spring Break is around the corner for many of us here on the West Coast.  Thank goodness!  I am so ready to get away from this snow and rain and get into the sun!  A friend of mine asked what my essentials are for a warm weather trip so that got me thinking about what I am going to be packing to head down to California.  I have to admit that I'm guilty of being an overpacker…yes I admit it! I'm know to slip extra things into the kids' suitcases to avoid mine being overweight.  So, this has been a good exercise to think about what the items are that I consistently pack and use when I'm away.  Here is what you will be finding in my suitcase this Spring Break…and hopefully it will be lighter this time!
Actually, we should first talk about the suitcase.  With baggage weight restrictions on airlines and even stricter ones on some discount airlines (hello…only 40 pounds), the type of suitcase you use is key.  Yes, the hardshell ones may protect your things a bit more, but they themselves weigh a ton.  In our family, we each have our own soft sided wheeled bag.  They weigh less and we each have a different pattern so they are easy to spot and there's less risk of someone else picking up your black bag.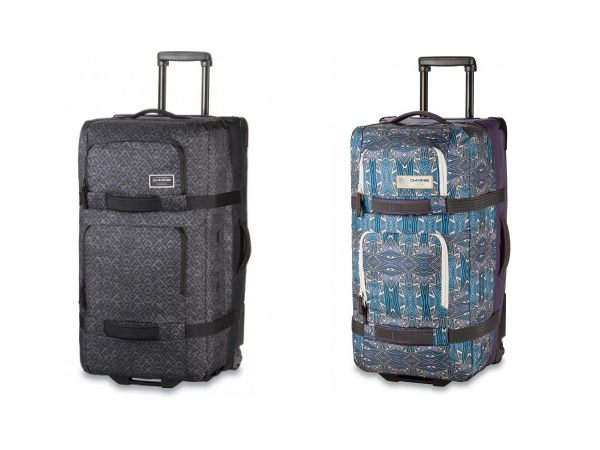 A few notes about what I pack…
Nothing is more frustrating than dry, cracked lips, so I use a sunscreen lip balm SEVERAL times a day.  A super moisturizer after sun lotion is important to keep your tan and to prevent scaley legs!
Shoes…I always pack WAY too many.  Bottom line, you only need a few key pairs.  I usually pack a pair of heeled sandals and never wear them.  All you really need are a pair of Birks….they look cute with dresses and shorts and are great for walking.  A pair of flat leather sandals will go with almost everything.  I splurged about 5 years ago on a pair of Tory Burch ones and I am STILL wearing them.  That was a good investment!  And you need a basic, neutral pair of flip flops for the pool.
I love tortoise sunglasses…they go with everything!
My 40+ year old body is so happy that one piece swimsuits are in!  And there are so many modern styles out there so you don't have to look like you are wearing a "mom" suit.  I'd recommend a black one piece…it's slimming and you can even wear it out for a tropical dinner with a sarong skirt.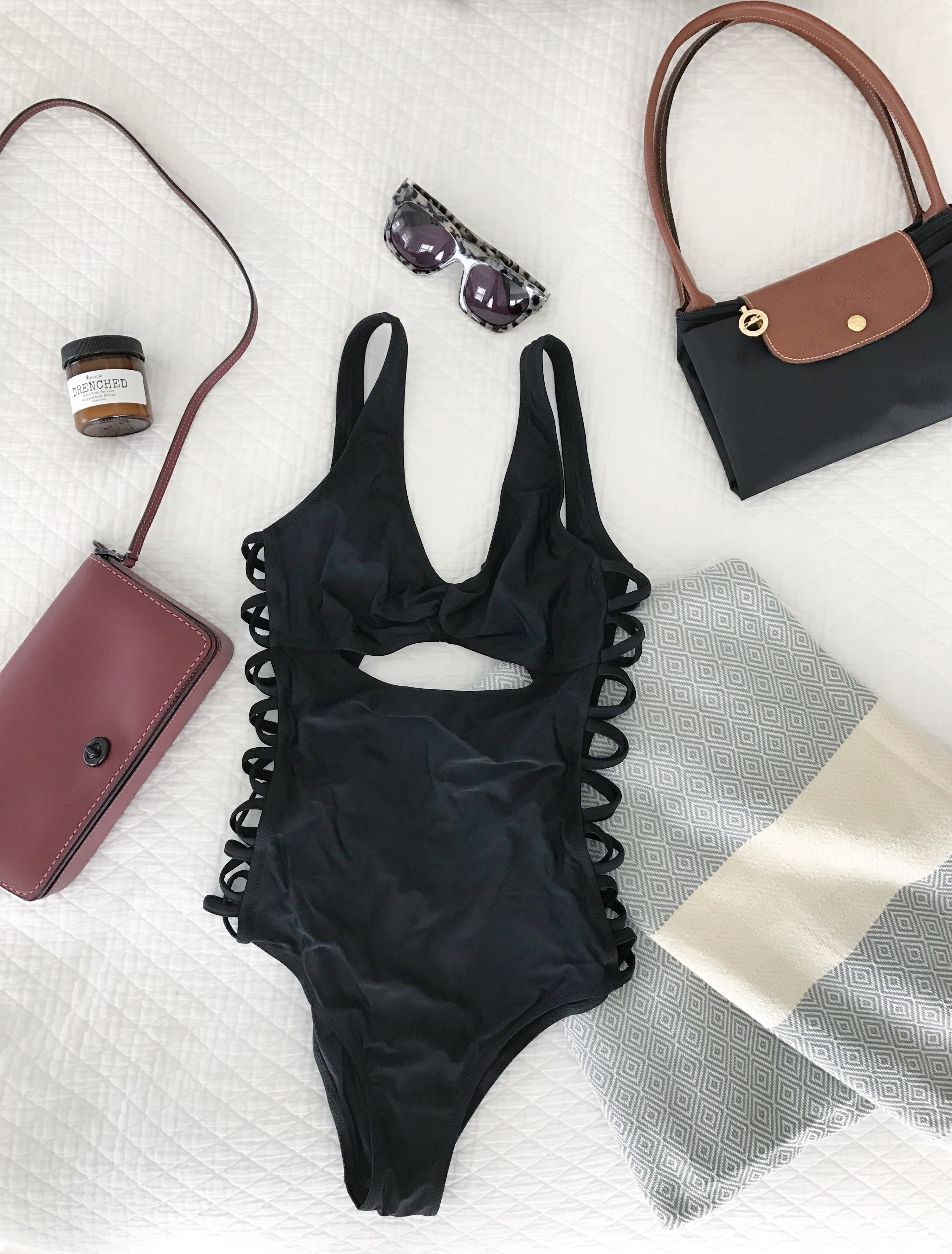 I like to usually pack two cover ups.  I like to be able to switch them up if I'm away for a week or longer.
A comfortable black dress is a must.  You can dress is up or down with jewelry or a light, gauzy scarf.  For cooler nights, add a cape or a drapey chambray cardigan.  I find that even in the warmest tropical locations, it's still a great idea to bring a piece or two to layer.
I love the idea of bringing my own towel.  This is a great idea at resorts where people "save" lounges all using the hotel towels.  How tempting is it to move someone's towel, when you haven't seem them grace their lounge for hours?   People are less likely to "steal" your lounge if you have a personal towel on it…just sayin'.  Turkish towels are a great option as they are lightweight and dry quickly and they don't take up much room in your suitcase.
Bring a beach bag!  I have made the mistake of forgetting one so many times!  It's nice to have something to pop your suncreen, lip balm, book, water and room key in.  I love the Longchamp bag as it folds up small making it super easy to pack.
One purse is all you need in a neutral shade.  Go for a cross body style so that you can be hands free for those day trips and for travel days.
I have linked a LOT of items here.  My goal was to give you a lot of options, price points and allow for shopping in both Canada and the US as Spring Break is almost here!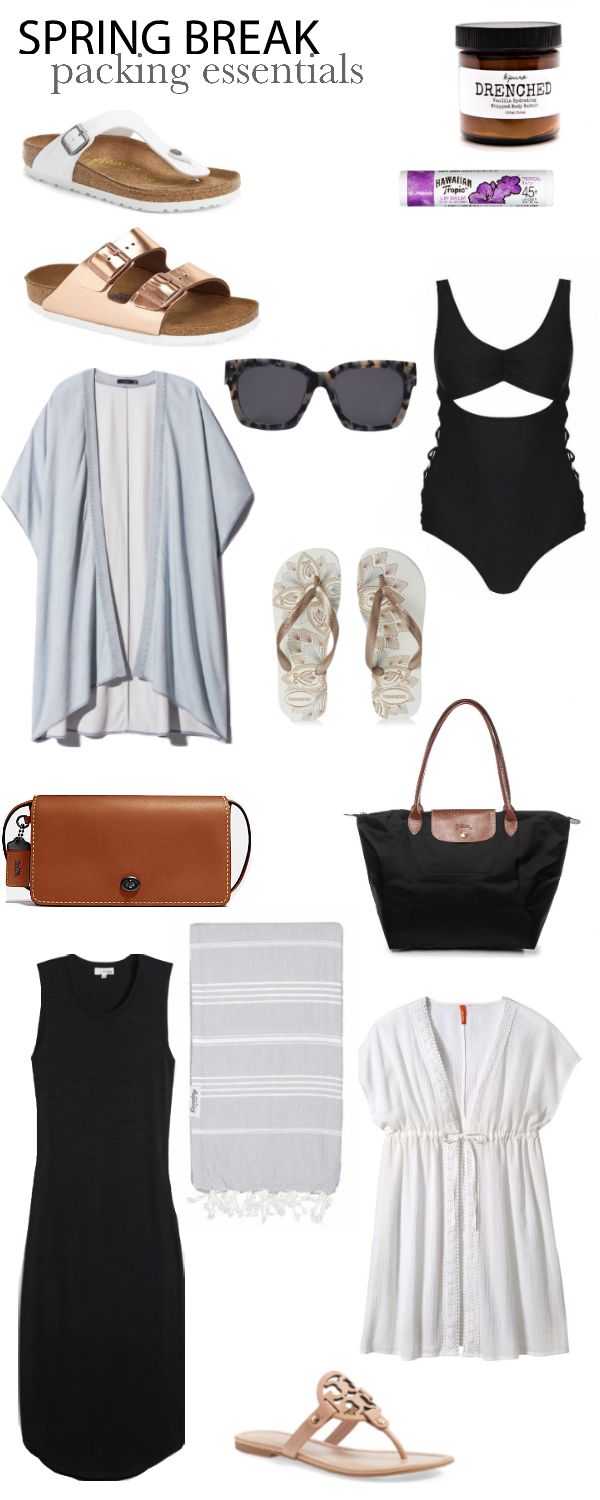 Fabric Roller Bag here, here, here and here
Birkenstocks here, here and  here | Flat Sandals here, here and here | Flip Flops here, here and here
Sunnies here, here and here | Black One Piece Swimsuit here, here and here | Cover Up here, here, here and here
Black Dress here, here and here | Cape or Drapey Cardigan here and here
Turkish Towel here, here and here | Beach Bag/Tote here and here | Cross Body Bag here and here