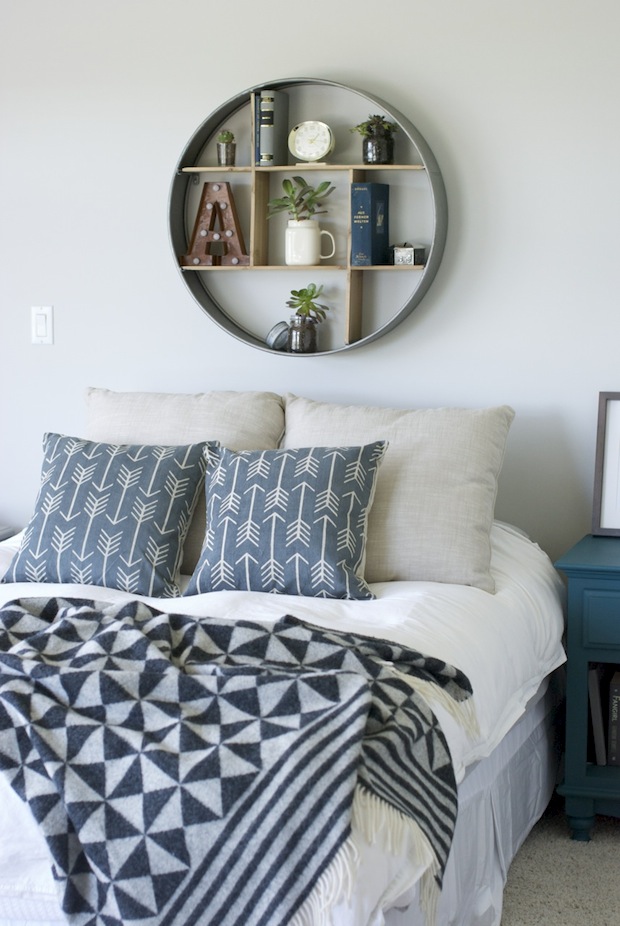 It all started with one can of paint. Isn't that how most projects begin? One little thing acts as the tipping point to finding yourself in the middle of a re-do. Lexi has been asking (read begging) to have a room refresh for quite some time. I hardly understand why, as I'm sure you'll agree when you see the before photos. That's a serious WINK WINK. We had started the ball rolling by re-painting her room a couple of years ago, but then somehow got sidetracked. Finally, upon being given a can a paint to try, it morphed into the re-do that was due. Lexi is super pleased with the result and I kind of agree. It's a bedroom that is cozy, non-cluttered but still holds hints of what is important to her.
The "before" of Lexi's room shows a much younger, brighter and definitely more juvenile room. I think I was inwardly afraid to commit to too much and thus, we put up the Moroccan type wall decals…all over the place.  On the other hand, we jumped in with both feet on her night tables. At the time she liked the cheery colours, but I feel as though we just missed the mark. It didn't come together but it was "finished" and so we just moved on. Lexi never felt that the room reflected her and that, my friends, is the biggest reason that I wanted to make it right!
The before: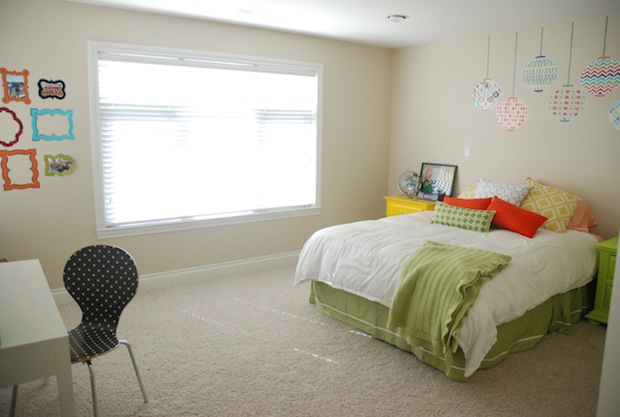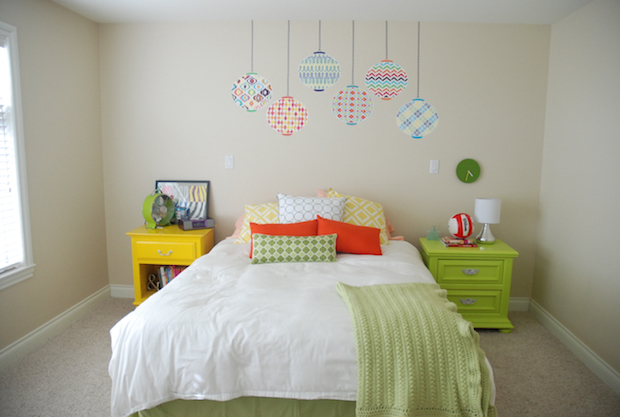 And the after: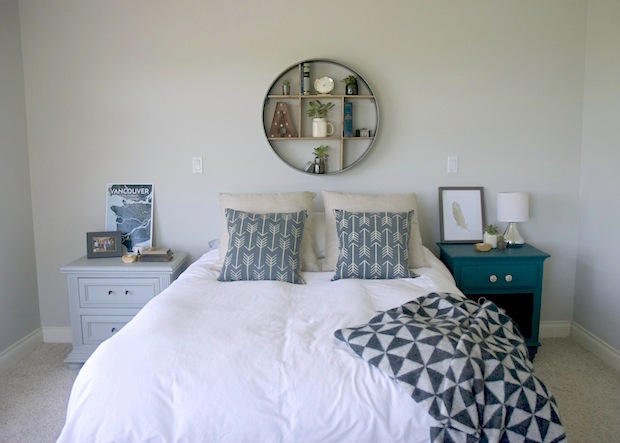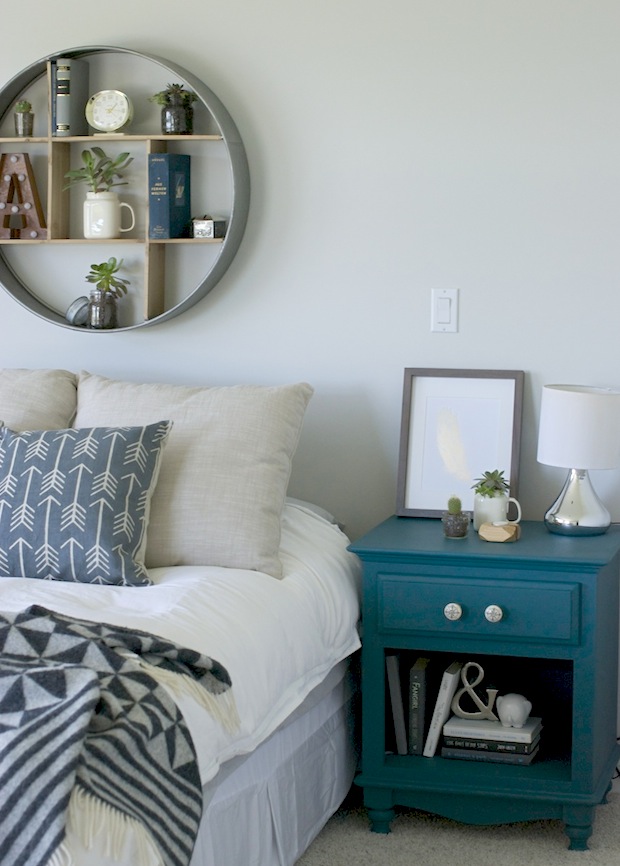 When we first set up a desk are for Lexi, she wanted to have some space to write notes as well as pin up pics. The updated space is less cluttered but still just as functional. You'll notice the desk and chair remained, while we freshened up the rest… with her favourite scratch map, some treasured photos and a freshly painted lamp. This area reflects her love of travel, photography and friends.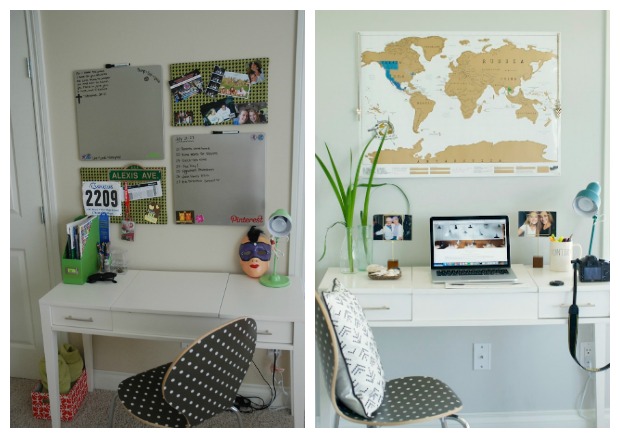 Before & After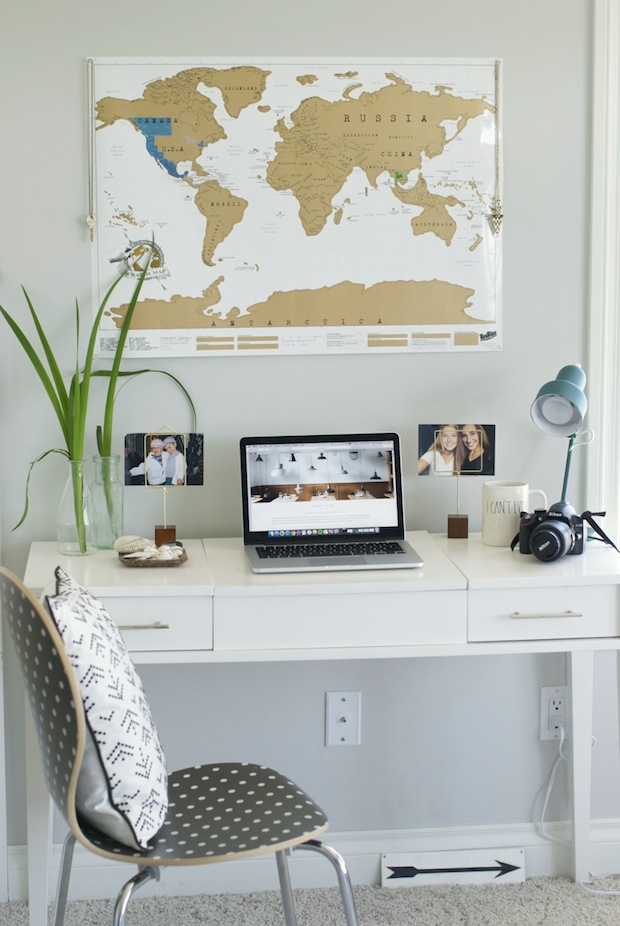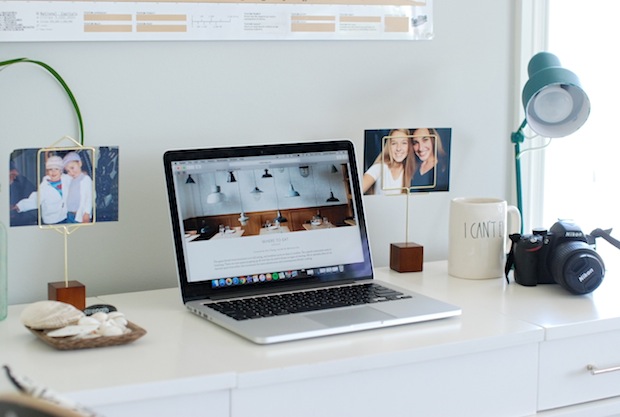 The little corner nook in her room wasn't really being utilized as a seating area and so we added some baskets for storing items she wanted close at hand but not necessarily on display. Extra blankets for friends and her school yearbooks are at the ready now.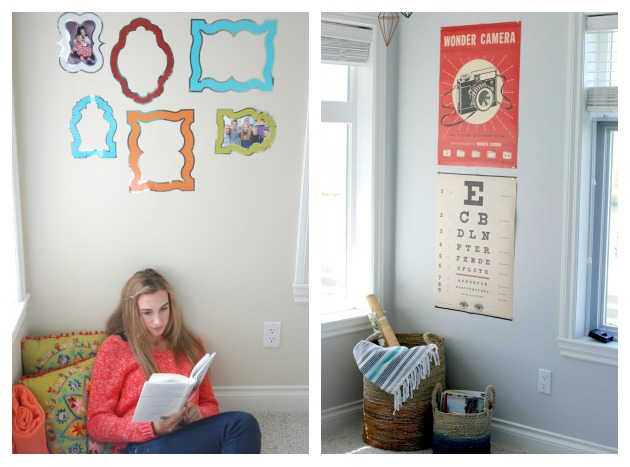 Before & After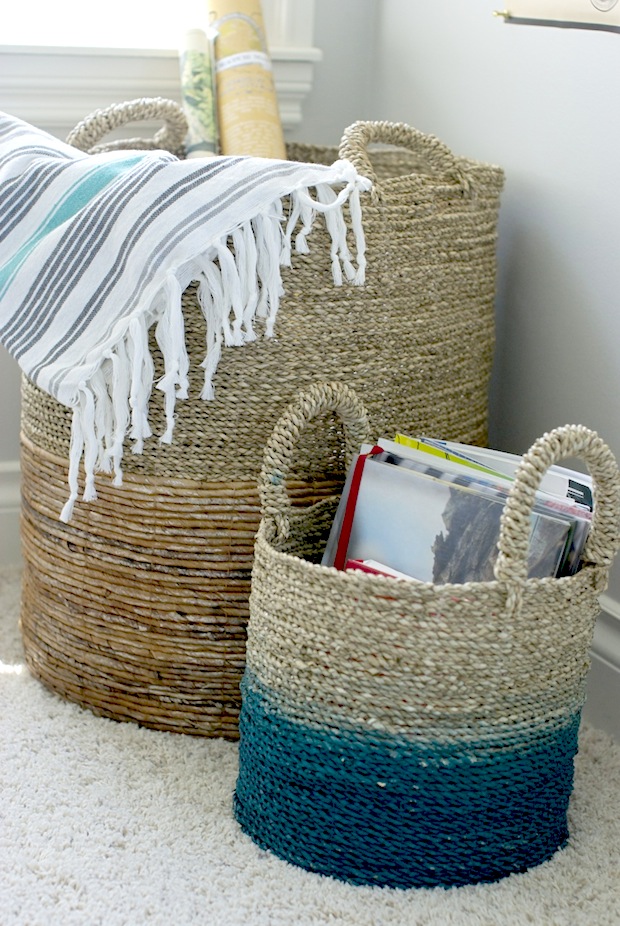 Ok, so no one's surprised that we needed to bring the night tables down a notch…or two. Kinda want to kick myself for ever thinking that going the neon route over wood crafted tables was a good idea. Uggggg…no returning to the plain wood grain that we began with (the one night table has been mine since I was about 14 years old!!). This is actually where the update to Lexi's room began. The idea was to use some gorgeous paint this time around. And upon seeing this rich blue-y green chalk paint, Lexi fell in love. I'll admit, I kinda seriously adore it too. So rich and bold, yet not harsh…it's a color that I'd describe as…well…delicious.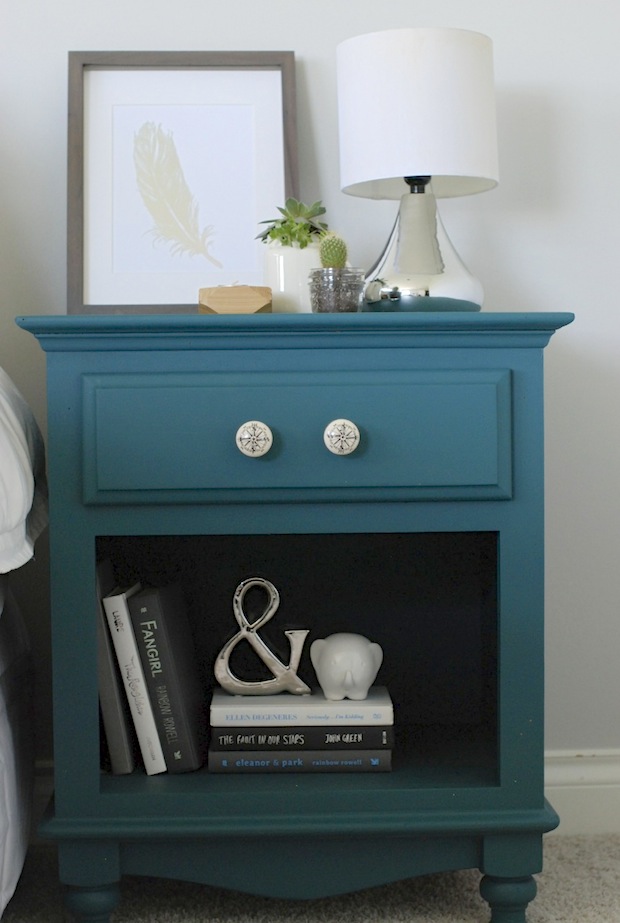 The befores (oh dear) :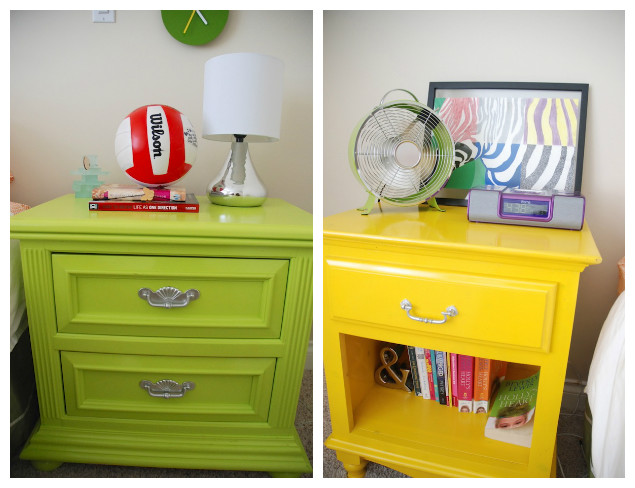 And the much more subdued and polished afters: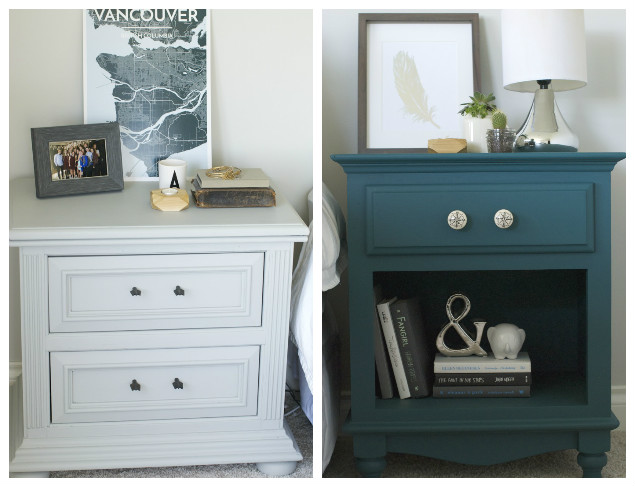 We added some vintage knobs to both of the dressers as well… little compass knobs on the right (an ode to travel) and mini iron arrows on the left…. it's the little details that make big impact…  I hope you notice that doing a re-do doesn't mean getting rid of everything and starting all over. Pieces, such as the lamp and the ampersand worked before AND after. If it can be re-worked, keep it!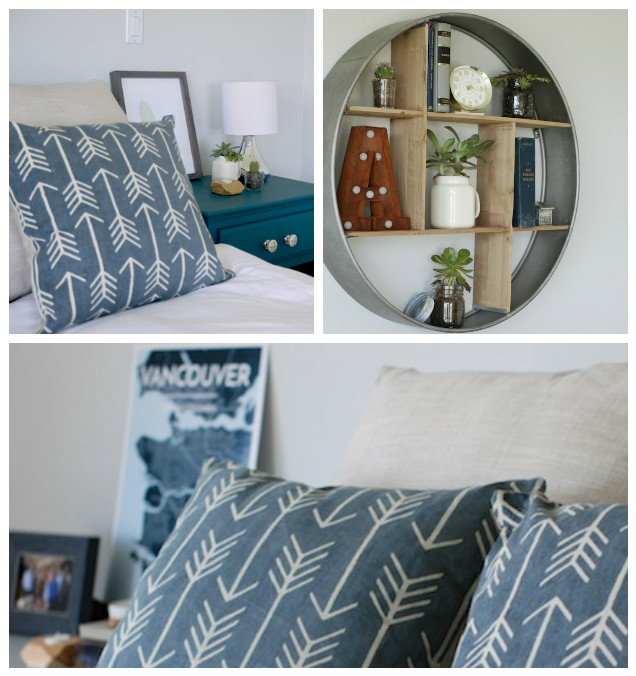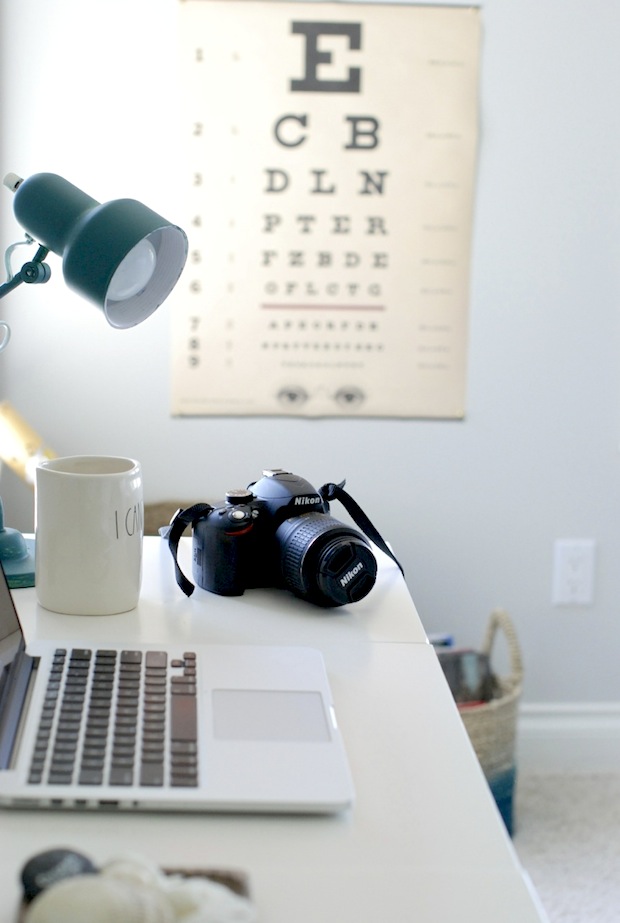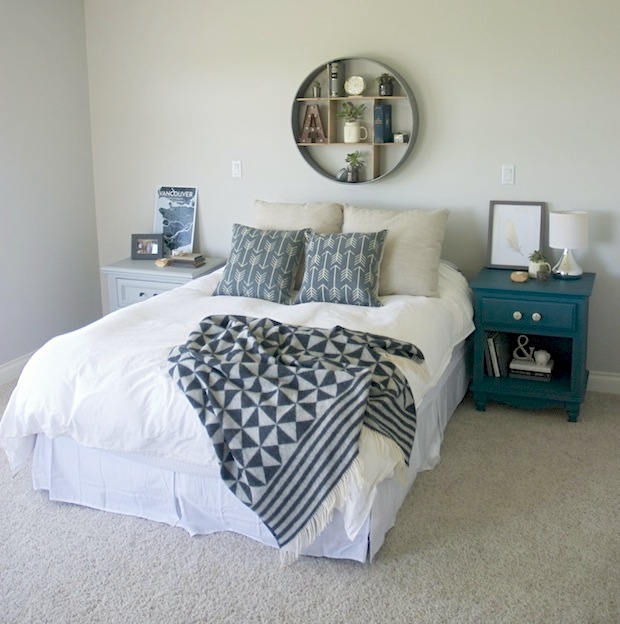 Sources:
Night table paint: Shelter "Blue Spruce" ℅ , Shelter "River Rock" – Spruce Collective
Tin and Wood Wall Hanging: Homesense
Wool Blanket: Think & Ink
Large Pillows: Marshalls
Arrow Pillows: Spruce Collective
Feather Print:  Livingroom
Vancouver Print: Bella & Wren
Night table knobs: Spruce Collective
Decor in Wall Hanging: Mason Jars, Vintage Books, Clock – The Market by Spruce Collective
Storage Baskets: Homesense