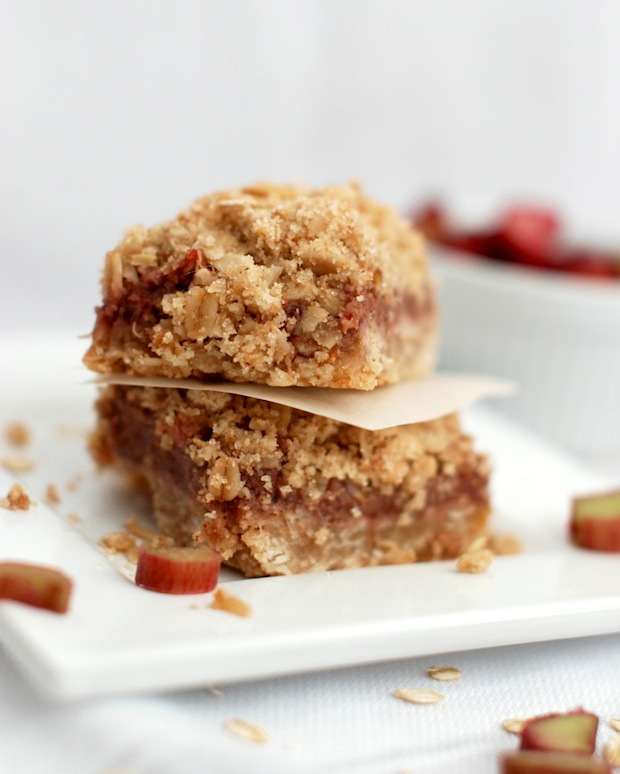 Hope you all had a good weekend…not gonna lie, the rain was a serious downer! I thought last week was yucky until Saturday hit. Wow, literally poured all day. And wouldn't you know, Lincoln & Scott had a ball hockey tournament outside all day? Poor dudes were soaked & chilled to their cores by the end of the day. Ick. Thankfully, this week has a bunch of sun icons on the forecast..bring it!
I've been meaning to post this recipe for a couple of weeks…but maybe subconsciously I just needed some time to make multiple batches to really prove my love before I shared it? Because indeed that's what happened. These oat squares are so good. The original recipe calls for blackberries which I'm thinking would also be delish, but really at the moment we just want to keep using rhubarb. Once blackberries are in season, I'll be sure to make it the way it was originally intended. In the meantime, it's rhubarb all the way.
Ps. these freeze great as well, making you host-ready. It's also helpful because once they're in the freezer, the temptation is removed. I thought I only did the "sliver" game with rice krispie squares until these guys came along. You know where you go cut a sliver and the walk away only to return for another sliver? The slivers soon morph into a whole row..and , well, it's just down hill from there…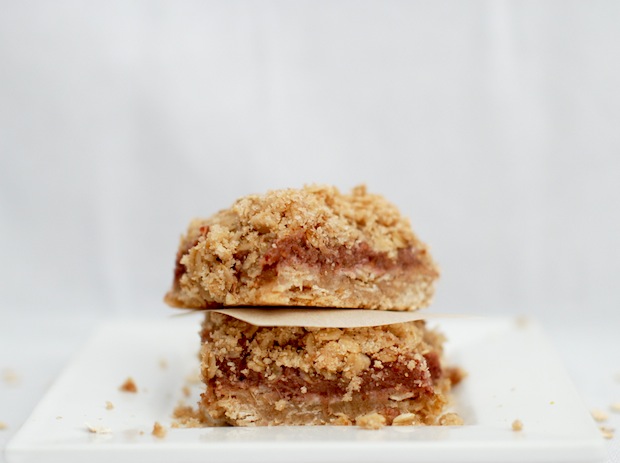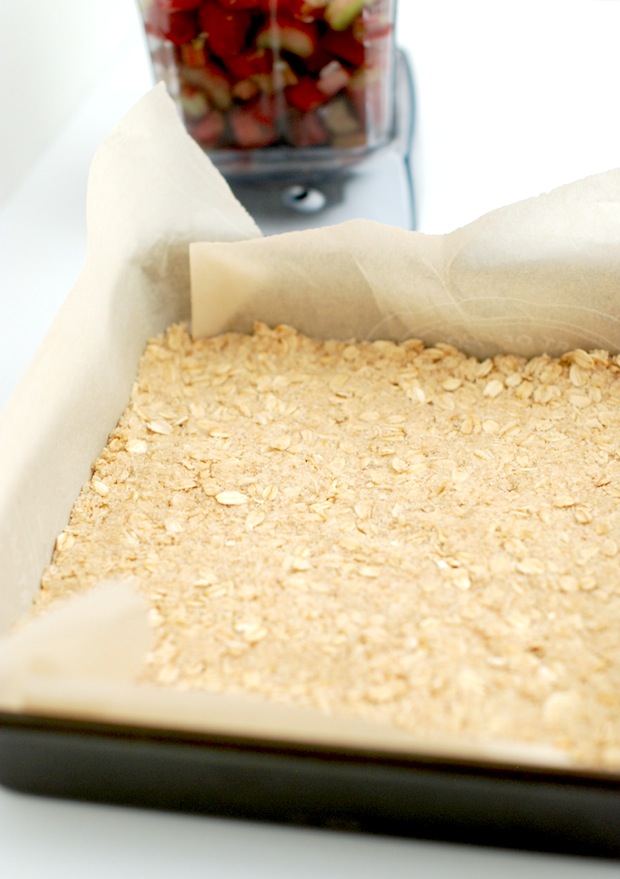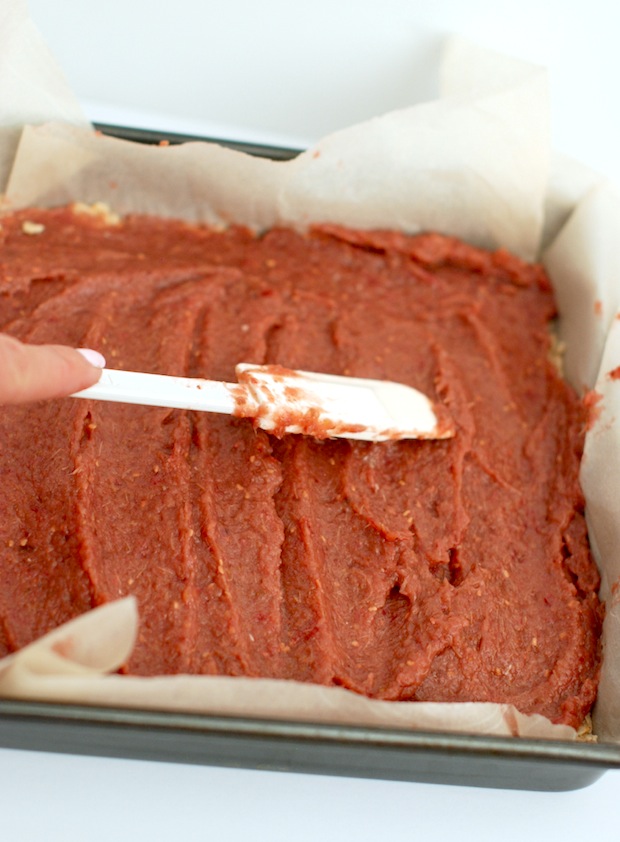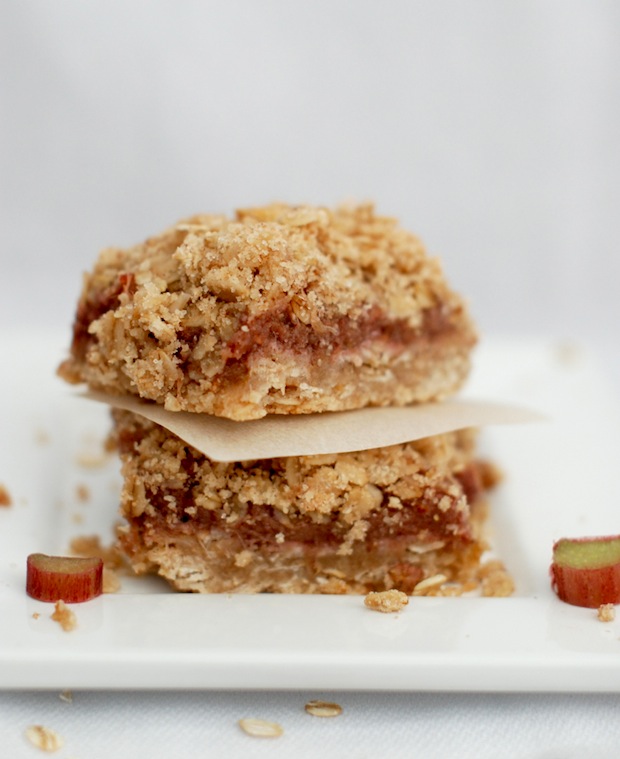 Rhubarb Oat Squares
Author:
adapted from Laura Miller of Raw. Vegan. Not Gross.
Ingredients
Base & topping:
2 cups gluten-free oats
2 cups almond flour
¾ cups coconut sugar
1 tsp cinnamon
½ tsp salt
½ cup coconut oil, melted
Filling:
2 cups rhubarb
1 cup dates (pitted and soaked in water at least 30 mins)
Juice and zest of 1 lemon
Instructions
Add the oats, almond flour, coconut sugar, cinnamon, and salt to a mixing bowl and stir. Slowly add in the coconut oil until it forms into a fully incorporated dough.
Take about ¾ of the dough and press firmly into a 8×8 parchment lined brownie tin. Set aside the extra ¼ of the dough to reserve for the topping.
Blend all the filling ingredients in a food processor or blender, then spread on top of your base layer.
Crumble the remaining dough on top.
Bake at 350° for 30 mins until the top is golden brown.
Allow to cool and cut into squares.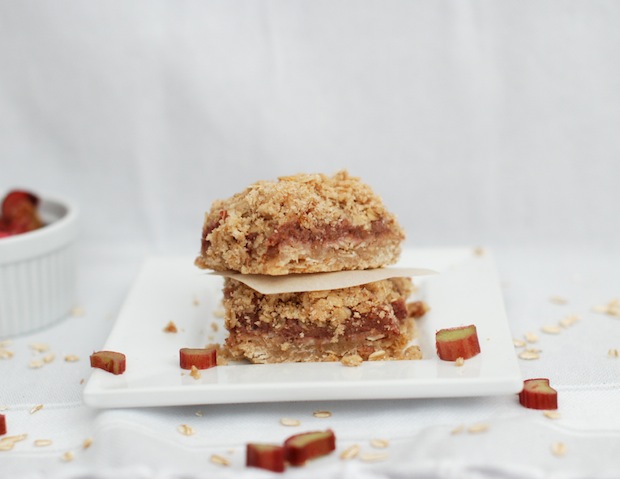 PS I've tried a couple of Laura Miller's recipes (besides these berry squares) and am looking forward to trying more…she's onto something!