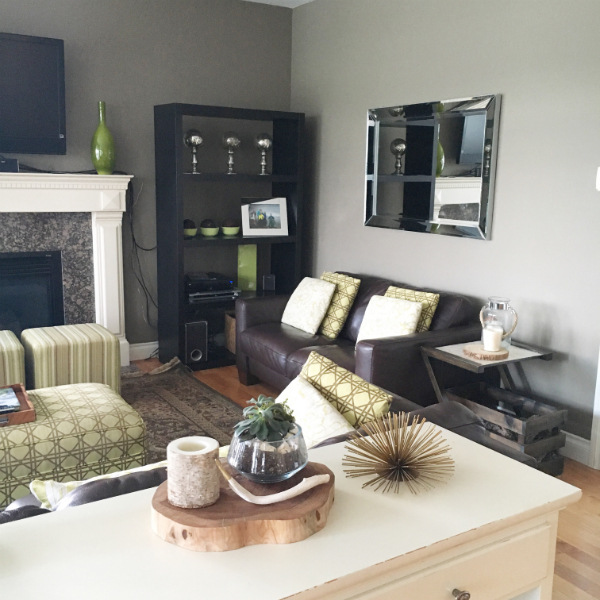 This room just isn't me anymore….
We built our home 14 years ago….and a lot has changed!  When we were planning our home, we had a toddler and a baby.  Now we have 3 teenagers and our needs are quite a bit different.  These quasi-adults just take up more space!  We aren't going to do a big reno right now…hockey and dance are consuming any potential reno funds…hey, it's all good!  But, recently I have been working with a few clients on their home renovations, and I have decided I need to take some of my own advice.  Decide what you aren't going to change, what you are going to change and go for it!
First world problem here, but I have been feeling that my home just doesn't reflect my style or aesthetic any more…and the struggle is real when you are trying to take pics for blogging.  The area I've been struggling with the most is the part we truly live in…the family room and kitchen.  It's funny when you live in a space, you stop noticing things….like the other day I looked at the walls and thought why do I still have this dark brown paint on the walls?  I love a more open and airy feel.  I may not be able to change my rather traditional, antiqued cabinets and speckled granite, but, hey, I sure as heck can change the wall color!
So the key is knowing what you are stuck with…in my case the flooring, granite and cabinets…and changing what you can…and making it all work together.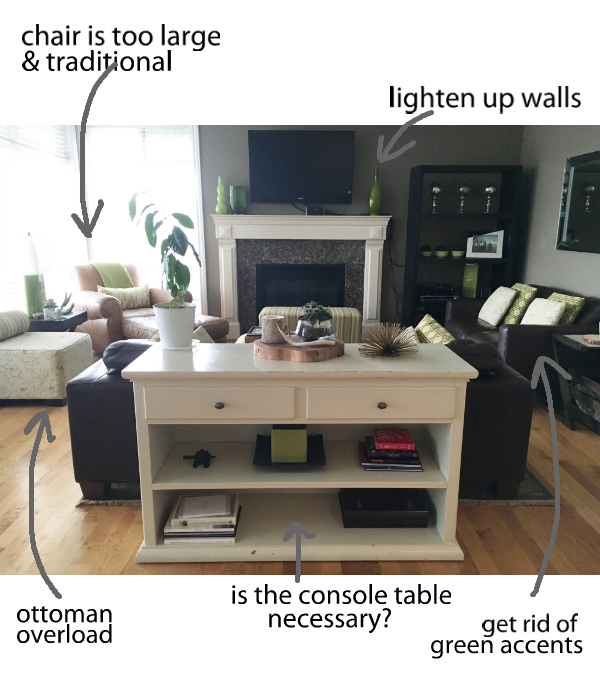 The common theme with most of my clients right now is getting rid of all of the browns and warm tones that were so common in the late 90's and early 2000's.  I love whites and clean, light grays.  BUT…my cabinets are cream, my granite has a lot of warm tones and our leather couches are brown.  So, I'm going with a gray paint color that has warmer undertones so it's doesn't fight the creams and browns in the room.  Debating between Benajmin Moore's Gray Mist, Classic Gray and Pale Oak…leaning toward Gray Mist.  I can't wait to see how a lighter wall color will open up the room.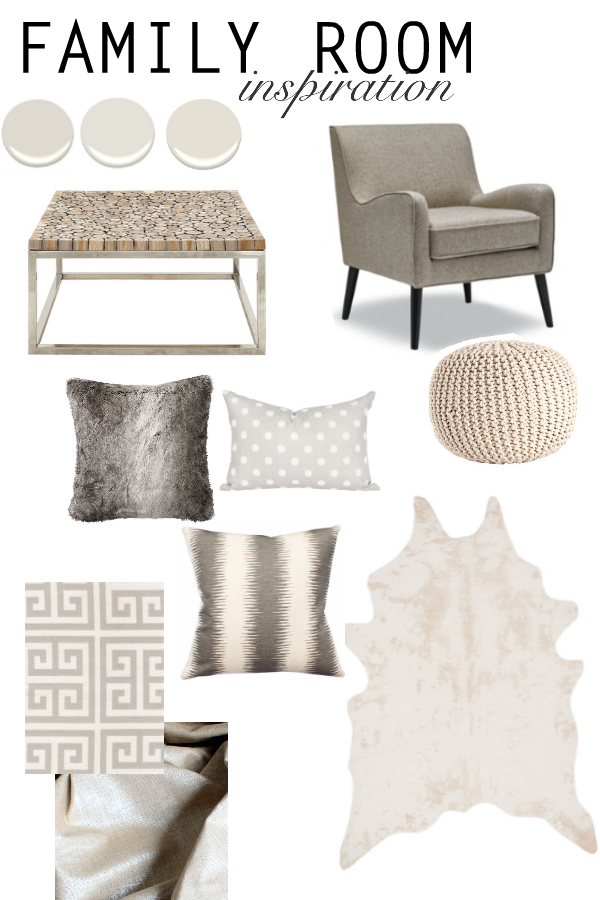 The couches have fairly simple lines and could look more modern if paired with more streamlined pieces.  I am ready to get rid of the green accents in the room, and pull in off whites and warm grays with lots of texture.
I am obsessed with this coffee table.  I love the rustic, raw wood and the shiny base.  Clean lines, but still warm and organic.
The overstuffed leather chair looks soooo traditional.  I think the kids will get good use of it in the basement. And I think I slightly OD'd on ottomans.  I'd love to replace the large chair and ottomans with two of these more modern chairs….and add a knit pouf!
The console table is also uber traditional…it needs to go!  I haven't decided yet if it should be replaced or left.  Here is an option to replace it to tie in with the existing end tables.  Hmmmm….
Area rugs are an easy way to change a room.  Again, the old one will come in handy in the basement.  I'd love to replace it with this rawhide ivory rug.
Oh, and the wires from the TV need to be dealt with too!
So, now just to get Jason on board….stay tuned for the actual transformation!