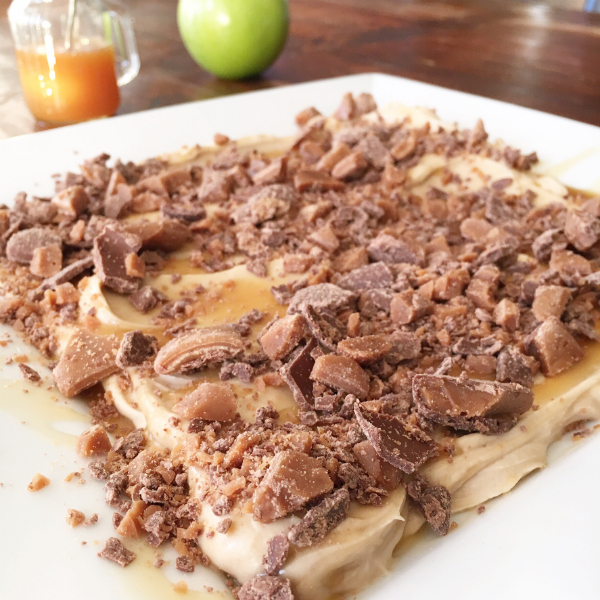 Super Bowl is this weekend and that means everyone is getting ready to make their favorite snacks to munch on during the game.  We had this amazing dip served with apples at our friends' house on New Years and we seriously couldn't get enough of it.  Apples and caramel are the perfect pairing.  It isn't necessarily super healthy, however, you will be amazed at how many apples your kids….and hubby…will eat!  So let's say it sort of balances itself out!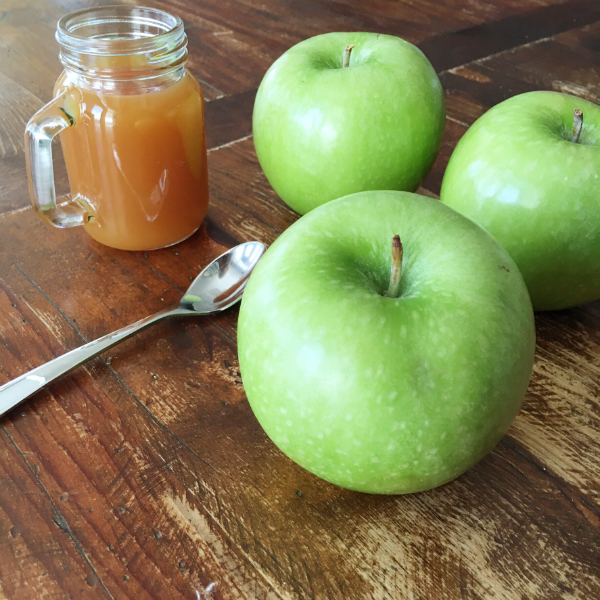 Caramel Skor Bar Dip for Apples
Ingredients
1 250g brick Philadelphia cream cheese
1 cup brown sugar
½-3/4 cup caramel sauce
1 191 g package Skor Bar minis or Heath Bar
3 Granny Smith Apples
3 Tablespoons pineapple juice
Instructions
Set out cream cheese and let it come to room temperature.
Mix cream cheese and brown sugar together with a mixer until well combined.
Spread mixture on a serving platter about 1 cm thick.
Drizzle with desired amount of caramel.
Use a rolling pin to crush the candy bars and sprinkle on top.
Let set in fridge for an hour or more.
Cup apples into wedges and place in Ziploc bag.
Add the pineapple juice, seal the bag and shake the so that the juice coats the apples.
Dip the apples and enjoy!
Prep this in advance of the game…or for dessert…or for a snack when your kids' friends come over. And the pineapple juice adds a nice hit of sweetness to the apple slices…and keeps them from browning! Who knew?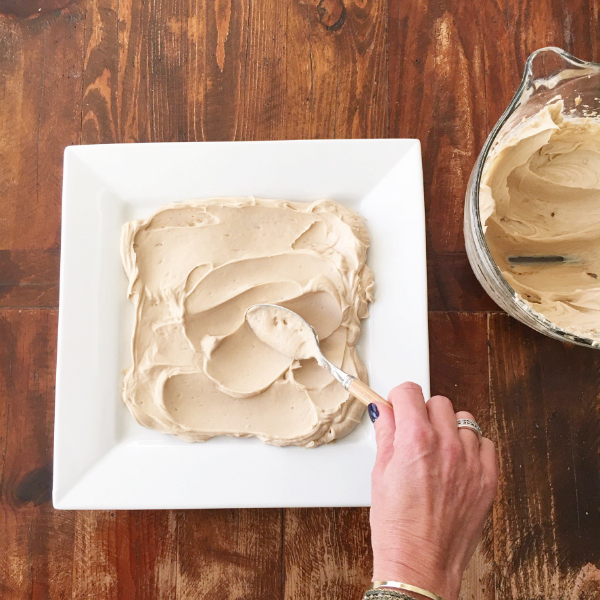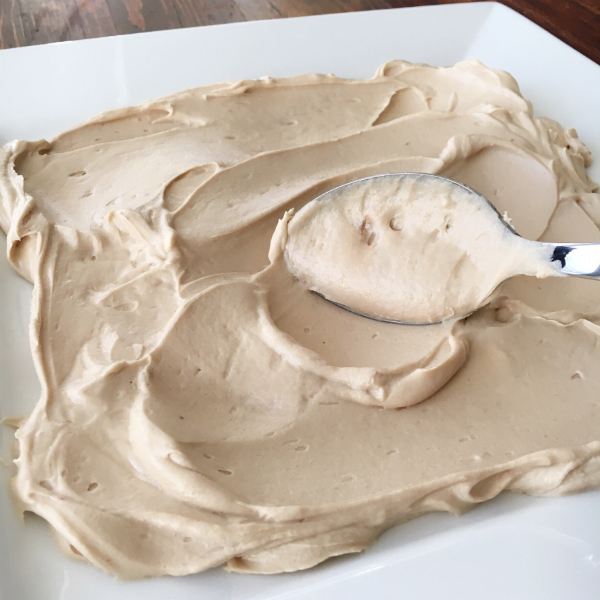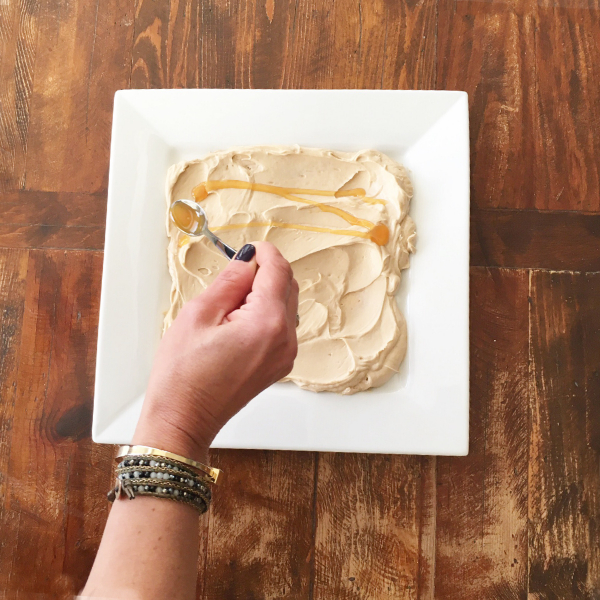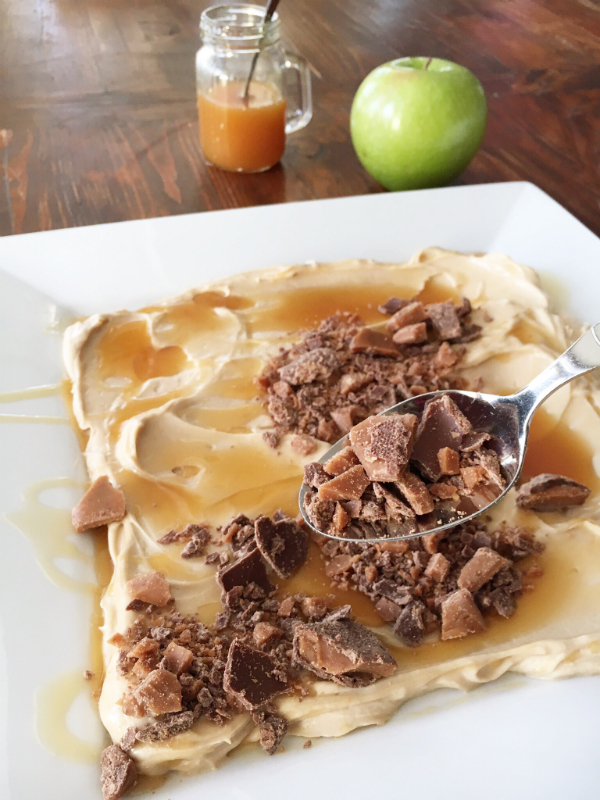 I didn't mention cream cheese in the title, because this dip honestly doesn't taste like cream cheese, but you do get the benefit of the protein.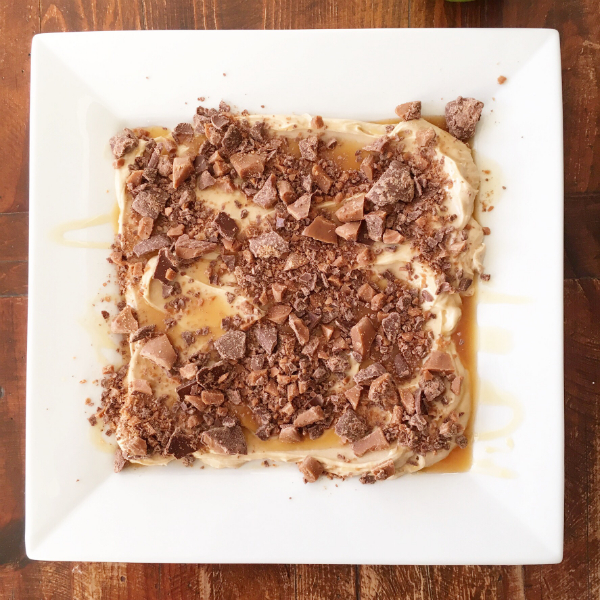 So dip away and enjoy!