This gift guide has been a long time in coming. Today might just be a very proud moment for Scott..because he often thinks Pam and i have neglected the male contingent. Today is that day..and Scott's fingerprints are all over this one. He fancies himself a researcher, a pioneer of all things cool. We've separated our picks into four types of guys: the Man About Town (you know, the every guy), the Techie, the Outdoorsman and the Traveller. Grab a cuppa coffee..it's a read! Here's our round up of our favourites, as well as Scott's picks classified as super rad: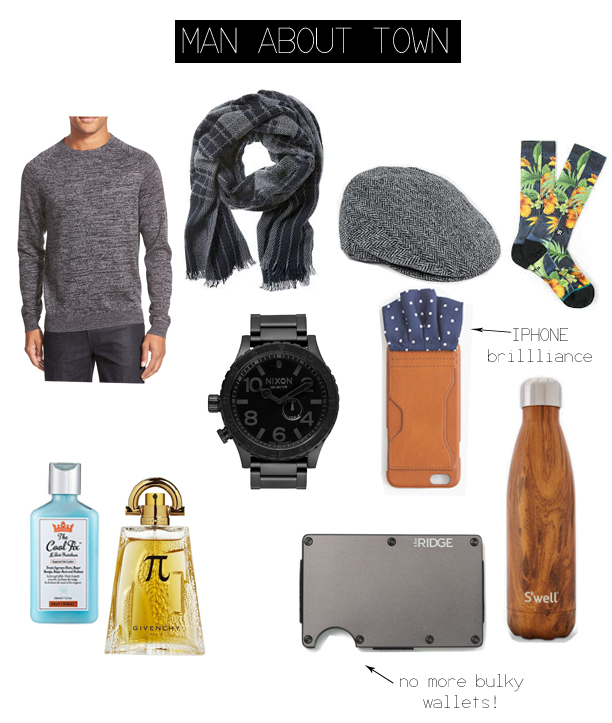 the MAN ABOUT TOWN
top row: Tailored Sweater – a well fit (read not bulky) sweater is a staple for the men in your life. This one comes in both regular sizing and tall… no worries for those ape arms out there! 
Wool Scarf – add an element of polish to the everyday outfit or a business meeting. 40% off right now!
Flat Cap – step up the look with a flat cap.
Stance Socks – these are a standard stocking stuffer every year. Quirky designs give a little edge to your guy.
middle row: Nixon Watch – Scott has a thing about watches… and a couple of non-negotiables as well. The most important? That a watch is made by a true watchmaker. Nixon delivers, along with sleek, clean design. This black number agrees.
Jimmy Fallon iPhone Case & Pocket Square – Flash of brilliance here. Took me a second, but now that i have it figured, it's pretty cool. The pocket squares slide into the phone case giving you the option to change them up.
bottom row: Shaveworks – post shave balm..no ingrowns and no razor burn.
Cologne i CANNOT believe i'm typing this but in Scott's words, this is his version of Sex Panther (for all you Anchorman fans)… oh. my. word.
Wallet  – Compact and durable. Bye bye bulk.
S'well Teakwood Bottle – This new version holds more water… 25 oz to be exact.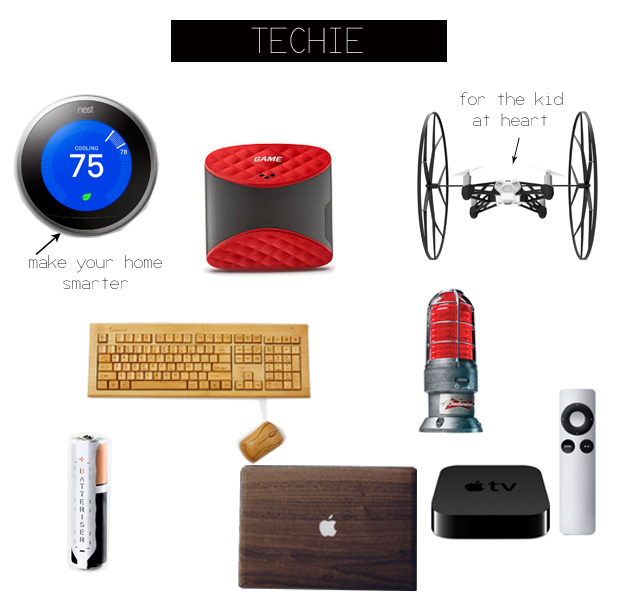 the TECHIE
top row: Nest Learning Thermostat – this thermostat learns your patterns and operates accordingly.
Game Golf Digital Tracking System – for the golf crazed analyst. This simple system tracks your golf in real time.
Parrot Drone – this is the perfect gift for any kid…adult kid included. Simply connect this drone to your apple device to fly it…or attach its wheels to allow it to crawl up walls or slither across the ceiling.
middle row: Bamboo Keyboard and Mouse – lend a more masculine vibe to the office with this bamboo keyboard and mouse. Skip the wires, too!
Budweiser Red Light This has transformed our house…into a gongshow! But my hubby wouldn't have it any other way. Simply hook up the red light to WI-FI, sync the Red Light App to your fave hockey teams and get ready to celebrate each goal.
bottom row:Batterizer – extend your batteries life by 8x. You know how frustrating it is to keep changing batteries in your remote devices? These handy little sleeves suck every last ounce of life out your batteries.
Wood Mac Book Cover – Hipster-fy his Mac Book..these wood covers are gorgeous. Choose from Walnut, Ebony or Cherry Wood.
Apple TV – Bring your iPhone to the big screen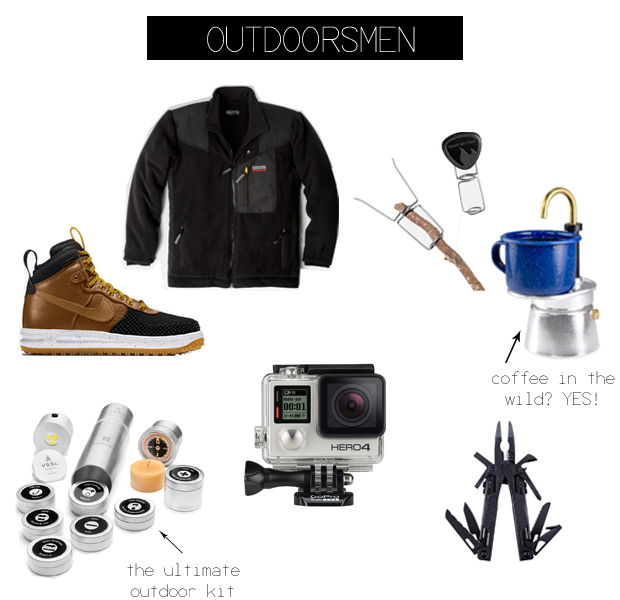 the OUTDOORSMAN
top row: Nike Sneaker Boots – All around awesome boot…or sneaker…ok, it functions as both. Water repellant leather, reflective details, rugged outsole for traction in slippery elements combine to make this a high-performance shoe. And attractive to boot (no pun intended).
Heated Fleece Jacket – i'll admit..this is pretty awesome. For any hockey/soccer/baseball dad, this might be the coolest invention ever. A heated fleece jacket keeps your guy's attention on the game.
Firefork – This clever little tool attaches to the end of any type of stick to give you a two pronged cooking fork. Who doesn't like dirty sticks? Who doesn't like whittling down sticks? If your hands up, this is for you!
Portable Espresso Maker – I don't camp. But if i did? I'd need one of these.
bottom row: VSSL Outdoor utility tool – completely rad…and practical. This water-resistant flashlight carries everything you need to for an outdoor excursion. Everything from a candle, to medical supplies, to fishing gear to water purification tablets all packed in  compact case that weighs a mere 1 lb 2 oz.
Go Pro Camera Record your epic adventures on dry land or in the water (no separate housing needed to depths of 10m). Stills, action, video…it's all possible.
Leatherman  I know this is a staple in most mens pockets or truck consoles, but this one takes it up a notch. Called the OHT, its just that… a One Handed Tool. No need for both hands.  I think even McGyver has this on his Christmas list.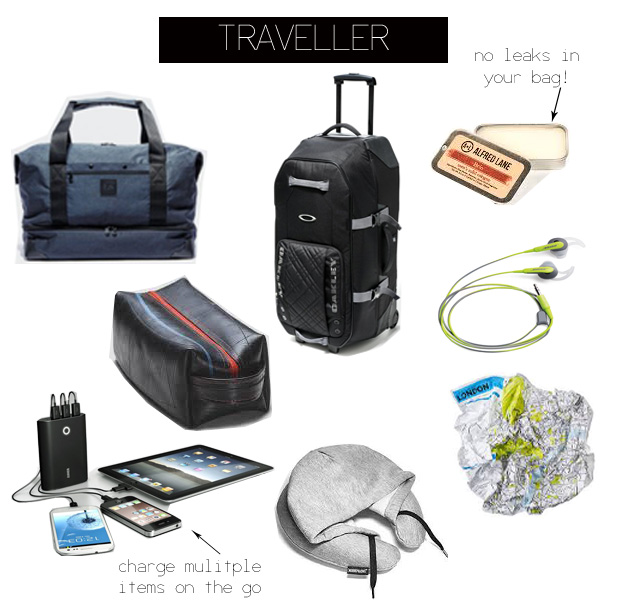 the TRAVELLER
top row: Overnight Bag – this bag can fit up to a week's worth of clothes…with a separate compartment at the bottom for shoes and other items you might want to keep separate from your clothes. Can be worn messenger style or attached to your suitcase..and totes the right dimensions to make it carry-on worthy.
Suitcase – after purchasing one of these suitcases, years ago, our family members each have their own. The bottom line? They last. With dedicated compartments and durable construction, this suitcase is perfect for the frequent traveller, for long haul or large packs!
Travel Cologne – solid cologne in a perfectly travel-worthy tin.
middle row: Toiletry Bag – made from recycled inner tubes…that's pretty manly, don't you think?
Bose Ear Buds – anyone else think that ear buds are completely uncomfortable? Look no further. Not only are they lightweight and more compact than larger options, but they are super comfortable.
bottom row: Charger – charge several gadgets on the go all at once.
Travel Pillow – it's like a Snuggie for your head! Perfect for blocking out light, hiding your headphones and resting your head.
City Maps – we all know how frustrating it is to close a map and stow it properly…these "crumpled maps" are the opposite. Soft and able to withstand being crumpled into a ball these are a great alternative for travel.
Happy Shopping friends xo