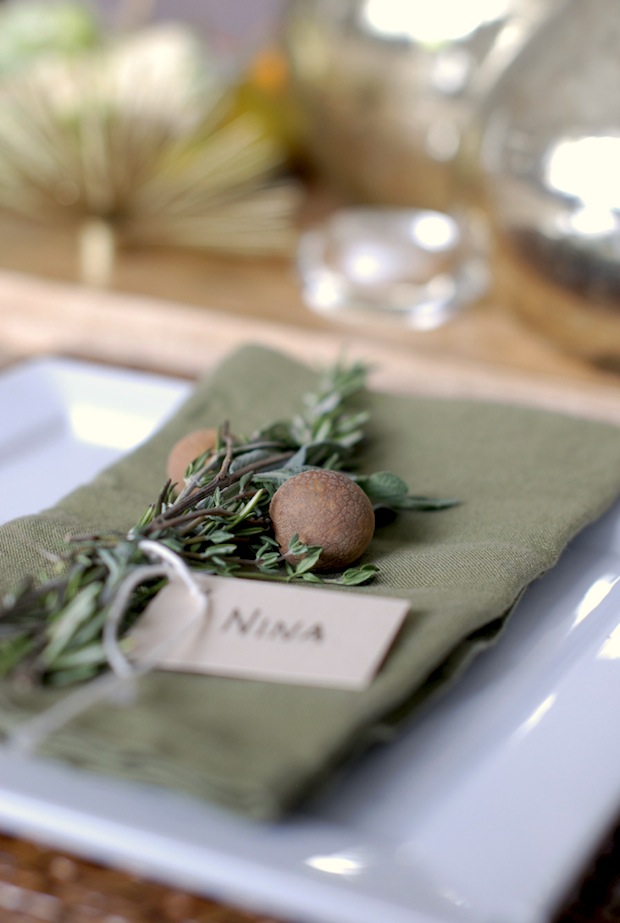 I had many grandiose plans for my Thanksgiving table this year. One of which involved painted maple leaves with calligraphied writing on them for place cards . Ok, i even went so far as to go scrounge for the leaves…at 5:30am in the morning, in the pouring rain. Arggg… That's as far as that project went. I simply rain out of mojo….i was too tired to even begin thinking about painting. And, after practicing on post it notes for way too long, decided that calligraphy is an art form for a reason.
I began to dig around the house for inspiration with no luck. Putting the idea on hold, i began to prep dinner and opening the refrigerator it hit me. Herbs! I had purchased a bunch for this upcoming weekend so the stock was plentiful. These can be put together in minutes. In fact, i prepped them and, barring these photos, will keep them refrigerated until turkey day. So quick and simple and the fragrance is pretty great too.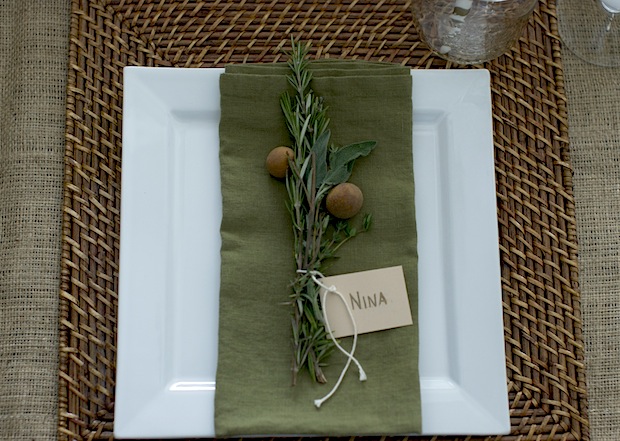 In the spirit of not purchasing new items for my table, with the exception of pumpkins and gourds, i thankfully had these herbs on hand. If that's not the case for you, it is super inexpensive to gather them. It really doesn't require a huge amount of supplies.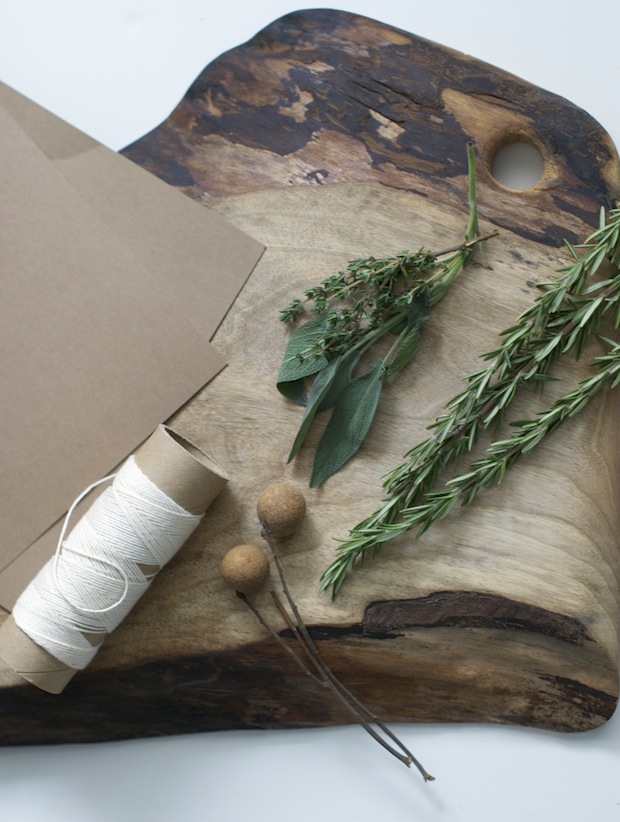 What you need:
Fresh Herbs | I used herbs that remind me of Thanksgiving…along the lines of stuffing. Rosemary, Thyme, Sage.
String
 Card stock
Optional: Additional Texture | I had bought lychee nuts the other day… i know, how random is that?? Nonetheless, they were perfect for adding texture and another element of interest.
Simply tie a bunch of the herbs together.  If you aren't fussy about who sits where, you can scrap the name tag idea. If you like to be a little more planned, cut whatever shape you fancy out of the card stock, hole punch and print the name (In your best penmanship!! Why is that such an issue for me? When i get to heaven that's one thing i'll be great at…writing!). Attach to the herb bunches.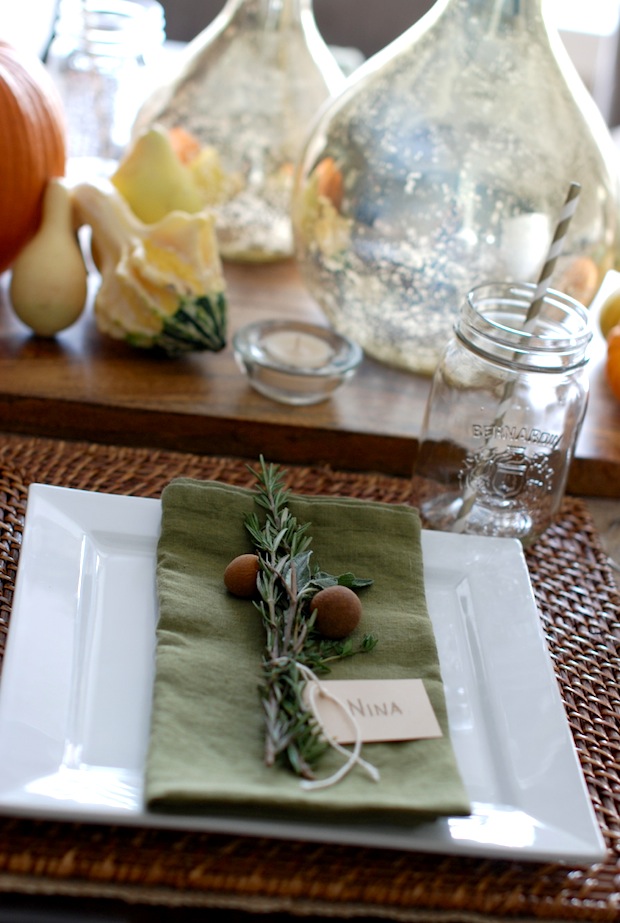 You may even be able to use some remnants for the homemade turkey soup you'll be making after the weekend. You are making soup, right? Ok, chill, i'm not either!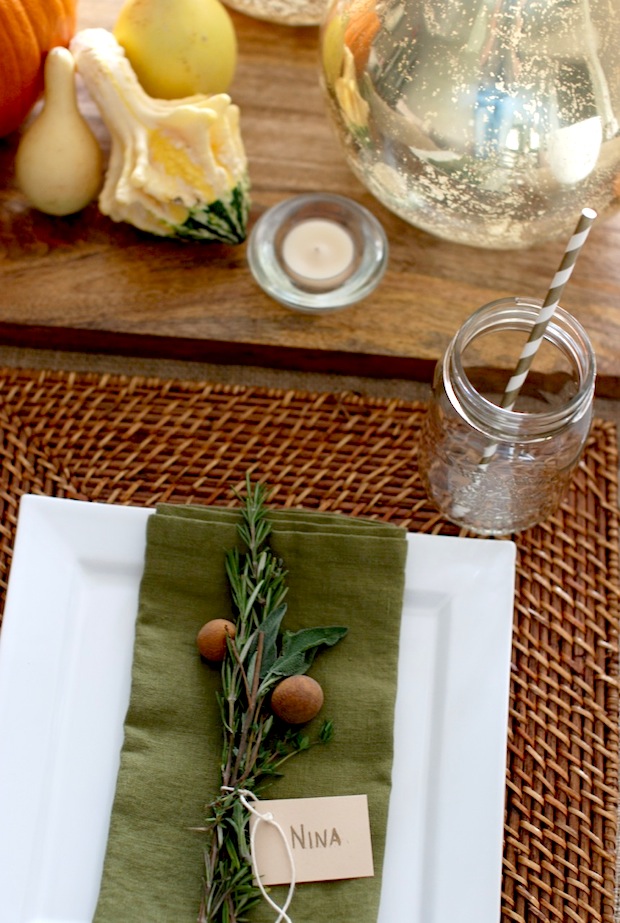 My wish is that you have a wonderful Thanksgiving weekend. Whether you have family gatherings galore or moments of solitude, i hope you can take a moment to reflect on what you are thankful for. This Thanksgiving, i have so many things to be grateful for. Maybe more so than i had on the list last year. Different things. Beyond the obvious gratitude i have to be regaining my health, it's the other "side effects" that i still marvel over. The presence of so many kind, genuine, selfless people in my life. The realization that i never was indeed left to face my battles on my own. The new "lease on life" that i feel. That there are so many ways that i could be a better wife, mom, daughter, friend and i have the opportunity to go for it!  Now!
Here is wishing that you feel grateful this weekend…even if the challenges feel insurmountable for you.. There is always ALWAYS something to be grateful for xox