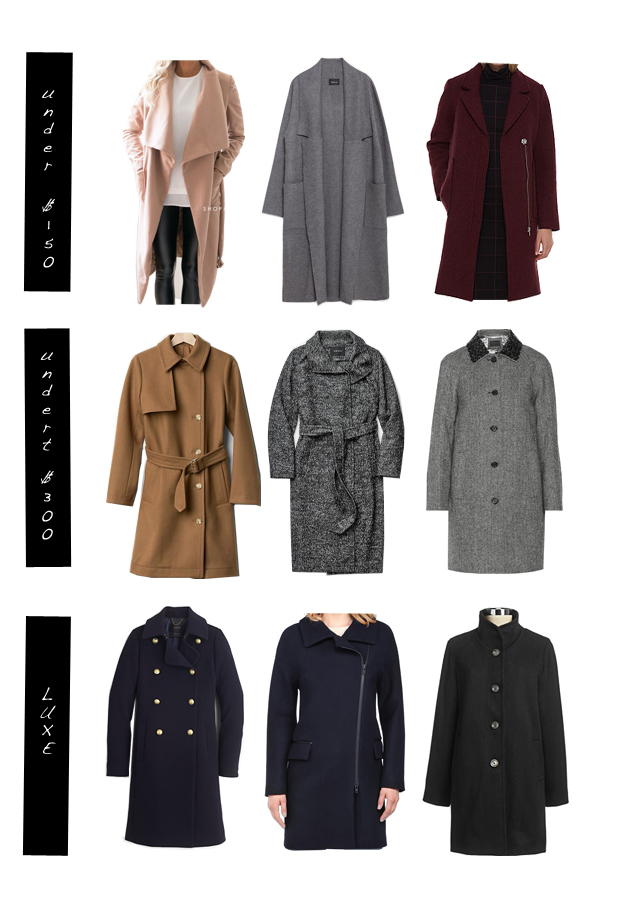 Under $150 | Maccs | Zara | Simons |
Under $300 | Gap | Aritzia | the Outnet |
Luxe Picks | JCrew |Sonia and Kyo "Lisanne" available locally at Montrose & George| Hudsons Bay |
There's a more pronounced crisp in the air as of late…one that has me reaching into my closet for my coat. A good wool coat is worth it's weight in gold. It will carry you the fall and winter through. Not only will it act as barrier between you and the cold, but it is kind of an "outfit" in its own right. It can be worn with ripped jeans to formal dress pieces, and everything in between. What am i trying to say? Where we live, it should be a staple in every closet.  i know that it is viewed as more of an investment piece, but once you have one, it might just hang around long enough to become a friend!! I've gathered a round up of my favourites this year. The best part? Almost every one can be purchased in Canada.. ya local…AND there are some great deals.
And before i forget: Here are my Coles notes for coat shopping:
Choose a color that is neutral. If you have one wool jacket, make it one that can be worn with everything! You'll notice that i chose solid colours above…keep the pattern elsewhere.
Do your research.. hone in on a coat that best suits your lifestyle and body shape. I tend to opt for wool because it is such a great insulator..as well as naturally water-resistant. Perfect for our wet climate. I also love the midi or car coat length that hits me below the knee. If you are on the short side, i'd suggest looking for a slightly shorter, pea coat length.
Here's my crazy piece of advice: i have purchased a couple of jackets…in summer! What? One of my favorite finds took place in Hawaii at a Saks off Fifth Avenue outlet. Tell me..who's buying cold weather pieces in Hawaii? Well, besides me..not many! Same to be said in any warm locations.. so keep your eyes open..sometimes being a little resourceful has its rewards.
~Laurel xo