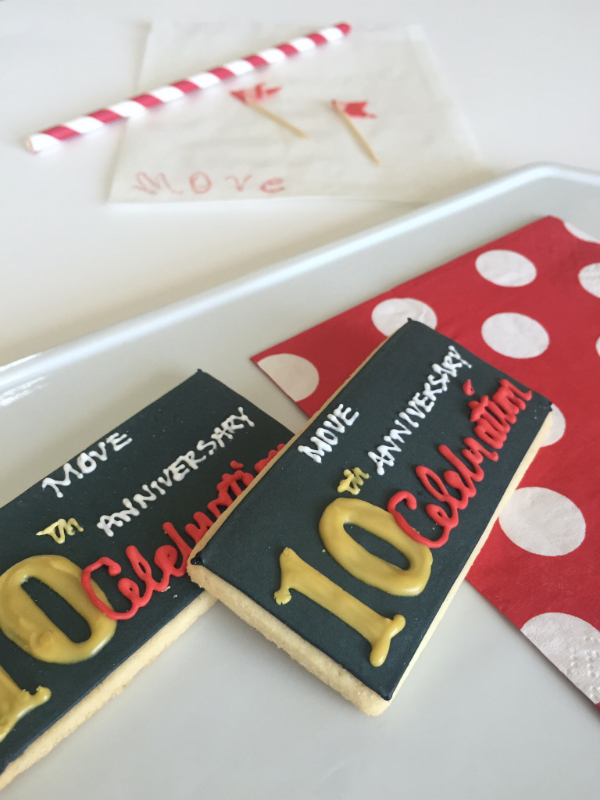 I hope we haven't overloaded you with party planning lately!  Well, maybe we have, but that's what we've been super busy with the last three weeks…four big events, each one unique and different from the other. It's the time of year!
My daughters have had the pleasure of working with Josh Beamish from MOVE: the company.  He is a brilliant ballet and modern choreographer who spends a lot of time in New York and London.  He is a B.C. boy and we are so fortunate that he comes back to Vancouver and is passionate about mentoring the next generation of dancers.  MOVE: the company is a contemporary ballet company based out of Vancouver under Josh's artistic direction and it recently celebrated its 10th anniversary with a gala at the Vancouver Playhouse and I was involved in helping with the reception for the VIP patrons.
That was the day that we had a rather large fire at our family farm at our greenhouse operation.  We are so grateful that everyone was safely evacuated from the building and that we are now back in operation.  The Lord truly was looking after us with winds that shifted in our favor, a lake to pump water from and 100 fire fighters that worked over 12 hours to put out the fire.  It could have been so much worse.  Thankfully I had prepped most things in advance for the reception, including taking these pics minutes before the fire started! I briefed Berkeley and Dylan on what had to be done.  I think I actually said to them, "Ok, you've seen me do this many times before, and you know how I like things done, so you can do this!"  Laurel and I have joked before about our "BITS"…Bloggers in Training…but I was thankful that the girls had worked closely with me on other events…sometimes forced…but the practice came in handy!  I packed my Yukon full with supplies, food, balloons…you name it…and my in-laws graciously drove my daughters and supplies into Vancouver.  And Berkeley and Dylan and a good friend pitched in and it was go time!  And my BITS made me very proud!
Ok, enough about the drama and on to the reception deets.  Planning a reception is a bit different that planning a party.  Receptions usually mean people are standing and not sitting.  And in this case, the reception wasn't going to start until about 9:30pm, so we didn't need large amounts of food.  We focused on great wine and smaller bites.  Quality was key and I wanted to ensure that the VIP experience was special.  The color theme came from MOVE's logo…red, white and silver.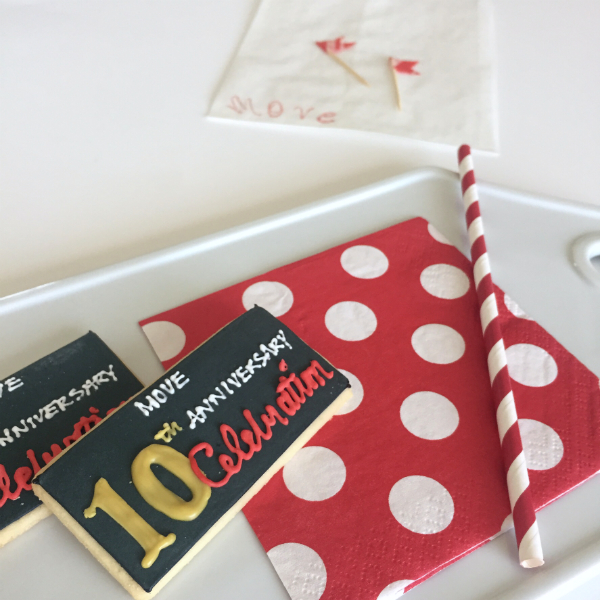 Once again I used parchment bags stamped in red with "move" for kettle corn.  I love stamping the bags for a personalized touch.  And popcorn is always a hit with all ages.  Pam's Cookies generously donated cookies in honor of the 10th anniversary.  They add so much color and taste awesome.  Chocolate and coconut cupcakes were topped with flags we made out of toothpicks and striped washi tape.  I made mini lemon panacottas and put them in disposable silver plastic square dishes and topped them off with fresh blueberries (recipe will be posted soon). We also had organic blueberry bars, veggies and fruit.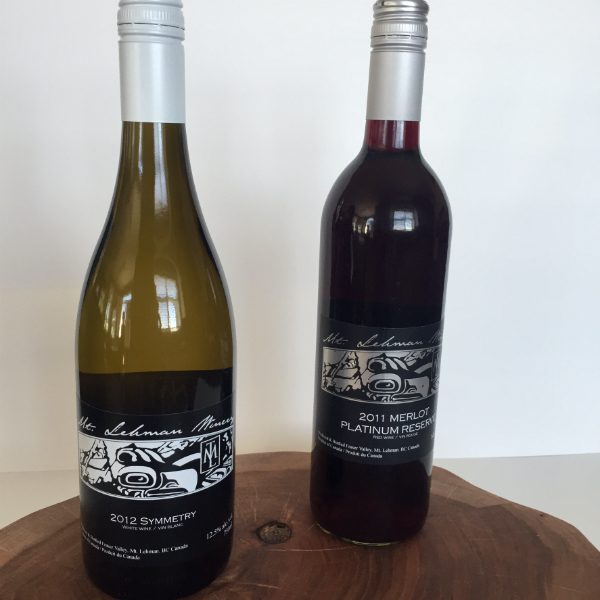 Mt. Lehman Winery generously donated the wine for the reception.  What a treat to go to the vineyard and have the owner, Vern, pick out the perfect wines for our event!  Many of the dancers were from different parts of the world so I loved that we could show off our amazing local vintages!  We also had slim line Perrier cans with red and white striped straws for sipping on and sparkling apple juice for the younger set.
I have to mention Vancouver Candle Co.  We presented the male dancers with candles generously donated by them instead of flowers.  Apparently they were backstage jockeying for who was getting which scent.  We were somewhat breaking decorum, however, I wanted these dancers to be able to take a bit of Vancouver back home with them.  These candles are each hand-poured in small batches and they smell ah-mazing!  I think candles may have just become in the new flowers in the dance world!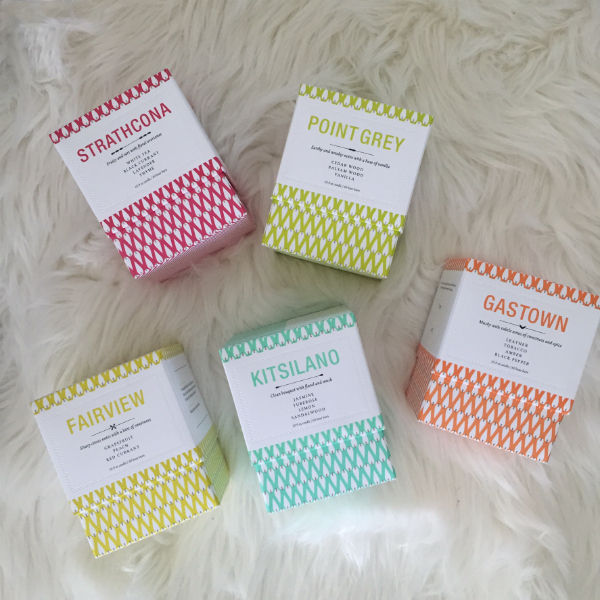 Here are a few things to keep in mind when you are planning a reception…
have great drinks and always have a non-alchoholic option
food should be easy to eat…think bite sized portions…as people are standing and not at tables
have someone taking guests used plates, serviettes and napkins
you don't need to have a lot of decor so make your food table beautiful…you aren't dealing with place settings, so go all out!  Flowers, runners, patterned serviettes, and paper straws can really add a lot.
always have some healthy options for those watching what they eat…fruit is easy and it's nut, dairy and gluten free!
have plenty of water available