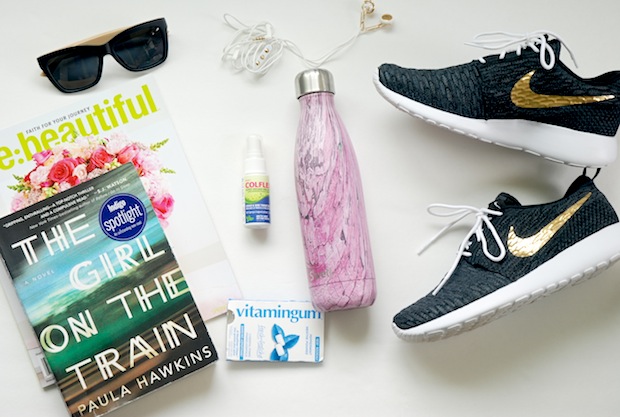 Magazine | Book | Sunglasses | Ear Buds | Sneakers | Gum – NO aspartame| Water Bottle | Herbal Spray
I'm pretty excited because i was given the green light to hop on a plane! We're off to Calgary to watch Lexi play volleyball at the Canadian Nationals this week. Besides excitement, I was struck with a bolt of panic because i wasn't in the least bit travel ready. I haven't vacuumed my kitchen in two weeks let alone pack a suitcase. Do you have some go-to's for packing light for a quick getaway? I think i'm somewhat of a creature of habit and realized that there are a handful of items that i can't seem to leave the house without. In the interest of both time and space, it's all about picking items that will give you the most bang for your buck!
Reading material is a must…it's what i do on a plane. Well, besides falling unconscious about the time we're heading down the runway because i'm tired from getting ready to leave! I've heard The Girl on the Train is a great read.
Colflex is my other flight essential. I always seem to be the one that walks off the plane with a sore throat. A friend got me onto this oregano spray and i'm a complete believer. A couple of spritzes before getting on the flight and a couple up in the air keep bacteria at bay. As a side note, it's also great for calming a cough.
And my sneaks. There was a time that i would never wear sneakers for day wear. These ones are pretty though, so we break the rules! Nike ID allows you the chance to create a custom runner to whatever you want. Gold was an obvious choice, and i love that they say "Lo" on the backs. Yep, they're mine, and there's no question about it!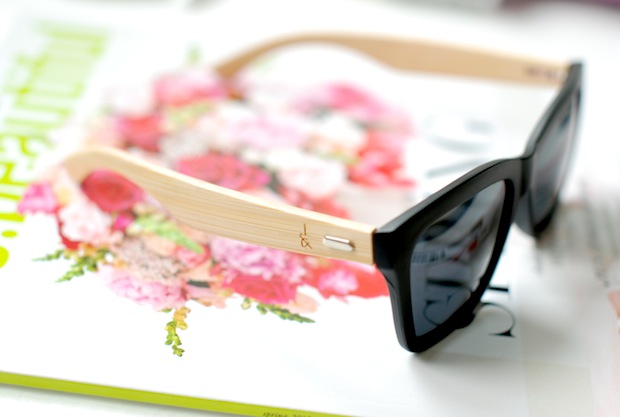 | Sunglasses |
These sunglasses are pretty fun, right? i love the bamboo arms along with the Ray-Ban silhouette. Sunnies are a no-brainer for travel.
As for clothing that does double duty, a cute pair of joggers is airplane worthy and easy to dress up after with ballet flats. These ones from Aritzia are ridiculously comfy.  And are you tired of seeing me wear my cape sweater yet? Don't care. Seriously, best purchase ever.  It's like travelling with a blankie and afterwards, they get thrown over every tee i've ever owned!! Lastly, standard white tee. No explaining necessary!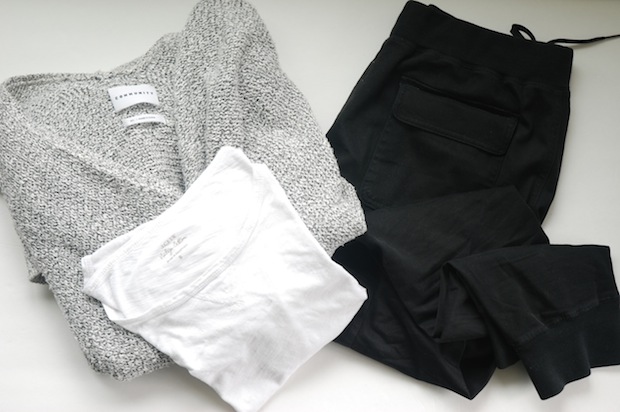 Cape Sweater | Joggers | Tee, old,  scoop neck available.
Yep, this is what i throw in my bag… ok, i have a secondary cape sweater in navy that sneaks in too. A rotation of tees, cape sweaters and basic bottoms are my go-to. What about you? What can't you leave home without?