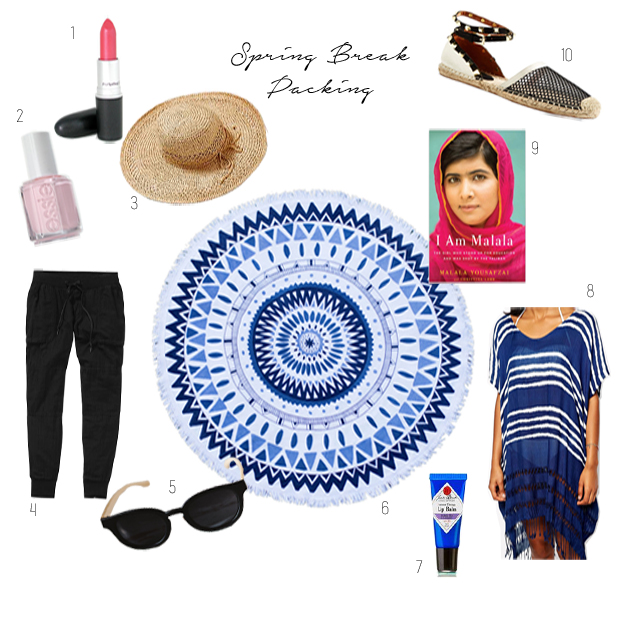 1. Lipstick: Mac || 2.Nailpolish- Essie Fiji || 3.Floppy Hat || 4. Aritzia Joggers ||  5. Sunnies ||6. Beach Towel  || 7. Lip Balm with SPF ||8. Cover Up || 9. Book – I Am Malala ||10. Espadrilles
I am so pumped… i got the green light to leave town for Spring Break and i could not be happier! We are headed to sunny skies and warm, dry weather…and palm trees. I simply cannot wait to do some unapologetic relaxing as a family. This of course entails a good book, a floppy hat and some gorgeous sunnies. i've actually got these ultra sassy shades coming my way! I love the combination of bamboo and black..and a wee kitten eye is perfectly Audrey Hepburn.
For years, Spring Break has marked the transition in my closet…boots go back into hibernation and out come the tees, sandals and pastel nail colours. Once home, I can say that i don't often heed the actual weather..its a transition in my brain and there's no looking back. i refuse. Here's what i'm packing this week…and a couple of items i've got my eye on to make my jump into spring an exciting transition! Such as the studded espadrilles…don't you think they would be perfect with everything from maxi dresses to shorts, to these cropped joggers? And if i'm getting matchy, i think this easy breezy coverup would go look quite fine with my roundie beach towel…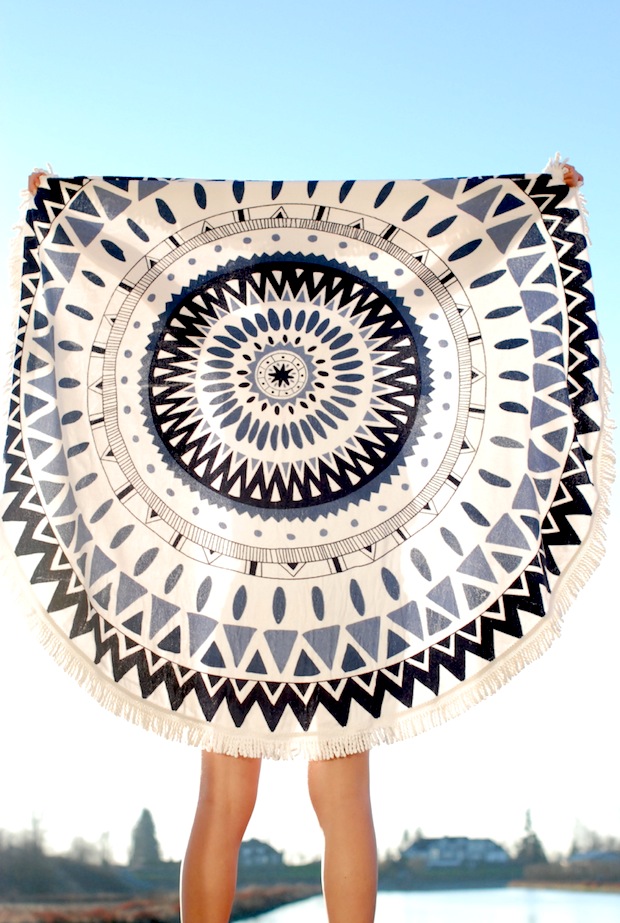 I can't resist talking a little about this "Roundie" Beach Towel.. it is pretty glorious! It's been rolled up and just waiting to get used since i got it as a Christmas gift! You have to know that i like to have my own beach towel…it's just a thing, ok? There's no mistaking this one for someone else's…she's all mine:)
Spring also marks the perfect time to lighten or change some of your cosmetic shades. A longtime favourite of mine is this soft pink nail colour.. it is my go-to! Add a little glow on your skin, and this pink is gorgeous. The stronger pink Mac lipcolor is also a new fave for me. It's not as intense as your typical fuchsias go. Think more toned down, but added colour for warmer months. I've also included a lip balm with SPF in my list of spring essentials..this one from Jack Black will protect your lips from the sun and drying weather. It may not be super hot yet here in Vancouver, but the beautiful sunny and dry weather has been wreaking havoc on my lips. Layer this stuff on!
i think i'm ready…what marks the moment you put away your socks and start getting pretty pedicures? And what are your spring essentials you can't live without? xo