i am all over smashed peas right now…i love both the color and the flavor…and for those of you who wrinkle your nose at the thought of enjoying peas? It's time to discard the childhood memories of the overcooked, lifeless varieties and give them a try in one of the new updated and flavorful recipes we're seeing. There's a reason why smashed peas are finding themselves in the limelight.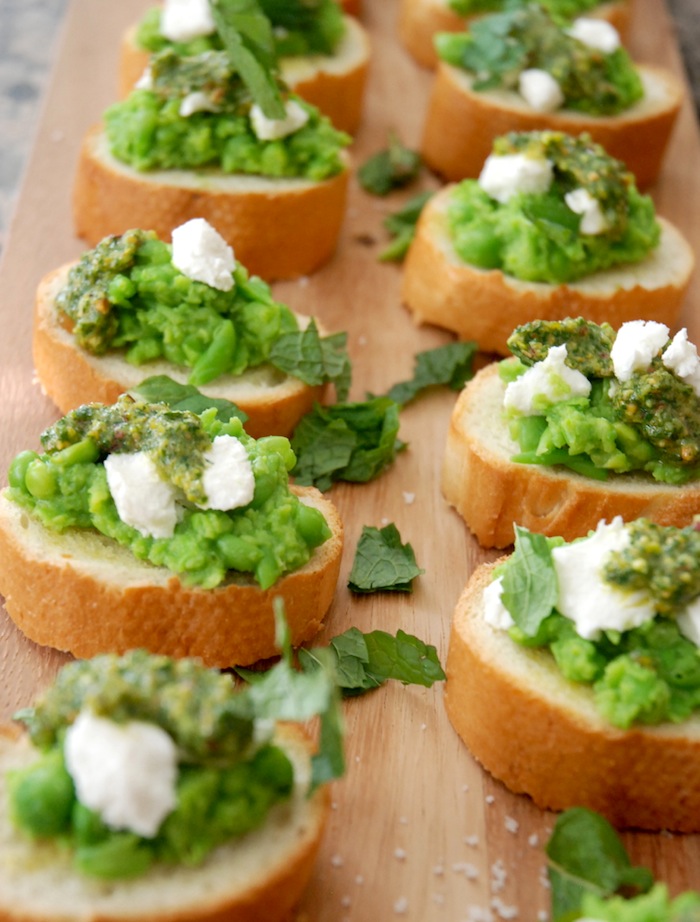 I took my cue from this delicious recipe from Le Partie Sugar and adapted it ever so slightly. The result was an appetizer that my hubby said brought out his gluttonous side. I'll take that as a compliment!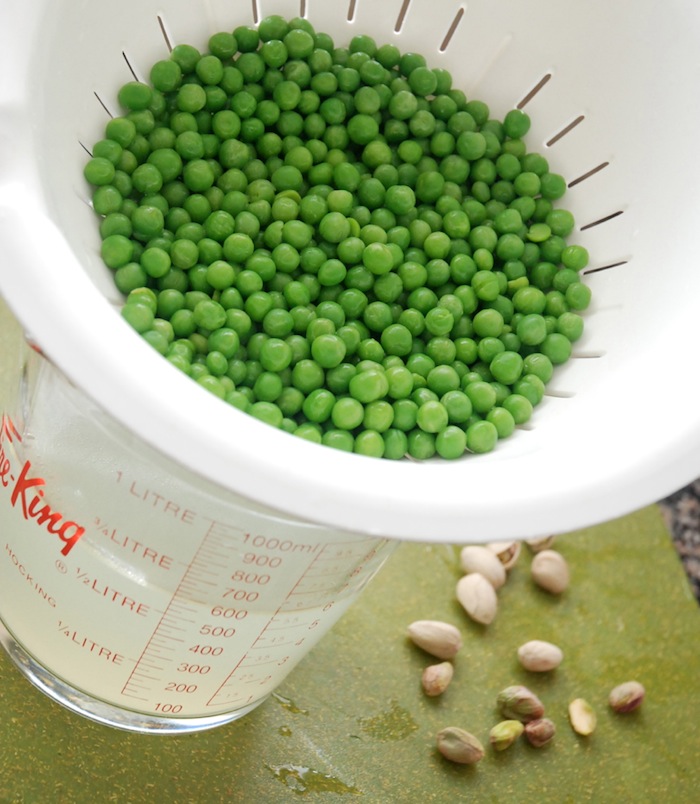 Making smashed peas is incredibly easy. It's tough to find fresh ones, so i use frozen ones. Thaw them and add to boiling water. Cook for approx 3 minutes and then drain. Immediately rinse with cold water to stop the cooking process. I then put them (along with some of the reserved water from cooking the peas) into my magic bullet and coarsely blend them. Don't worry if they aren't perfect…i like for some to be completely pureed and others to still have their shape! Season with salt and pepper.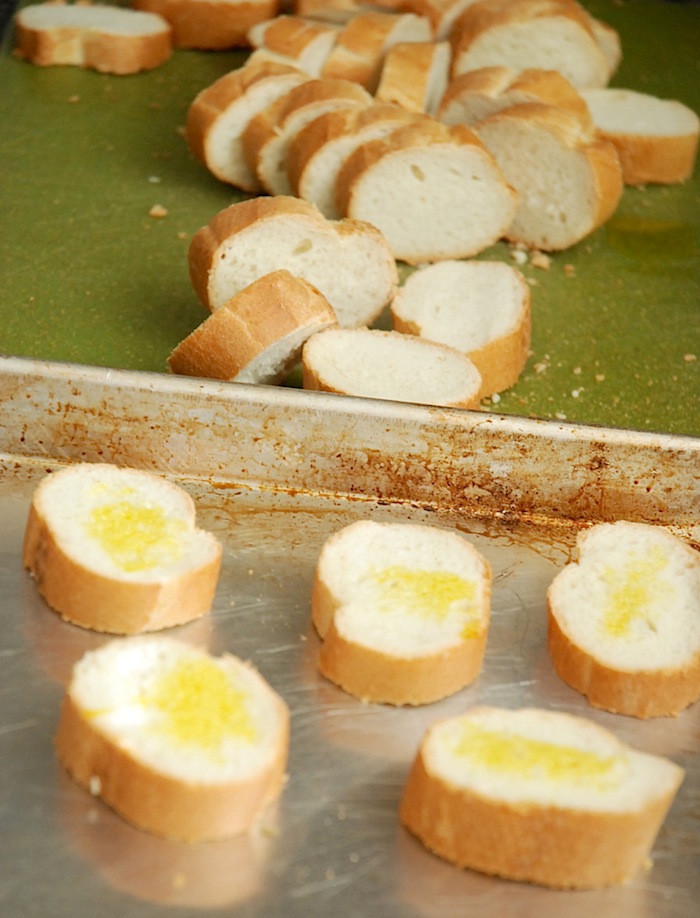 Slice baguette and brush with olive oil before toasting in the oven.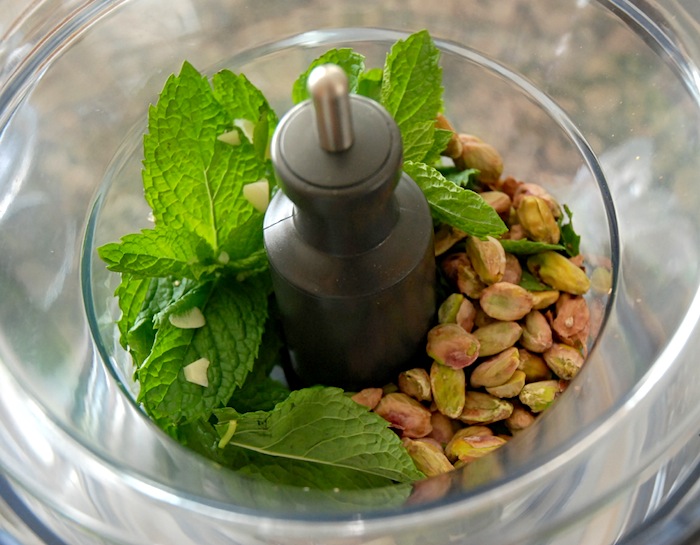 Throw pesto ingredients into a food processor: mint, pistachios, garlic and salt. Pulse and then add lime juice and olive oil in a steady stream while still processing. Be prepared for your kitchen to fill with the awesome scent of this pesto… The pesto is definitely the piece de resistance!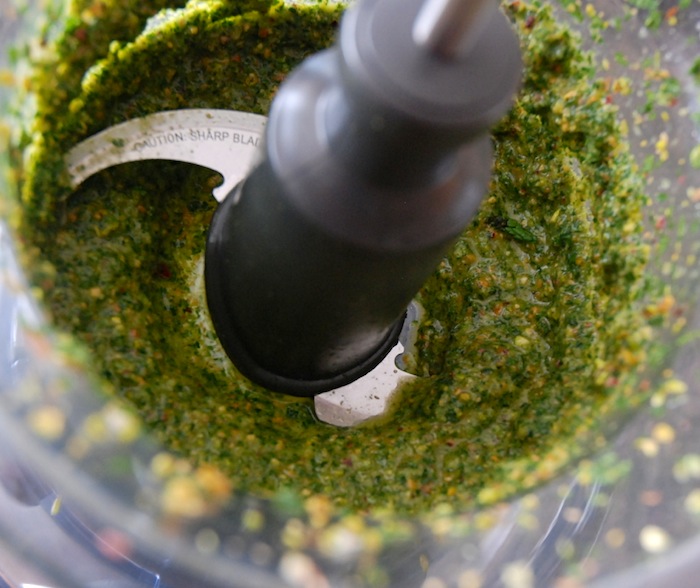 Assemble by topping toasted baguette with the smashed peas, crumbled goat cheese and a generous dollop of the pesto. Garnish with torn mint leaves and coarse salt.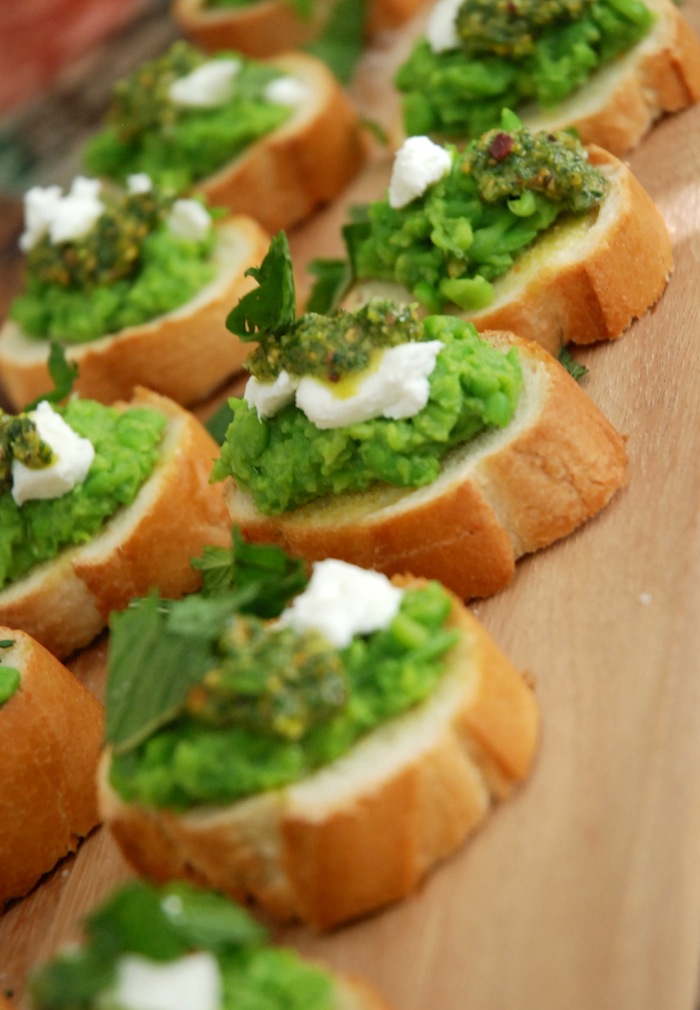 Tell me…let's talk appetizers…do you have a favorite one that you make? I'd love to keep expanding my appy collection!
Smashed Pea Bruschetta
Author:
adapted from Le Partie Sugar
Ingredients
Fresh mint
½ cup olive oil
¾ cup pistachios
2 cloves garlic
2 tsp lime juice
sea salt and black pepper
goat cheese
2 cups frozen peas
1 baguette
Instructions
Smashed Peas:
Heat 3 cups of water to boiling
Add the peas and boil for approx 3 minutes
Take off of heat, drain and then immediately rinse with cold water to stop the cooking process
Mash the peas in your magic bullet (with some of the reserved water) or with a potato masher.
Season with salt and pepper
Mint Pistachio Pesto:
Add a generous handful of fresh mint leaves, shelled pistachios, garlic cloves and salt to food processor.
Process until coarsely ground.
Add lime juice and oilve oil while processing until your desired consistency.
Heat oven to 450 degrees.
Slice baguette and brush with olive oil.
Toast the baguette in the oven for approx 3-5 minutes.
Assembly:
Top toasted baguette with smashed peas.
Crumble goat cheese ontop of the smashed peas.
Add a dollop of the mint pesto
Garnish with sea salt and torn mint leaves.