We made these roasted nuts for Jason's 40th Birthday bash a couple of weeks ago…and wow, they were so delicious i thought i'd share them with you. Ina Garten does it again!!
I had gone a little nut crazy and made quadruple the batch so there was some to bring home to the fam.Let's just say i'm shocked at how fast the leftovers disappeared. i don't even want to know how much was consumed by me…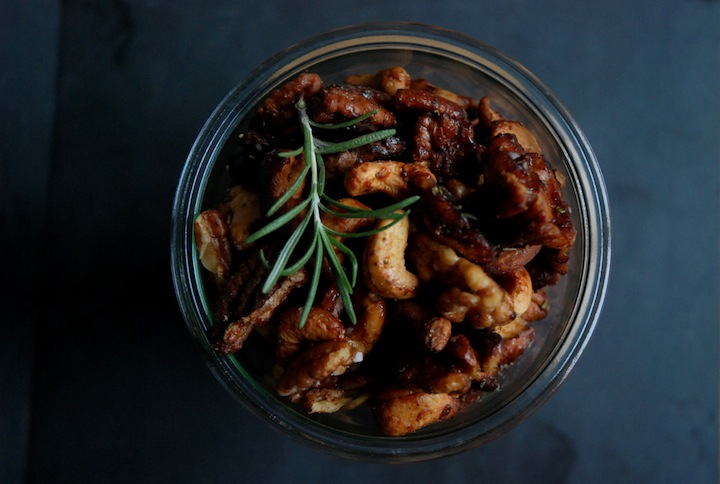 I like to think of them as a moody, brooding nut mixture…the heavy flavors of chipotle and rosemary are strong but not overpowering with the combination of maple syrup and OJ. These are a man's nuts…ok, that just came out way wrong…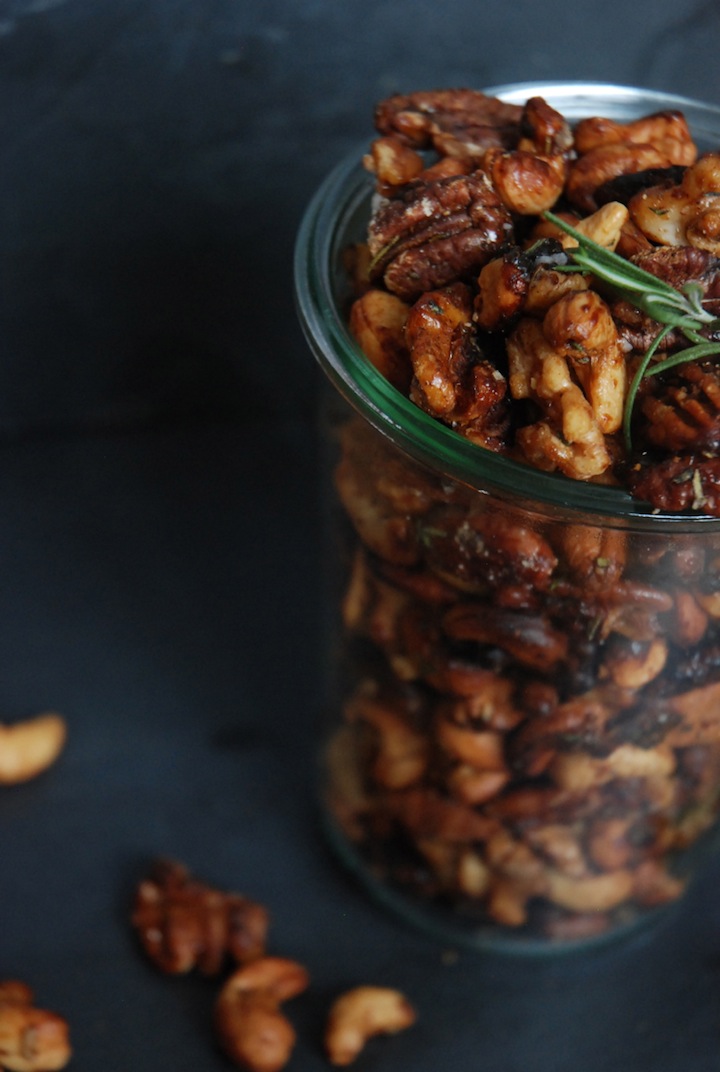 Roasted nuts aren't just for the Christmas season! Especially these…an easy addition to your entertaining that can be prepared days in advance. If your guests are anything like me, they'll find themselves grabbing more handfuls than they would care to count!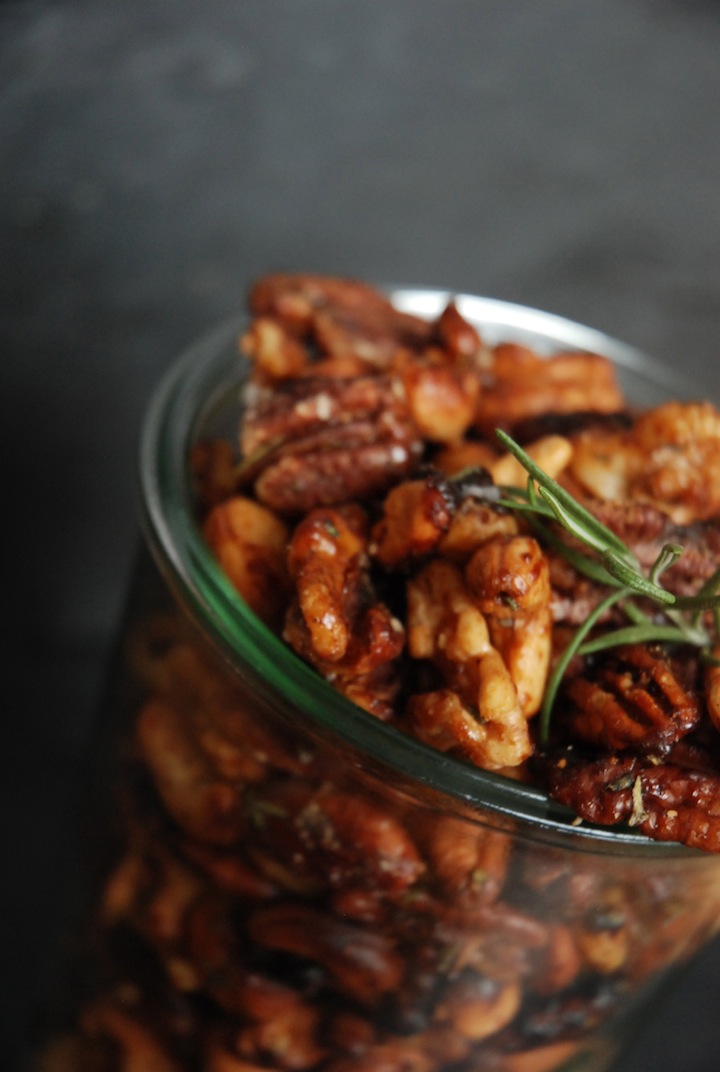 Can you say perfect hostess gift? Fill a
Weck
jar with these nuts and you're set. Just make sure you make enough to keep some for yourself!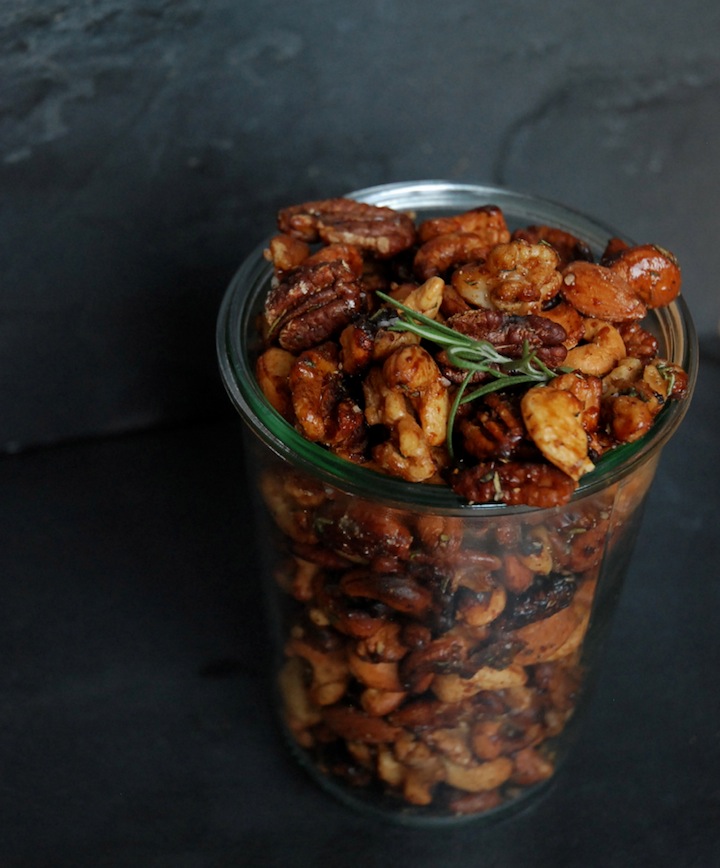 Chipotle and Rosemary Roasted Nuts
Ingredients
3 cups whole roasted unsalted cashew
2 cups whole walnut halves
2 cups whole pecan halves
½ cup whole almonds
⅓ cup pure maple syrup
¼ cup light brown sugar, lightly packed
3 tbsp freshly squeezed orange juice
2 tsp ground chipotle powder
4 tbsp minced fresh rosemary leaves, divided
Kosher salt
Instructions
Preheat oven to 350 degrees.
Brush a sheet pan generously with vegetable oil. Combine the cashews, walnuts, pecans, almonds, 2 tbsp of vegetable oil, maple syrup, brown sugar, orange juice and chipotle powder on the pan.
Toss to coat the nuts evenly. Add 2 tbsp of the rosemary and 2 tsp of salt and toss again.
Spread the nuts in one layer. Roast the nuts for 25 minutes (i did it more like 17 minutes as my oven errs on the hot side), stirring twice. Remove from the oven and sprinkle with 2 more tsp of salt and the remaining 2 tbsp of rosemary.
Toss well and set aside at room temperature, stirring occasionally to prevent sticking as they cool. Store in airtight containers at room temperature