Now that Pam set you up yesterday with the theme she created for Jason's 40th Birthday party, here is the finished product….do you have a cup of coffee in your hand? This post is longy!
Knowing in advance that my photog skills in the dark of night might leave something to be desired, i snapped some photos while the sun still poured through the glass panels. Did i mention that the temps in there during the day had us in flip flops and tank tops?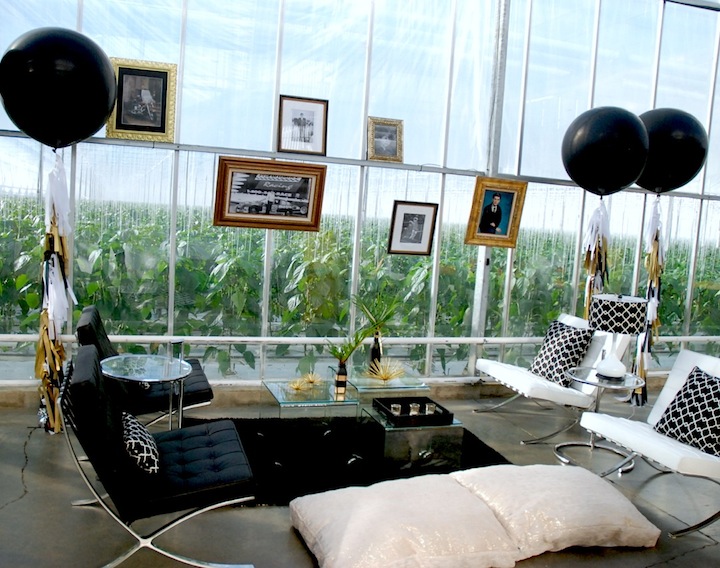 Photos of Jason formed a gallery wall…his mama pulled out these treasures…and we loved the personalized touch they added.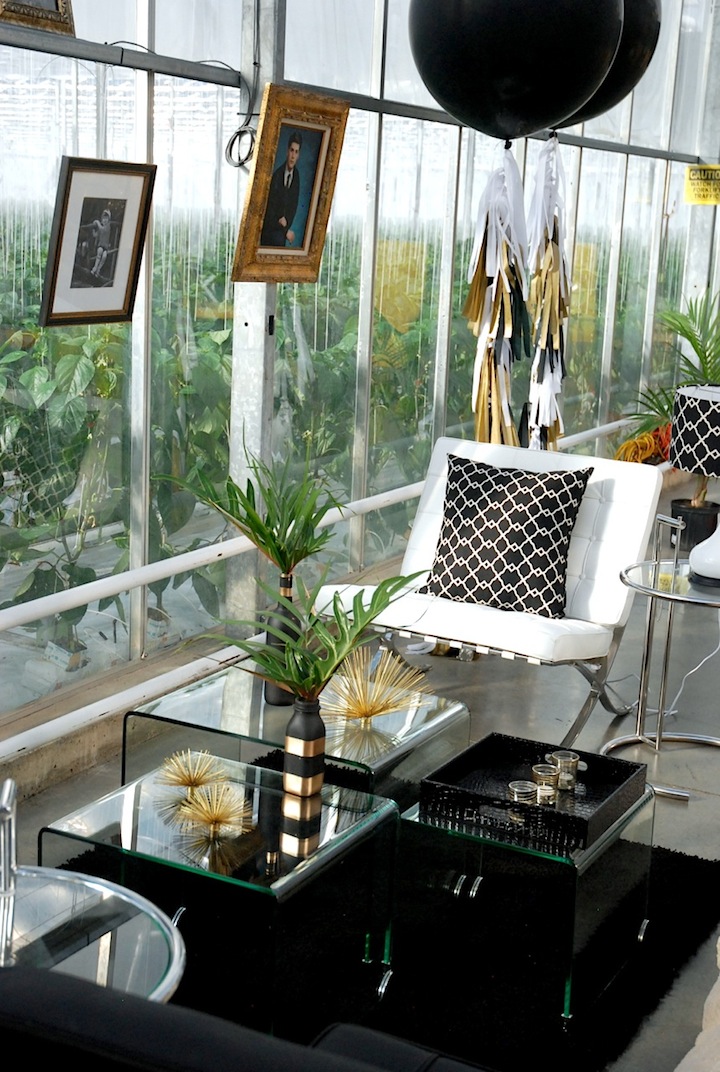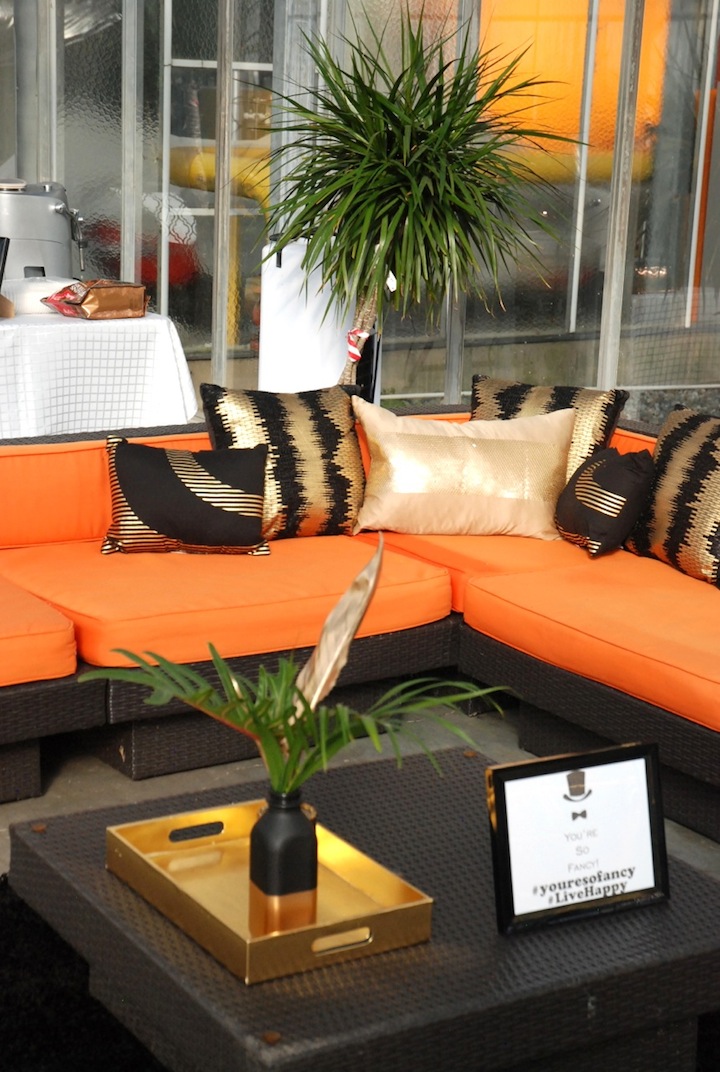 THE ELEMENTS
 "Fancy Frill" Balloons give a whole new level of chic to party decor, handmade bows for all of the guests to "fancy up", and a backdrop of black and white fringe set the stage for the candy bar and confections.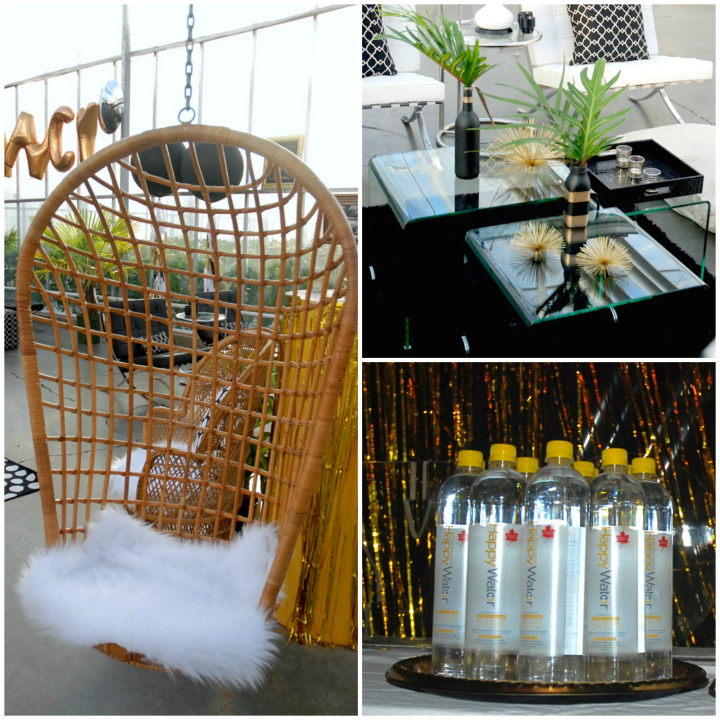 Does this hanging wicker chair bring back any memories for you? Bring it! Lounging areas set amongst tropical plants gave guests a place to take in the music and kick back. Milk and wine bottles spray painted in matte black with gold accents held tropical palm fronds. And obviously, Happy Water for such a happy occasion #livehappy.
An incredibly important element at any party is the food. Amongst the appies served by our 3 teenage girls, guests could help themselves to Jason's all time favourite after-dinner choice: a cheese plate! A selection of mild to strong cheeses, fruits and wafers were perfect for snacking. Individual servings of fresh crudités and hummus/dips pretty much cancelled any sugar that was consumed that night, yes?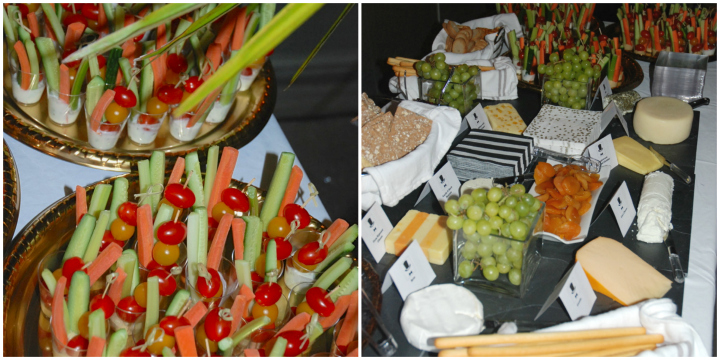 Jason isn't a real sweets guy so Pam was determined to only serve his favourites…thankfully they were my favourites too..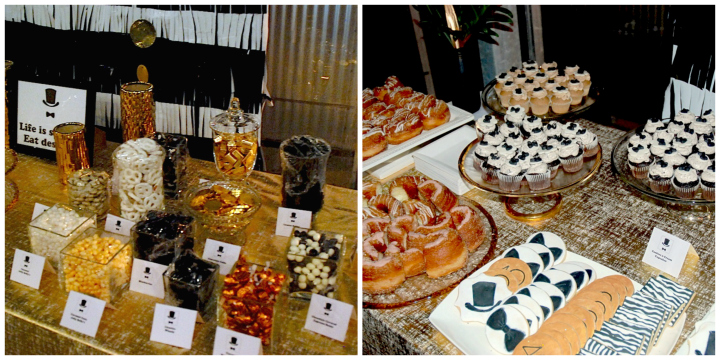 Sugar Cookies emblazoned with top hats, bow ties and the tag line "You're so Fancy" are as delicious as they are pretty. And frissants (aka cronuts)….take a looky…thank you to Jason's parents for making the trip to the Swiss Bakery…umm, happy dance!!! Mini cupcakes (cookies n cream and french toast with cinnamon buttercream) with custom toppers were bite sized..perfect when you're wanting to try a bit of everything.
The only thing I'm missing in these pics was the fresh out of the oven chocolate chip cookies served with ice cold milk. By that time, i do believe i was in the gluttonous zone with no hopes of returning!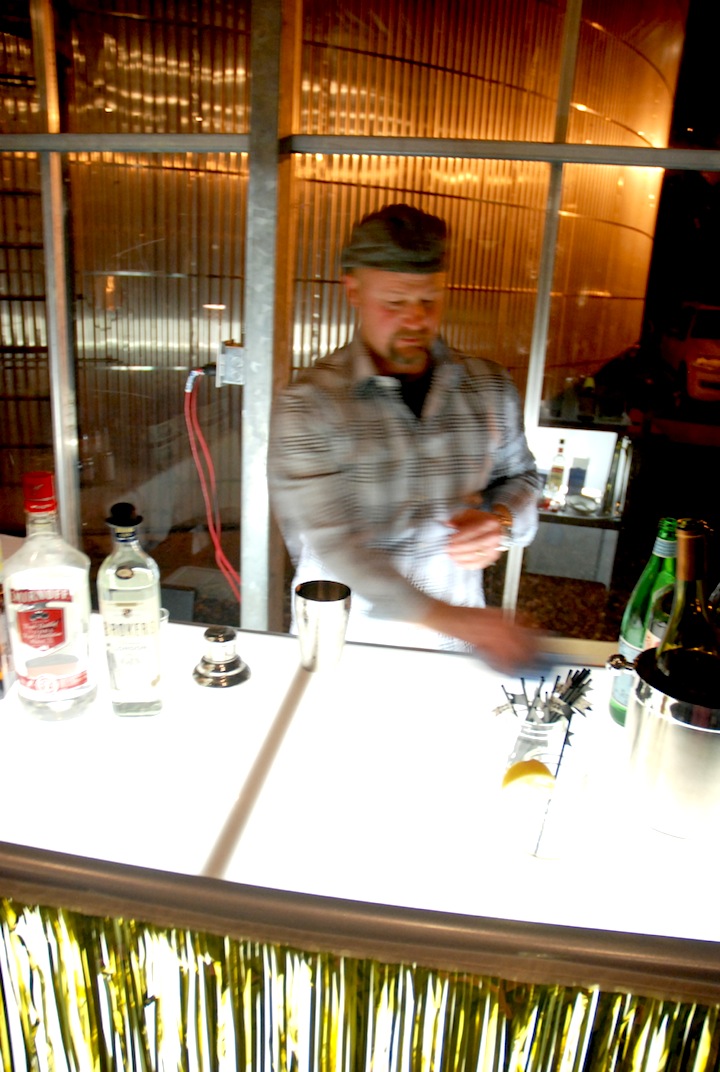 How cool is a glowing bar? And the bartender in action behind it? He served the signature cocktail..the Bellevue Hotel, a nut-tree infused gin and fig compote sip.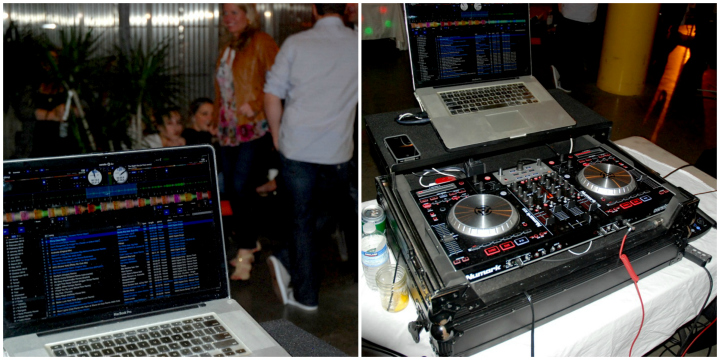 A lounge wouldn't be complete without some tunes…and i do believe this might have been Jason's fave part of the party…he is, after all, known as Mr. BPM . And just because we waited until nearly every one was gone before we hit the dance floor, we really did love you Monsieur DeeJay! One must be in a safe crowd before doing the running man!
And together, all of these elements came together to create a lounge, retro and very fancy Mr Parkers-esque party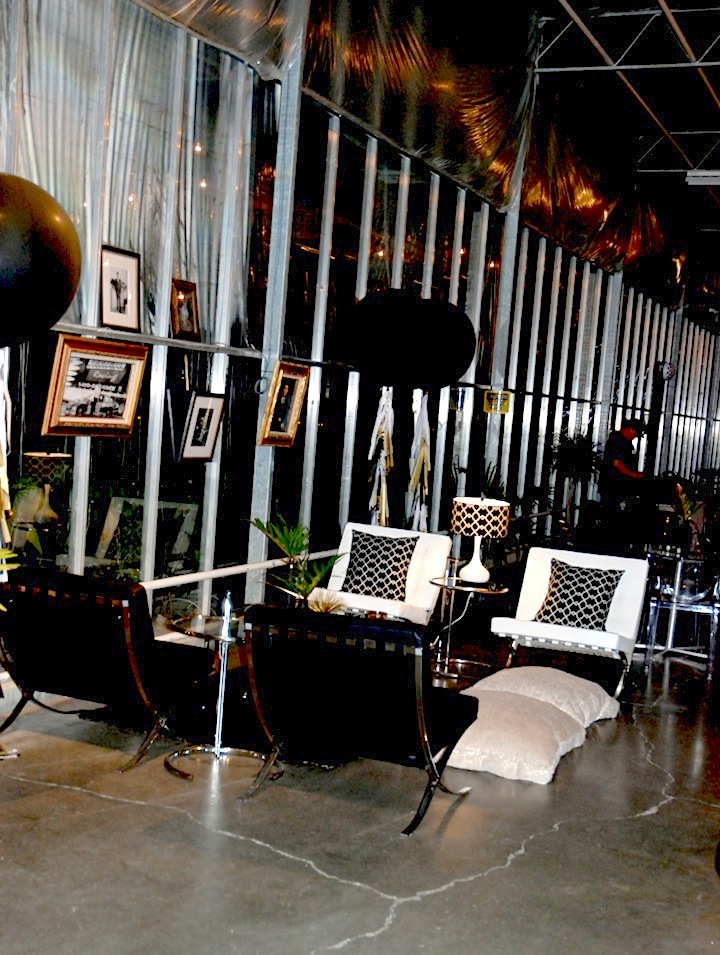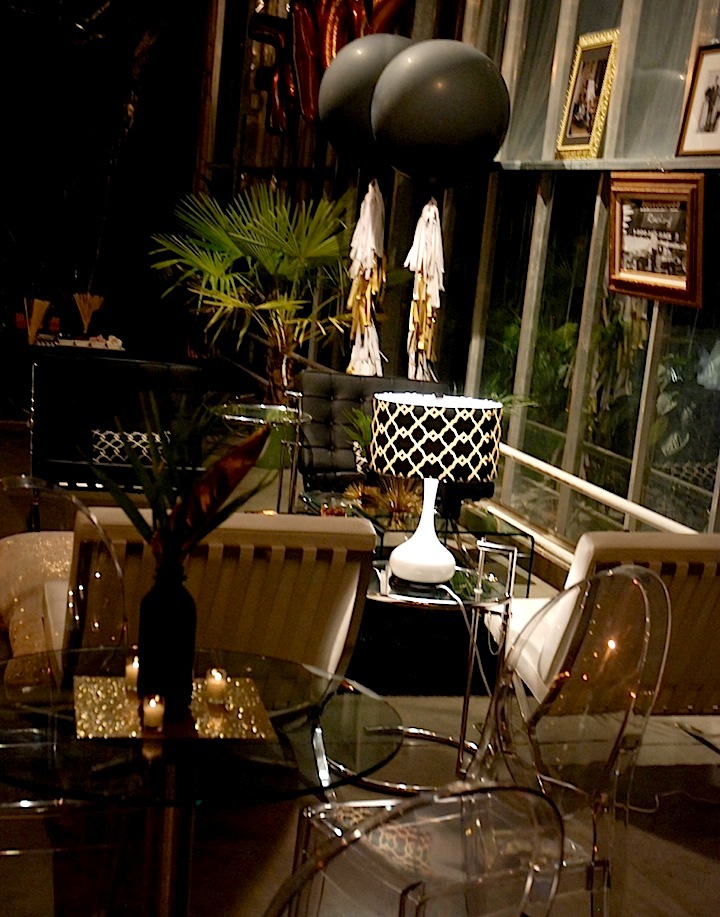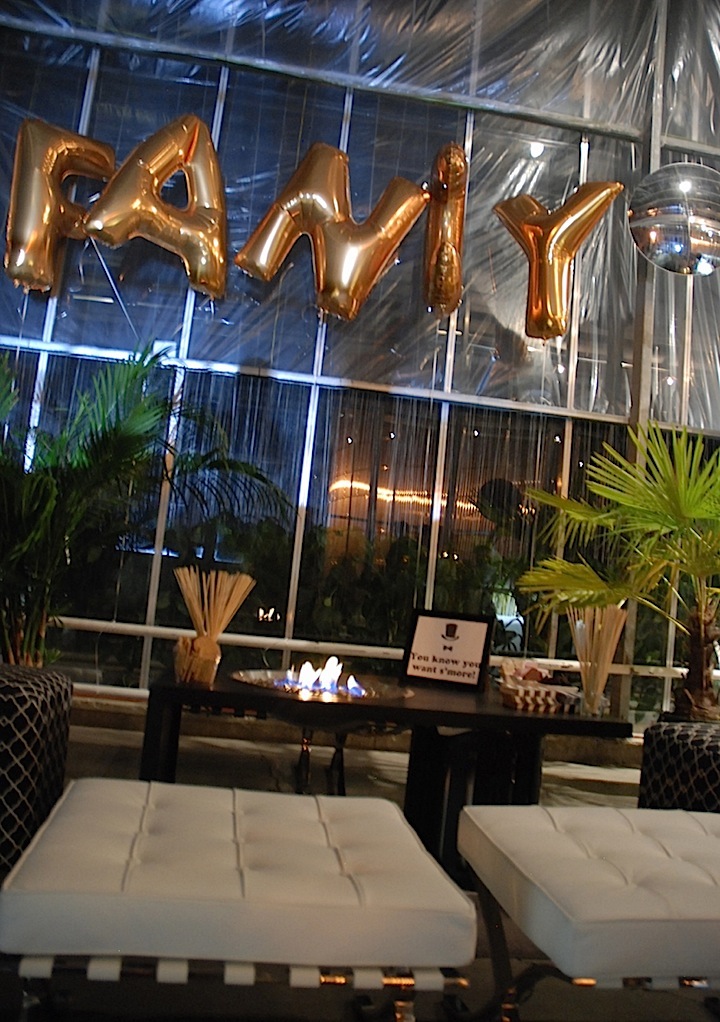 Jason loves to spend time on his patio during the summer months…so we brought his back patio into the greenhouse! The firetable and all the fixins for s'mores brought the outdoors in…glass panels were the only barrier between us and the clear night sky.
The guest of honour, Jason, making his entrance into not only the party, but into his 40's….i guess i'm the baby of the crowd now..oh sorry, did i say that out loud?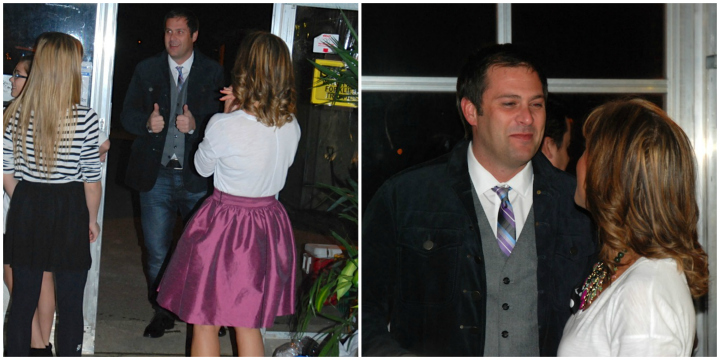 Couldn't have done it without our Sugar Plum Sister from anotha mista, Denise!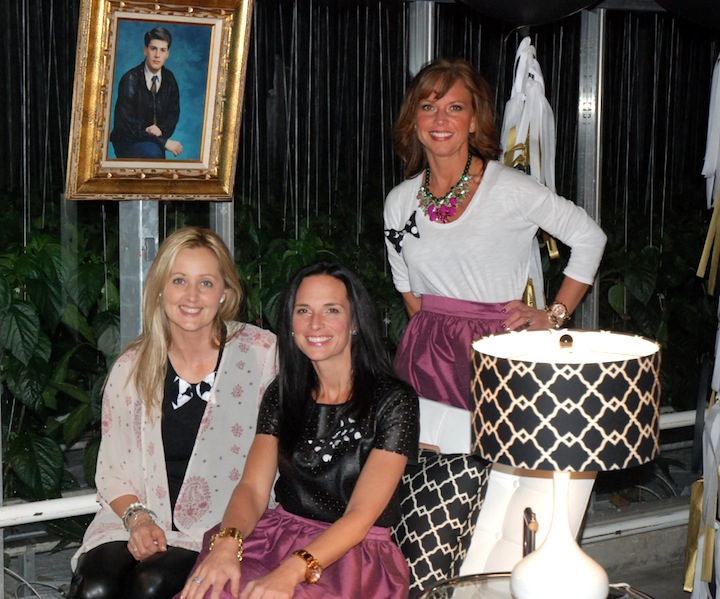 Thanks to all our cheeky friends for making this night a heap of fun!!!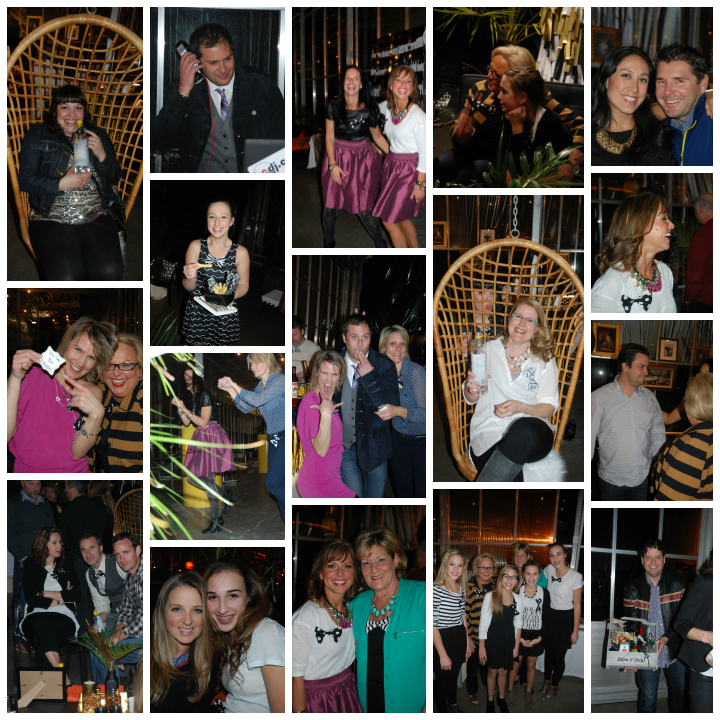 SOURCES
Furniture Rentals: LoungeWorks
Incandescent Bulb Lighting: Wiens Electric
Tropicals: Homestead Nursery
Catering: Rolling Chef.. three words: Parmeasan Truffle Fries
Balloons: Confetti and Co
Water: Happy Water ..a huge thanks to them for happily supplying water for all our guests!
Cookies: Pam MacGregor Cookies
Cupcakes: Reddy Made Cakes
Cronuts: Swiss Bakery
DJ: DJ Chris