Laurel and I just got home from the Alt Summit, a conference for bloggers, in Salt Lake yesterday.  We were gone for five days and had a most excellent time….we are coming home inspired, minds a' buzzin!!  Both of our hubbies are ah-mazing at running the show while we are gone!  It's nice now that the kids are a bit older…if they have to wait somewhere for a ride for a bit it's not the end of the world!  Jason always says "it's cake" while I'm gone….what does that mean?  It's sweet?  It's not too hard to keep up with the schedule?  That's all they eat??  It's more fun when I'm gone (probably this one)!   In any case, Jason never makes me feel guilty and encourages me to get away and pursue my passion.  I think maybe I come home a nicer person!
So today's about "re-entry" into the routine and schedules and it's going to be a bit of a doozy!!  I have workout class this morning, Berkeley is studying for exams, the girls have dress rehearsal for their pre-competition dance show and Mac has a hockey game!  Good thing Lo and I took an extra day in Salt Lake after Alt to chill!  It's going to be a busy one, but it's ALL GOOD!  I missed my family terribly, I'm feeling refreshed and I signed up for all of this!
As I was sitting in the airport waiting to board….we were delayed due to fog in Vancouver..when does that happen???.. I put together a grocery list. I texted it to Berks and nicely asked if they had time if they could pick up a bunch of fresh produce that I could prep in advance for quick and easy throw together salads and meals. I don't want any excuse for my family and I not to eat well this week…and Jason rocked…he picked up what I needed! What's in my fridge?? Roasted chicken, steak slices, diced peppers, cubed cukes, grape tomatoes, shredded lettuce, feta cheese and I made a batch of roasted garlic dressing…of course!! Today I'm going to roast up some cauliflower, broccoli, red cabbage and mushrooms too!! And I always have Cobs chia bread on hand for the kids!!!  Hey it bumps up the protein, fibre and omega value of simple grilled cheese or PB & J!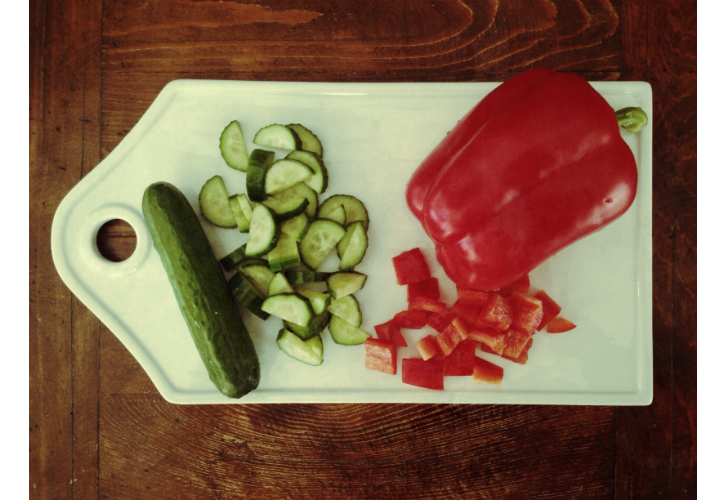 So here's to a smooth re-entry despite an incredibly busy week and to great food on the go!!