I love looking for new recipes. I have some staple favourites i make that incoporate more clean eating but i like to try something new at least a couple times a week. These pork carnitas were a good find…really good. In fact, the kids asked for them the following week. I love a plate that is colorful and full of flavor. This one checks off both boxes. Add on the cilantro lime cauliflower "rice" and we're talkin homerun.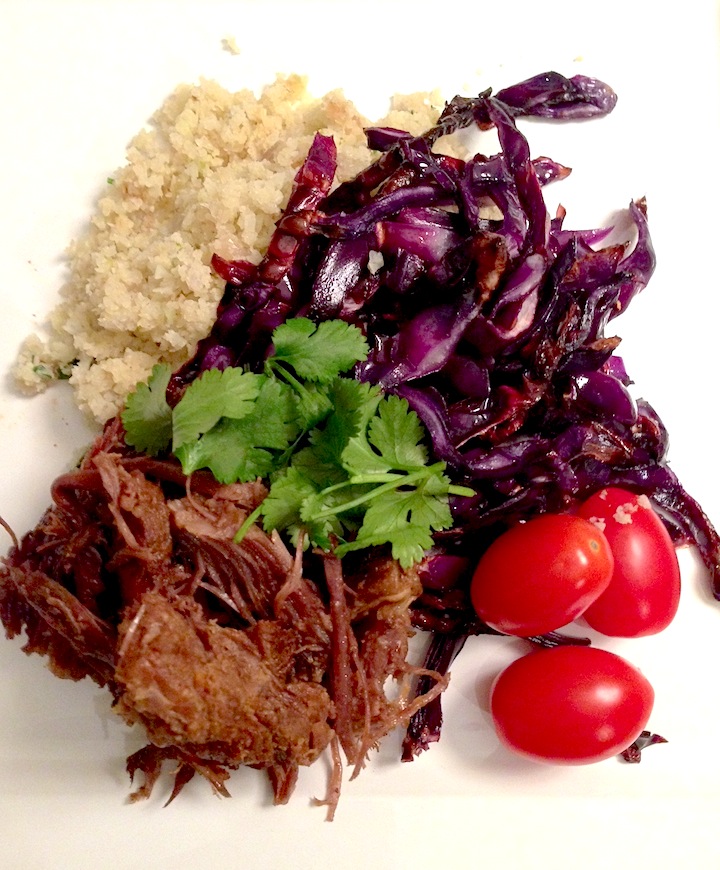 Not your typical slow cooker dish, is it? The pork carnitas are made using short ribs…which usually taste super delish because of the ribbons of fat that surround the cuts of meat. I purchased mine at a meat shop..where they could actually hand pick the ones with the most meat and the least fat. I also took a couple minutes to trim the ribs, taking off as much fat as possible.
The rub for these ribs is so good that we've kept more on hand to season meat for other meals. A combination of cumin, chill powder and garlic powder give it a kick, but once in the slow cooker, the addition of fresh citrus zest and juice temper it beautifully.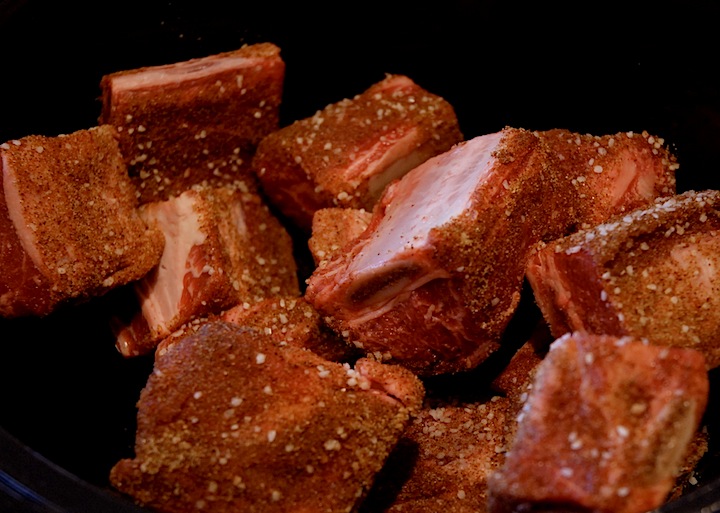 Once cooked, the meat was so tender it literally fell off of the bones and took seconds to shred.
The Cilantro Lime Cauliflower Rice is a prep ahead as well (and i think it tastes way better than actual rice!). Just throw your cauliflower into your food processor. Pulse til it resembles grains of rice. Then cover and refrigerate until ready to cook. I also zested extra lime in the morning when i prepped the short ribs so i could just throw it all together when i got home. The cauliflower cooks quickly…this dish can be ready in about 10 minutes if you have the ingredients prepped and ready to go.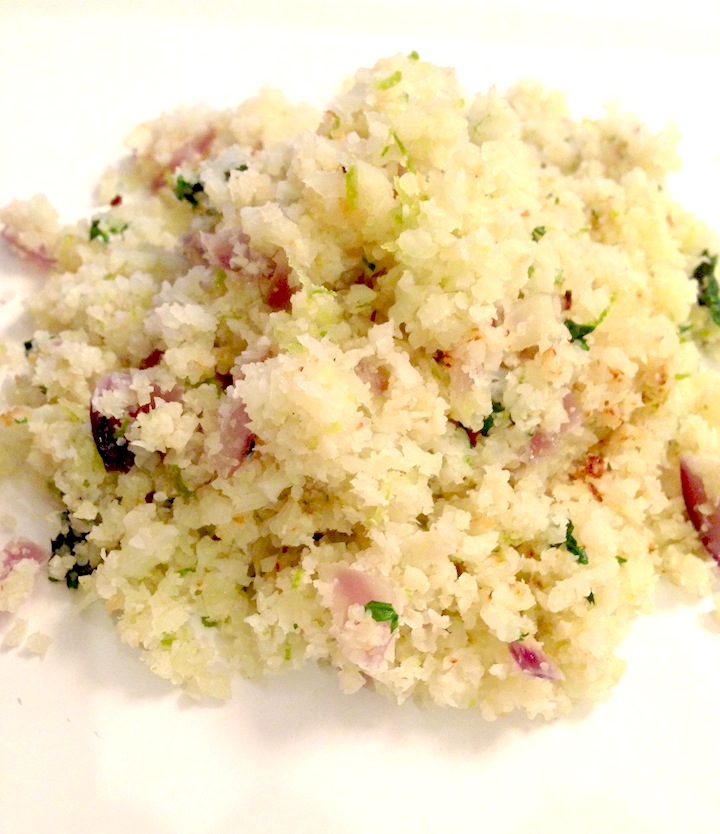 i added roasted cabbage as an additional "layer", the brilliant purple variety. Super easy. Cut the cabbage head in half. Slice thinly and place on parchment lined baking sheet. Drizzle with olive oil, sea salt and pepper. Roast at 400 for about 20 minutes, making sure to check often for browning. The crispy pieces are pretty good too..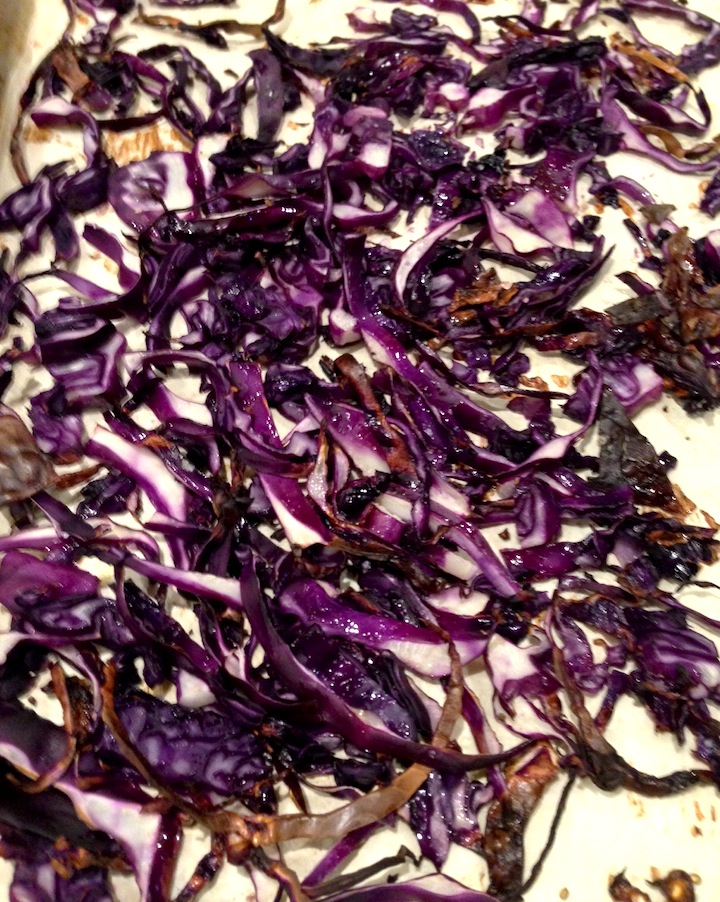 Layer the cilantro lime rice, the roasted cabbage, shredded pork, cherry tomatoes and some fresh cilantro and you've got yourself Pork Carnitas . If i had my druthers i would have added some freshly sliced avocado too! Ole! This is a layered meal that combines a ton of flavours..i'm telling you, there's no way you would eat this and think that you were depriving yourself of anything.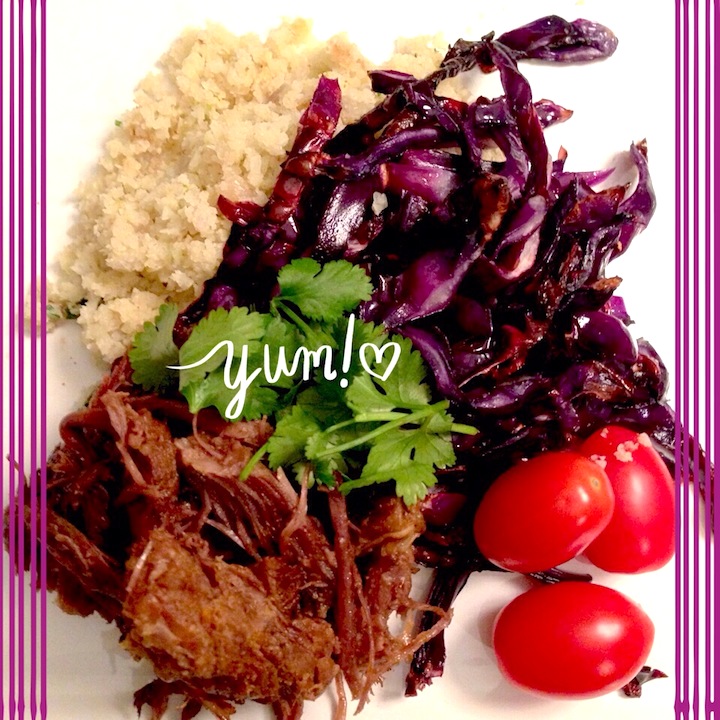 Pork Carnitas-  Recipe from the Leaf Parade
Ingredients:
1 teaspoon garlic powder
1-1/2 teaspoon chili powder
1-1/2 teaspoon ground cumin
1 teaspoon salt
4 pounds bone-in pork ribs
2 oranges, zested and juiced
1 lime, juiced
2 cups chicken stock
2 tablespoons tomato paste
1 tablespoon adobo (from a can of chipotle peppers)
Method:
In a small bowl, mix together the garlic powder, chili powder, cumin, and salt. Trim the fat from the pork ribs and then rub all the pieces with the spice mixture; cover and refrigerate for at least an hour. (**i was in a time crunch so i didn't marinate it)
Lay the ribs flat in the bottom of your slow cooker. In a bowl, whisk together the orange zest and juice, as well as the lime juice, chicken stock, tomato paste, and adobo. Pour the sauce over the meat; they should be at least nearly covered in liquid. Cover and cook on low for 8 hours or high for 4 hours, until the pork is tender and pulls apart easily.
With a slotted spoon, remove the pork from the slow cooker and allow it to cool. Using two forks, shred the meat and discard the bones and any excess fat. In a hot, dry skillet, briefly saute the pork so that its edges are nice and crispy.
Cilantro-Lime Cauliflower Rice – Recipe from the Leaf Parade..from  Nom Nom Paleo's simple instructions, recipe here, adapted with some add-ins.
Ingredients:
1 head cauliflower, trimmed and cut into florets
1-1/2 tablespoons extra virgin olive oil
1/2 cup chopped red onion
Sea salt + cracked black pepper
Zest of 1 lime
1/2 cup chopped fresh cilantro
Method:
In two batches, pulse the cauliflower florets in a food processor until the pieces are about the size of rice grains. Heat a large skillet and add the olive oil, red onion, salt, and pepper. Saute for a few minutes, until the onion is soft and translucent. Add the riced cauliflower to the skillet, coating it evenly in oil and onion chops. Add the lime zest and saute for 5 or 6 minutes, until the cauliflowerbegins to soften (you, after all, don't want mushy rice). Add the cilantro and mix well.