Meeting Larissa Stefani of Lloyd and Wolf was pretty fabulous. We were already lovers of her handbags BEFORE ever seeing and touching (dare i say petting?) her gorgeous purses in person and indeed doing this sealed the deal, but the added bonus was getting to know the artist behind the brand. Larissa's style is a perfect mix: classic with some edge. This mom of 2 has not resorted to workout wear or mommy jeans! She's known for her rocker edge…might that include picking up her kids from school in heels? You betcha. And we loved that. Coupled with that, her genuine spirit and sense of humour make her one cool chick!
Meet Larissa…You're gonna love both the handbags and the creator of Lloyd and Wolf: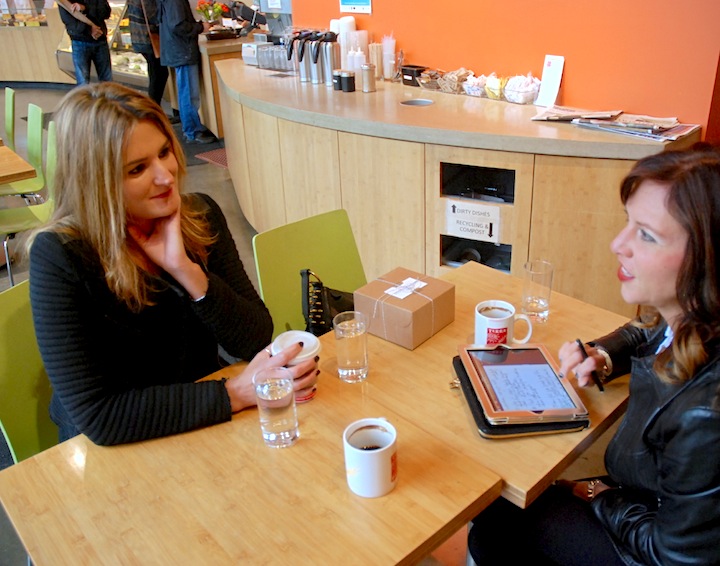 1. Who is your style muse? I like the Kates…. Kate Moss, Kate Beckinsale, Kate Bosworth. And let's not forget about Posh…love Victoria Beckham's style. In short, sleek but edgy!
2. How did you break into the designer handbag market? The kids were getting older and we as a family had come through some rough years, including my diagnosis of Lyme diesease. I needed a focus..i didn't want to lay in bed and dwell on my symptoms. i made a connection with a fellow in the industry who become my mentor.  Pretty much, i wore him down until he gave in and began helping me learn the "business" of handbags. Before having kids, i had worked in the fashion industry for years…but in the athletic sector. This experience, combined with a love of leather and a desire to work with it have brought me from spandex to couture handcrafted handbags!
3. What makes your handbags special? Quality is always paramount. We do limited runs based on the skins that i fall in love with. I retain control of all aspects of the process. My handbags are made in only two locations…here in Vancouver and by a craftsman in Spain. Every bag is handmade with attention to the details. The hardware is something I am always searching out. Every element of the bag is thought out and planned over a long period of time. I've always been a bit of a rocker and that's reflected in my line.
4. Have you considered adding other pieces to your line besides handbags? Absolutely…leather belts are in the works.
5. What are some things that make up a typical day for you? I always make my kids a hot breakfast…every morning before school. Driving them to school is also on the agenda. Once they're off, i start my work. I'm lucky to have flexibility. i work on social media and product development from my studio at home on Bowen Island.
6. How do you balance work and being a mom? Well, first of all, the kids do more chores now!
7. What is your signature handbag? Phoebe was my first so she's close to my heart. More recently, Abi has made a name for herself as we took her to the The Independent Handbag Designer Awards™ in New York City…it was incredibly exciting to be the only Canadian designer in the top 5 finalists! What an experience!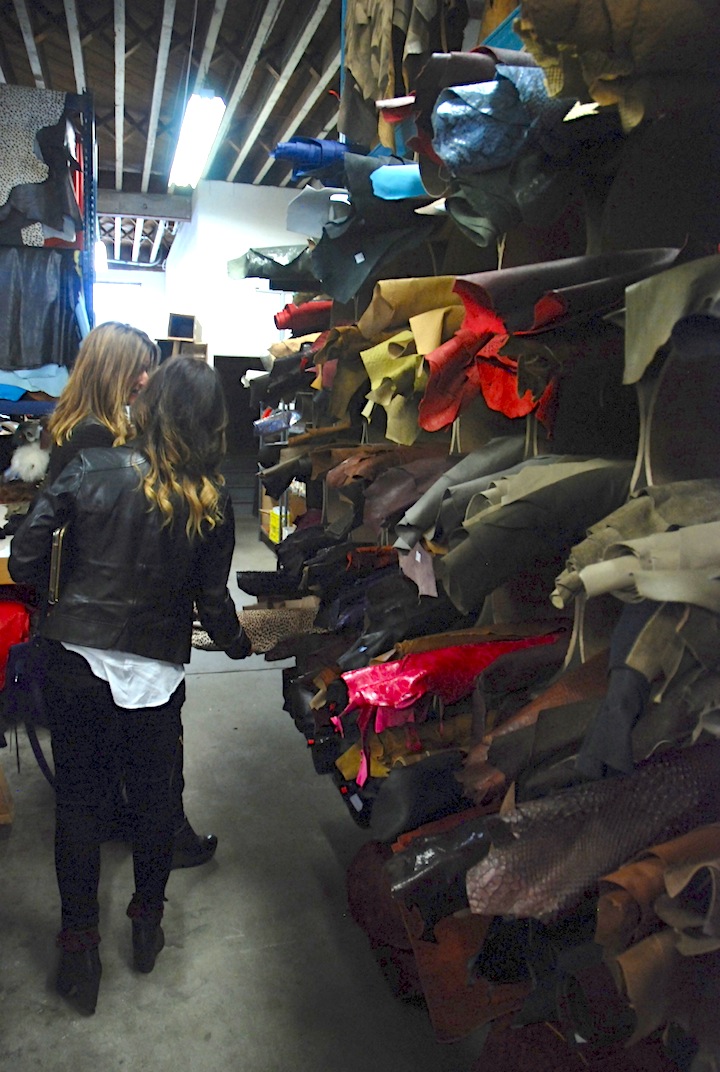 Leather heaven… Larissa took us for a sneak peek at some of the skins she uses or is planning to use in the Lloyd and Wolf line.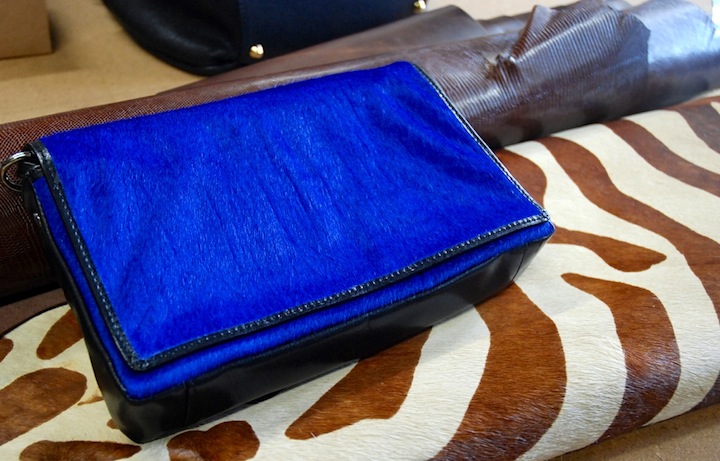 i'll admit, i think both Pam and i let out a little squeal when face to face with Maddy. This cobalt calf hair clutch is downright gorgeous…no really…die-nooo-might!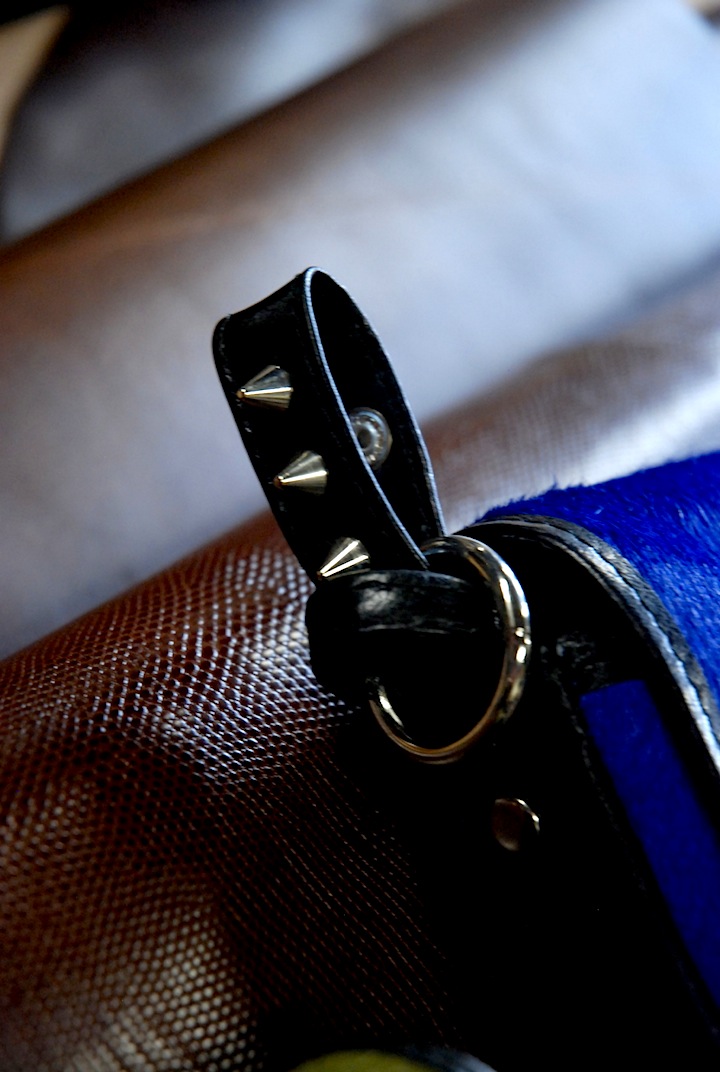 Spike details are signature on Lloyd and Wolf bags. We love that they are just the right amount…a little edge without being over the top.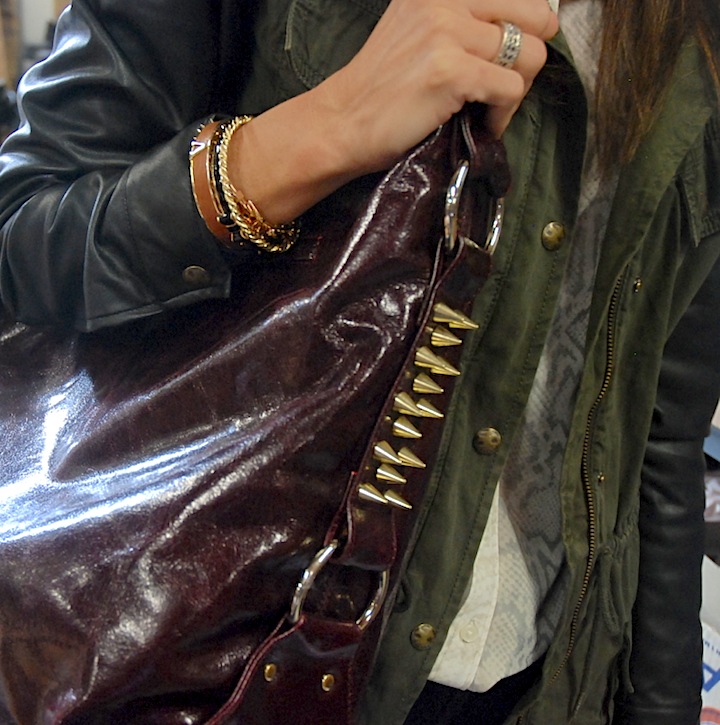 Don't you think Phoebe looks pretty marvy on me? I think she'd be the ultimate travel bag… iPad, wallet, scarf, headphone all would fit in easily without looking bulky or frumpy.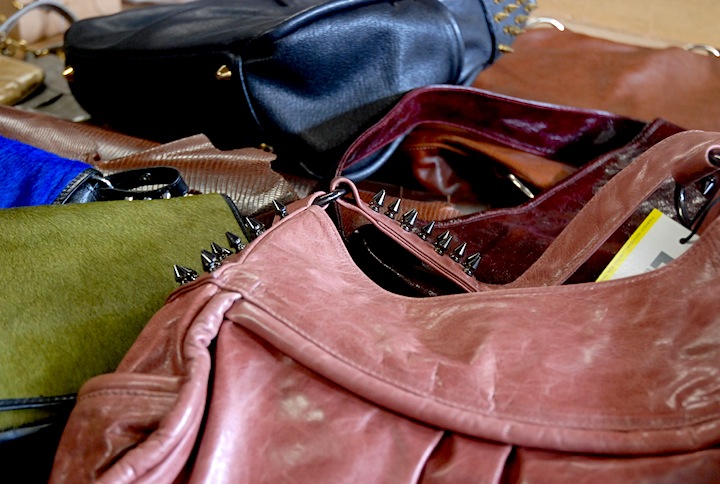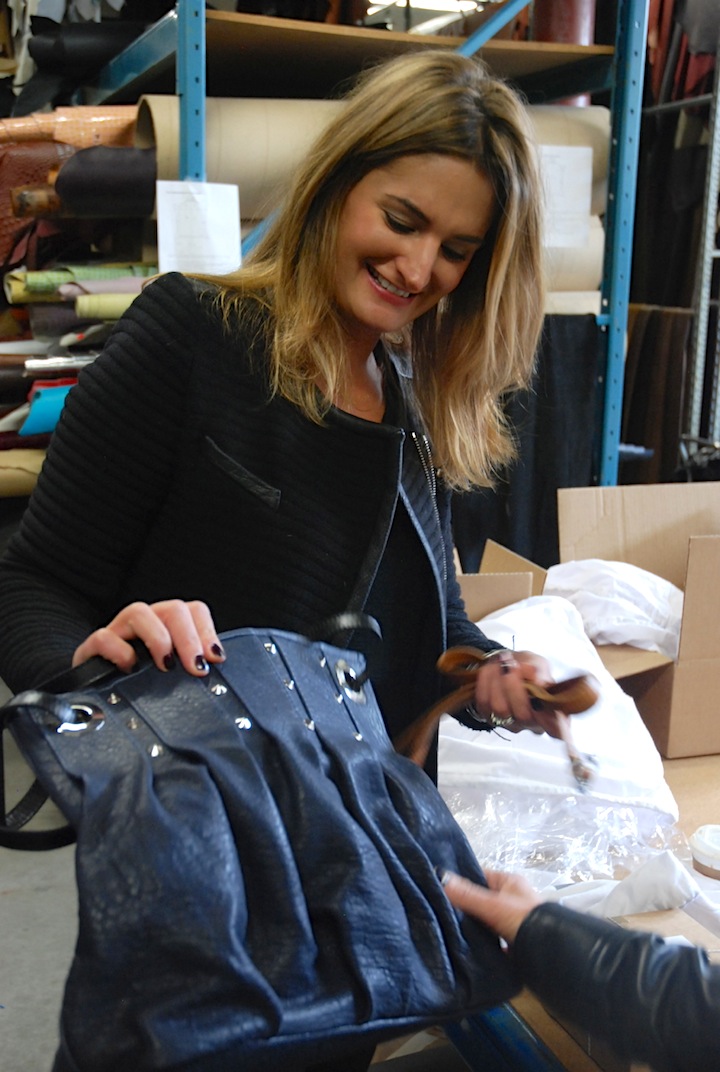 Larissa giving Pam a feel of the buttery leather shoulder bag, Hazel.  Flat cone studs work perfectly with this more softly structured bag.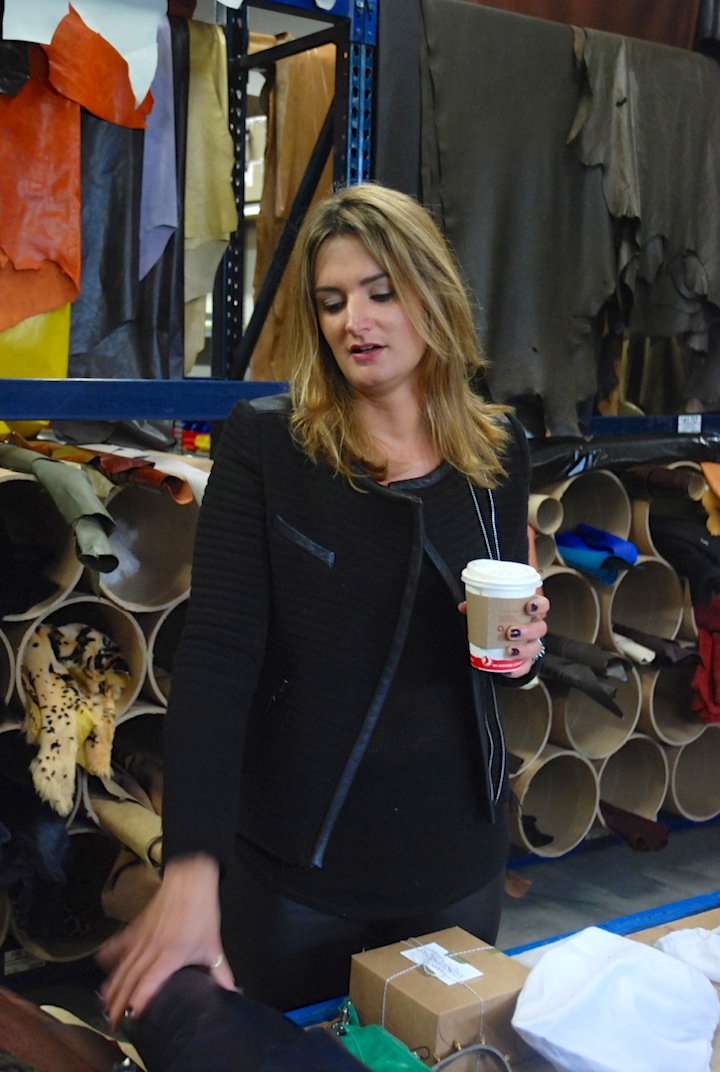 Quick Five with Larissa
1. Late night or Early Morning? Late night
2.Current Fashion Obsession: a black leather mid length pencil skirt…i haven't found the perfect one yet!
3. Friday Night… Stay in or Go out? Stay in all the way.
4. Ultimate Travel Destination: Exuma, Bahamas
5. What is the one thing you never leave home without? Lippy. (we couldn't agree more!)
What a treat it was to meet with Larissa, and get an up close "show and tell" of the Lloyd and Wolf handbag line. If we were fans before, we're now verging on stalkers. But not the crazy, weird kind. We're the harmless type…scout's honour.
Visit the Lloyd and Wolf website or visit Rebecca Bree on west 4th in Van to see some of our favourites. i so-o know what's on my Christmas list…….