So, I have to admit that the last three weeks have been a bit of a fog to me….getting the kids back into school routines, two of them starting at new schools.  Mac started hockey academy, rep hockey tryouts  seemed to never end (we are talking like three weeks), and he started up cross country!  Berks and Dylan are settling into dance…that is over twenty hours a week.  Arranging school, dance, and hockey carpools….carpools are my lifeline…unless teleporting becomes an option! Seriously every day I still ask the kids what they have up even though the color coded schedule is sitting on my desk…yes, each child has their own color!  Maybe I'm subconsciously trying to have them take ownership of their schedules so they know what needs to be packed for the day!
I have to admit that my blood pressure has been high, sleep has been limited and I've been on edge…to put it nicely!
The good news is that I can hardly believe that we are heading into the fourth week of school.  Christmas is going to be here before I know it, whether I have the schedule memorized or not!!
So, it's time to chill a bit and enjoy fall.  I am a summer girl, but I have to say that I enjoyed wearing my booties last week and even a sweater!  Here are a few things that I am going to enjoy the next few weeks…
Pumpkin – I LOVE pumpkin! This weekend I was checking out pumpkin on the Pinterverse and I was struck by all of the uses for pumpkin just in food…you can go sweet or savory…healthy or indulgent.  Use it in main courses, desserts, appies, baked treats, bevies,  appies and brunch dishes.  And then there is decor…so many options!  Pumpkins may just be one of the most versatile fruits out there!  Check out our Pumpkin Pinterest Board for all things pumpkin.  We are also developing a pumpkin dessert that we will be teaching at our cooking class at Lepp Farm Market.  Lots of yummy testing going on! Tickets are still available.
Booties – they look so chic with skinny jeans and leggings.  And they are so comfortable!  Mid-heel is perfect for me….it dresses up the most casual outfit without the pain of skyhigh heels.  I'm obsessed with Rag and Bone Harrow Booties and my goal this fall is to e-stalk them until I find them on sale!!!
Bolder Lips – summer means nude, glossy lips.  But this fall it's is all about statement lips…reds, oxbloods, berries, and rich wines.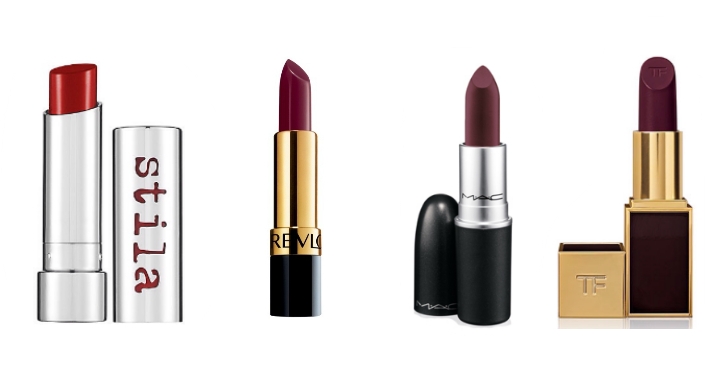 Stila Color Balm Lipstick "Ruby"
Revlon Super Lustrous Lipstick "Blackberry"
MAC Lipstick "Hang-Up"
Tom Ford "Bruised Plum"
So, this week I am going to get my fall on!  How are you embracing fall?