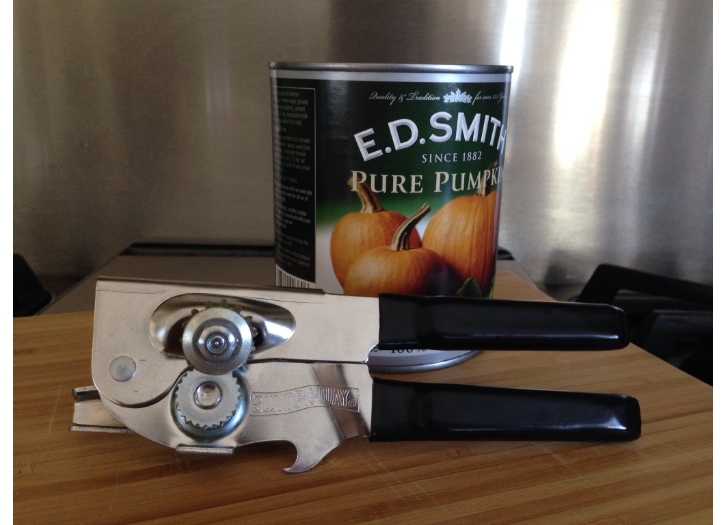 I'm really getting back to basics with this week's Friday Find.  So, I'm not big on a lot of canned food items, but with the arrival of fall, I've been baking a lot and experimenting with pumpkin.  I've never been a fan of electric can openers…just one more thing to clutter the counter.  Jason came into the marriage with a hand held can opener that his mom gave him when he moved out on his own 20 years ago and she had it for about 9 years before that!  This can opener has been my fave…others have come and gone from my kitchen, but this one has stood the test of time.  But, this last week I was saddened when Dylan said that something was wrong with it…surely she wasn't using it right!   But no, I stepped into to show her how it's done only to find  that the blade is warped.  Booo!!  This puppy has as seen the last of it's can opening days!
I was picking up a few things at Walmart yesterday morning and thought I'd better pick up a new can opener.  I had a more expensive one in my hand with a much more ergonomic design and then I decided to go with the simpler, more basic one. Just like our last one.
When I got home, to my surprise and delight, I found out that the old one and the new one were made by the same company thanks to the etching….Swing-A-Way.  I love it when something like that happens…a bit of serendipity in my day! Ok, it doesn't take much for me!!!
This beauty is just $8.97 at Walmart….let's see if this one lasts 29 years too!  It goes to show that sometimes expensive is not better!