I have to admit that I'm in love with Essie nail polish right now!  Seriously, nail polish is the easiest and most inexpensive way to inject a shot of color into your look!  Ok…when it comes to nail polish I may have a wee bit of a problem….yes, there's a drawer full of bottle because you just need that perfect shade!  Each season Essie comes out with fresh and fun new colors!!  Yet I was noticing lately that I keep rotating between four colors…some new and some classics that you just can't beat!!!  And I keep a basic metallic close by to add accents!!  Gold is my go-to this summer.  Here are my summatime picks….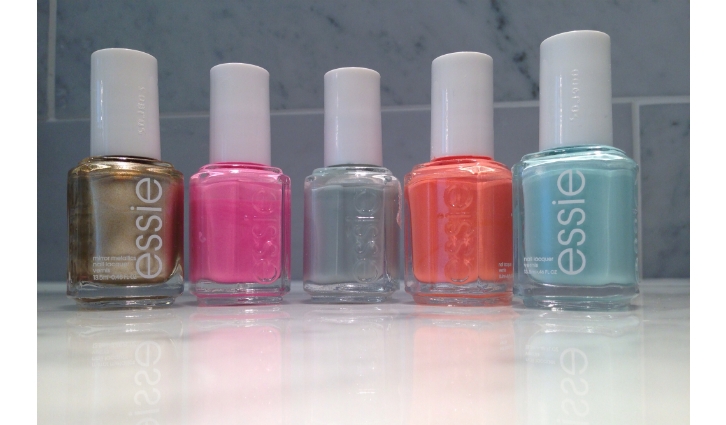 From left to right…
Locally, you can find Essie at Walmart, London Drugs, Real Canadian Superstore and Shoppers Drug Mart. I love that I can find Essie polishes just minutes from my house at Walmart and London Drugs at the new Highstreet open air shopping centre.
When I actually put all the bottles of nail polish out, I thought I might try them all….at one time!  Hey, it's only nail polish and I change it every couple of days!  So, heck, I went for it and wouldn't you know…I received a compliment on my mani within about 10 minutes of leaving my house!!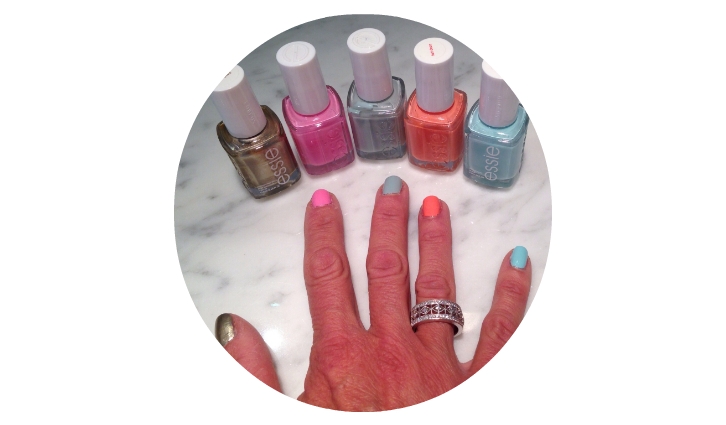 So, hey, have some fun with your mani this summer.  Color is ALL GOOD…it's encouraged!   What are your fave Essie shades??
Thank-you SO much to Essie for sending us their nail collections.  We always love trying out their new shades and love recommending our faves to our readers!