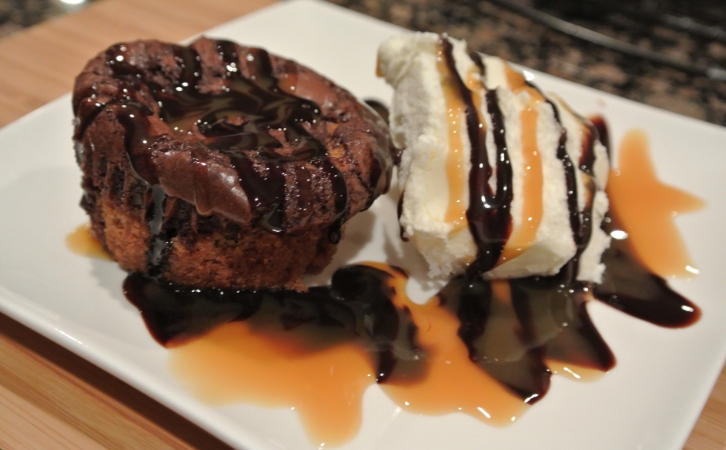 Instagram had me drooling a couple of nights ago!  Friends of my daughters posted pics of a crazy good looking recipe….I caught that it involved oreos, cookie dough and brownies…you can't go wrong with that trifecta!  So I asked their mom about the recipe.  She made it in a 9′ x 13′, but I decided to try my own twist and use muffin tins.  So…put aside your guilt about clean eating, the Paleo diet, what you can gather and hunt, and run to your local grocery store for a few packaged ingredients and indulge and enjoy….
Oreo Cookie Dough Brownie Treats
makes 16
1 468g package Pillsbury Cookies Chocolatey Chunk cookie dough (or use your own fave cookie dough recipe)
1 bag Double Stuf Oreos
1 package Betty Crocker Chocolate Chunk Brownies
16 Paper Chef Culinary Parchment Large Baking Cups
Preheat oven to 350 degrees.  Put parchment baking cups in muffin tins.  Fill any unused muffin tins with water so they do not become scorched.  Prepare brownie mix according to package instructions.  Cut cookie dough roll into 16 pieces and put one slice in the bottom of each baking cup.  Push an Oreo into the cookie dough of each cup.  Spoon mixed brownie batter over top.  Bake for 20-25 min.  Remove from muffin tins and place on cooling rack.
They can be enjoyed on their own…
Or while still warm, remove the baking liner, plate, add some vanilla bean ice cream, drizzle with chocolate and caramel sauce for a dessert!!!  Your guests will love it!   Oh, and creds to Nicky!!!!