i don't know how some of you small purse carriers do it. No really…you must be super well organized and know exactly where you're going for the day and what you're going to need. i have a serious appreciation for you. Me? i'm not so organized. And thus, i carry my tote around like a security blanket. It's filled with all sorts of bits and pieces because you never do know when you're going to need items such as a clean pair of socks (hey, i don't like cold feet), tea bags (need to get my 8 glasses of water a day!), texting gloves (if i don't like cold feet, why would i like cold hands?) and a scarf, or two..or three. The more i talk the more i think i just need to wear a warmer jacket, but anyways, i digress. Bottom line, a tote to carry my "stuff" is a must!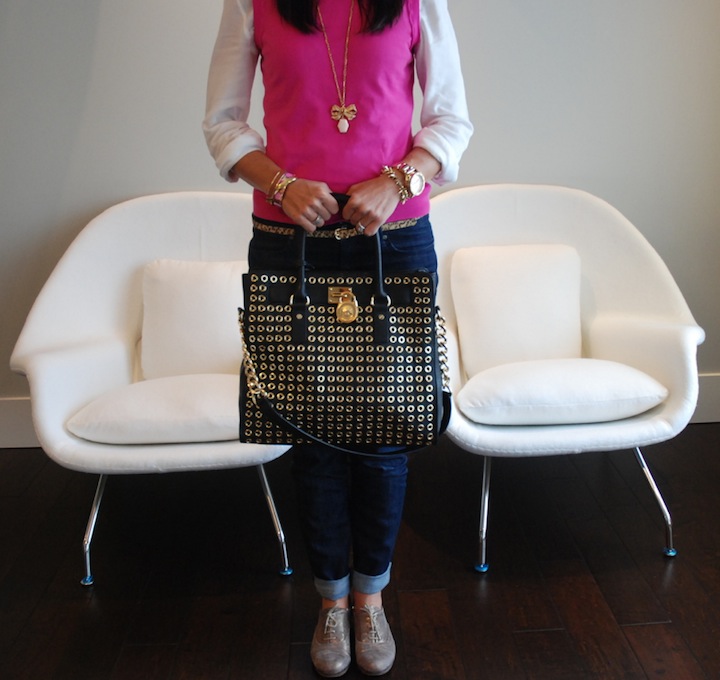 Personally, i think this is an item that could warrant a splurge, but i have to admit, there are some steals out there that can't be beat. Take your pick!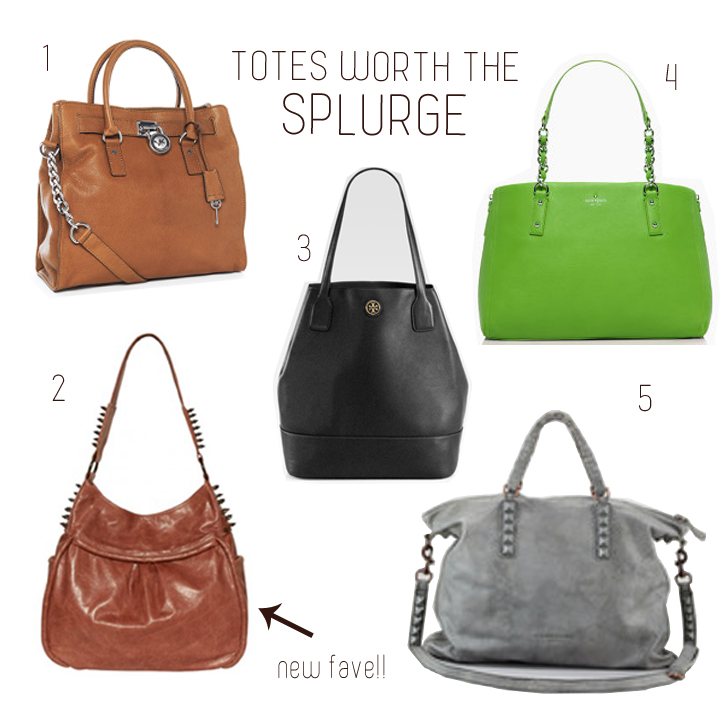 1 The Michael Kors Hamilton Tote is a serious favorite for the Sugar Plum Sisters. I know, i know…it comes with a bit of a steep price tag. But..if u want one handbag that will take you from day to night, this is your baby. I'll also add that if you're savvy, you can find them marked down. Pam snagged one of hers at TJ Maxx and i lucked out at Saks Off Fifth Ave. But whether or not you get it discounted, you won't regret. Promise
2 Lloyd and Wolf is newer to the scene, but i can say we've fallen head over heels for their bags.  Their classic silhouettes, each with the added edge of studs are. awesome. period.  And for you fellow Canadians, you'll love to know that these gems are designed right here in Vancouver! I am seriously coveting the Phoebe Bag. Each production is a limited-run. i love that… made with serious TLC. Plus, they love leather. i love leather. it's a match.
3 Tory Burch's Michelle Tote is a CLASSIC. Love that they update it every season in the latest colours.  Made of a soft pebbled leather, this tote can be cinched in on the sides to give it a more tailored look if you (unlike me) aren't using every square inch!
4 Kate Spade is consistently a breath of fresh air! Its tough to carry one of her bags and be a grouchy pants. It just wouldn't be right! Her Andee- Cobble Hill Tote in Shamrock is just the bag to shock your neutrals and bring life to your wardrobe.
5 The Sandrine Tote from Liebskind is beautiful and is big enough to almost double as an overnight back…perfect for traveling! The Pistache color is my personal fave.
It's also fun to take advantage of some trendy tote bags that won't make a such a dent in your wallet…like more than one? Buy them both!
Here are some of our picks: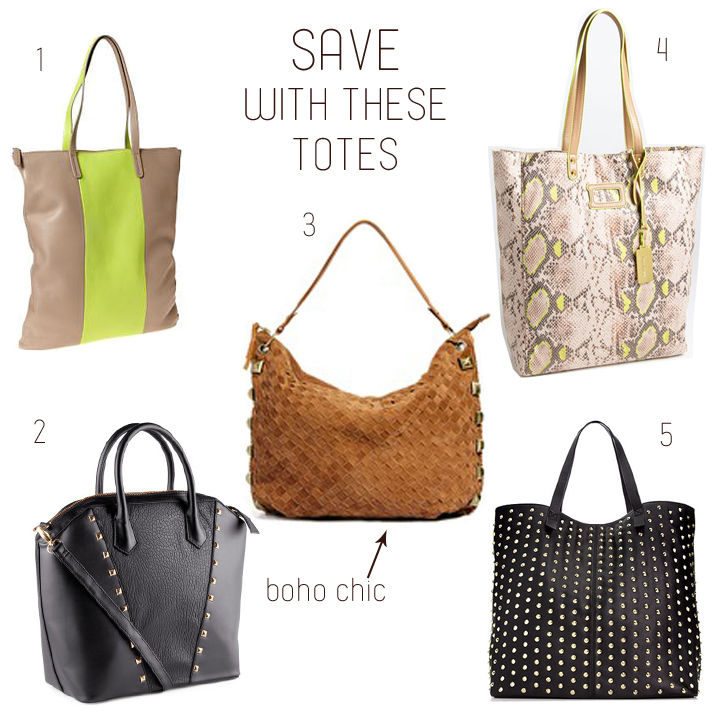 1 The Leather Stripe Tote from the Gap  is a steal. Real leather, folks! For a smashing good deal..in Canada it's on sale for $54.99 (click here for the Cdn site). The added neon stripe is punchy and fun.
2 For a timeless look, we love this Tote  from H&M ($39.95). Simple in design it would work as a day to evening bag. And..you know i have to say something about the studs. Bonus points!
3 Go boho chic with the ASOS Slouch Tote ($116.38) . Made of soft suede, this bag would look perfect paired with denim or crisp white. Think Coachella..
4 The Signature Amelie Tote by Sam Edelman (sale $79.06)is a statement piece..the snakeskin print is neutral yet exotic. Love.
5 My love for studs..oh i love em. This Steve Madden Studded Tote (sale $80.99) is classic with an edge. This tote would work year round.
Totes adorbs, right??