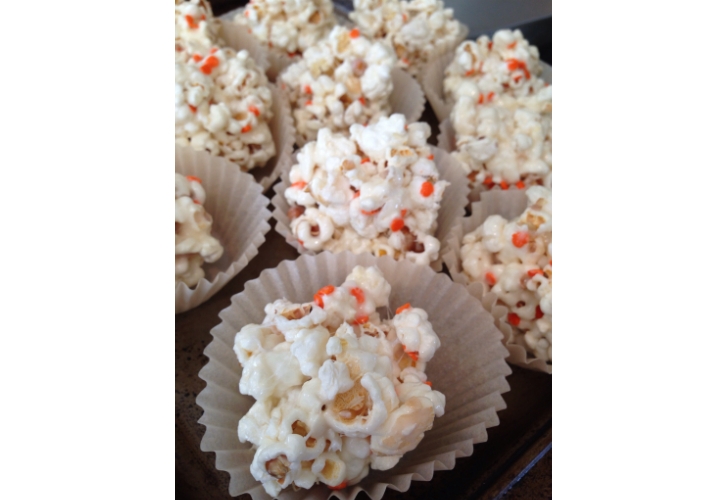 While we were away in Phoenix for Spring Break, Lo and I would spend hours trolling Pinterest boards after the kids and hubsters had gone to bed! Lo came across a pin for Birthday Cake Popcorn and since we were there for Dylan's 12th birthday, I thought I'd try to make it for her birthday celebration there. This recipe comes from a blog called The Endless Meal (click here for the recipe link).
Birthday Cake Popcorn
From The Endless Meal
Ingredients
6 cups popped popcorn
½ bag of marshmallows
2 teaspoons vanilla
2-4 tablespoons milk (I used almond milk but regular milk would work too)
¾ cup vanilla cake mix
Optional: sprinkles
Instructions
Place popped popcorn in a large bowl and remove any un-popped kernels.
Place marshmallows in a medium sized saucepan over medium low heat. Stir frequently until marshmallows have melted. Add cake mix and stir till well combined. Stir in vanilla then stir in milk 1 tablespoon at a time until are a pouring (but not runny) consistency.
Pour melted marshmallows over popcorn and stir to combine.
Top with sprinkles.
Makes 6 cups (Just go ahead and double it!! This stuff disappears!)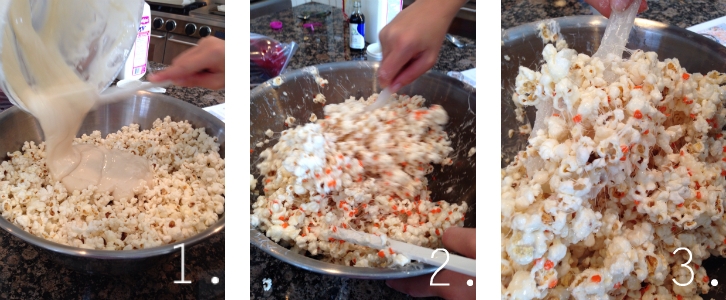 Mix marshmallow mixture with popped popcorn.

Once mixed well, add sprinkles.
Stir up quickly and form into popcorn balls.
Notes
To make into popcorn balls: wet hands lightly and scoop up a small amount of popcorn. Gently form into the shape of a ball. Re-wet hands between each popcorn ball to prevent the popcorn from sticking to your hands.
Here's a sweet tip:  Spray your hands with cooking spray to form balls and place in parchment baking cups or colorful muffin liners.
The house we were renting in Phoenix wasn't very well equipped, so I had to improvise a bit! I opted to omit the vanilla as it seemed a bit of a waste to buy it for just that. We didn't have an air popper, so we bought Orville Redenbacher Natural Simple Salted 50% Less Fat microwave popcorn and used that.  It worked in a pinch (sweet and salty does work together!) Berkeley made it this past weekend with air popped popcorn and vanilla and made it into popcorn balls.  She used flat sprinkles…they work much better than the sugary type or small sprinkles that tend to almost melt.  You can buy the flat confetti sprinkles through Amazon.com (click here) or locally at Scoop n Save (click here).  They were cute and delish!  This recipe is definitely best made into balls….in Phoenix I didn't and it was a bit tough to break pieces of the popcorn off and was a bit messy (but still got devoured!).