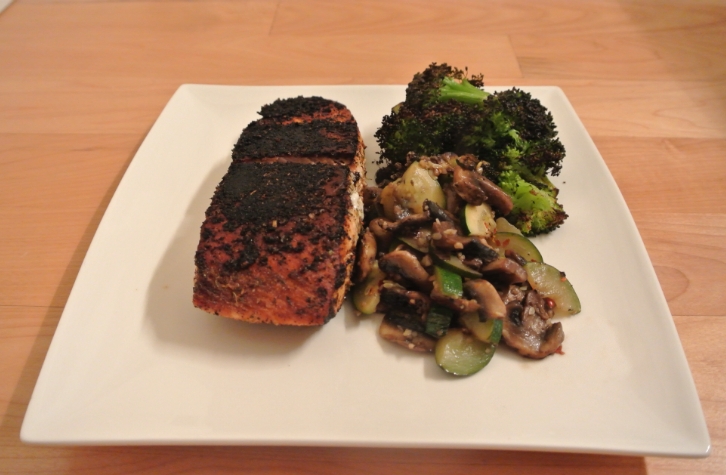 So, Jason is tired of chicken and steak…can't quite believe he said that, but I listened (ok, I'm not usually very good at that) and decided to switch it up.  I'm quite a fan of the new Walmart Supercenter that's opened up just down the road.  I was grocery shopping and saw a beautiful salmon fillet and thought I'd give it a whirl despite not having the greatest memories of eating salmon as a kid (you know…near choking from ingesting bones!) .  Mac's not a fan either…usually forcing just a few bites down is a major undertaking!  The fillet did have skin on one side but great thing was there were NO bones!   I went on Pinterest for inspiration!  I found this recipe and thought I'd give it a try.
Blackened Salmon from Mom, What's for Dinner, adapted from This Mama Cooks
2 teaspoons garlic salt
1 teaspoon paprika
1 teaspoon  onion powder
1 teaspoon oregano
1 teaspoon black pepper
1/2 teaspoon cayenne pepper
1/2 teaspoon thyme
2 pounds salmon
Combine garlic salt, paprika, onion powder, oregano, black pepper, cayenne pepper and thyme. Mix together and rub mixture on both sides of fish.  Note: I leave the skin on one side to fry. Once it is seared, I peel the skin off and add the seasoning. Frying the fish with the fat allows you to cook with virtually no oil.  I just don't serve mine with the skin on.  Cook 5 to 8 minutes on each side, or until fish flakes easily with a fork.
Ok…Pam's take on it…
I prefer to use garlic powder (not salt) and then add 2 tsp. of freshly ground sea salt.  I start by cooking the pieces of the fillet with the skin side down.  I put the spice mixture only on top to start.  When the skin is crispy, I turn the fillets, strip off the skin and then put the spice mixture on the now skinless side.  I flip it one more time to sear the spice mixture onto that side.
I have to say that the salmon was SOOO delish!!!  It wasn't dry and the flavor was amazing!  Mac polished off his serving without any coaxing!  I've already made it a second time since!  I served the salmon with roasted broccoli and sauteed mushrooms and zucchini.  A super healthy, tasty and satisfying meal…and very quick to prepare…about 30 minutes to the table.