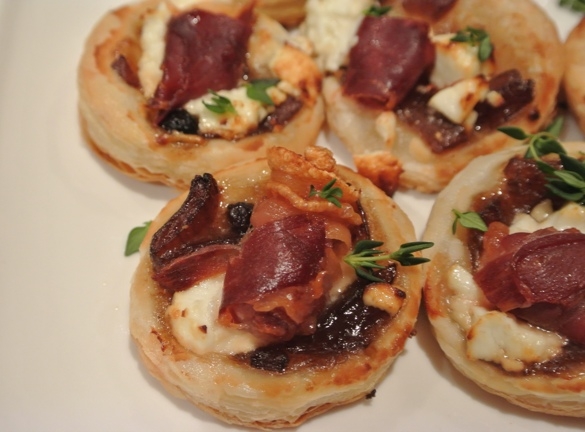 How often do you get invited to a Christmas or New Year's party and you ask, "What can I bring?"….often it's, "Can you bring an appie?"  For the Easy Entertaining Class that Laurel and I taught at Lepp Farm Market, I developed this recipe for an appie that can be made a few hours in advance.  Just pop them in your oven just before your guests arrive!!!  Lots of good flavors in this one!  Don't let the puff pastry scare you…it's surprisingly easy to work with!
Pam's Caramelized Onion and Goat Cheese Pastry Bites with Proscuitto
Ingredients
397g Tenderflake Puff Pastry
Jules + Kent Caramelized Onions
100g goat cheese (such as Woolwich Original Chevrai)
125g prosciutto, sliced medium
Fresh thyme sprigs
Method
Thaw puff pastry in fridge overnight. Preheat oven to 375 degrees.  Roll out the first half of the pastry on a floured surface to make a circle approx. 10" in diameter (make sure your rolling pin in floured too!).  Using a cookie cutter that is approx. 2 3/8" in diameter, cut out circles (cut them as close as possible as you shouldn't re-roll the pastry, you should get about 12 out of each half of pastry).  Put pastry circles on a cookie sheet with parchment paper.  Repeat with the second half of the pastry.  Make an "X" with score marks across the center of each circle staying about a ¼" from the edge.  Top each pastry circle with ½ to ¾ tsp. of the caramelized onions keeping them away from the edges.  Add a few crumbles of goat cheese.  Cut the prosciutto into strips that are about 4" by 1".  Wrap each piece around your finger to create a curl.  Place a prosciutto curl on top of the goat cheese on each pastry bite.
Bake at 375 degrees for 15 minutes, turning the pan half way through.
Top the bites with fresh thyme leaves (please DON'T use dried!)
Makes 24 pastry bites.
NOTE:  You may prep these a few hours in advance.  Keep them in the fridge until ready to bake.
Ready for the oven….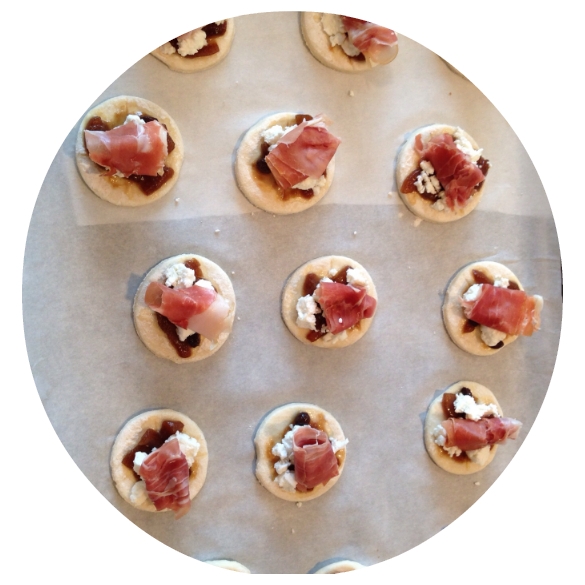 Here's an option… you can make your own Caramelized Onions
Ingredients
2 large white onions
1 T. olive oil
1 ½ T. organic natural sugar
½ c. water
¼ c. dried currants
1 T. balsamic vinegar
1 tsp. salt
2 tsp. soy sauce
Method
1.  Peel onions, slice in half.  2.  Slice each half into quarters lengthwise and then thinly slice.  Heat olive oil in nonstick pan over low heat.  3.  Add the onions and cook until softened (about 10 min.).  4.  Stir in sugar.  5.  Cover and cook about 10 more minutes, stirring occasionally, until onions are golden brown. 6.  Add ¼ c. water and cover and cook another 10 minutes.  7.  Add the currants, balsamic vinegar, salt, soy sauce, and ¼ c. water and cover and cook until most of the liquid is absorbed (approx. another 10 min.).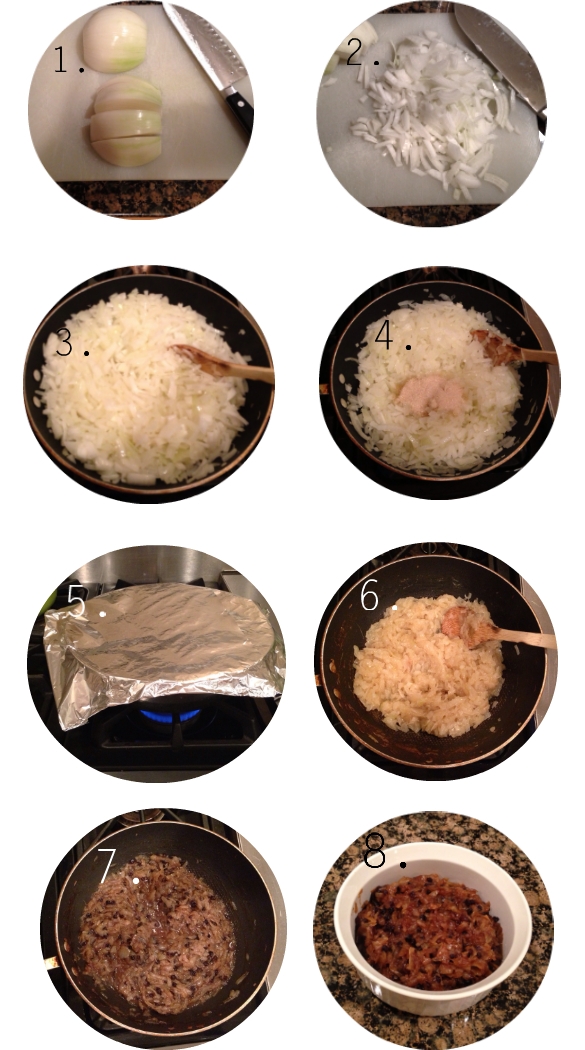 This recipe will make much more than you need for the pastry bites.  The caramelized onions will keep in your fridge for a couple of days.  I've read that you can also freeze them in ice cube trays and reheat what you need in a frying pan.  Or make grilled paninis with brie, cooked chicken and the caramelized onions on sourdough!  Yum!!  These onions are also great served with soft cheeses like Boursin or goat cheese with crackers.  Great if you need to bring an appie to two parties!