So this week's Friday Find is a tip for baking.  Berkeley, my 13 year old daughter, loves to bake, just as a did at her age!  She loves to spend her Saturdays in the kitchen whipping up treats that I shouldn't be eating!  Lately, it's been cupcakes.  And she makes really good ones completely from scratch!  In fact, she favors recipes from Martha Stewart!  It's a good thing!   Her aunt asked her if she could bake mini cupcakes for her cousin's Halloween party at school.  I don't know about you, but I get super frustrated making 12 little minis at a time, baking them, and then refilling the tiny tins again.  It takes FOREVER!  I say this tip online and Berkeley tested it out….drum roll please….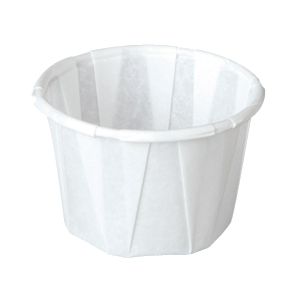 Use  Solo paper 2 oz. souffle cups!!!!  You can fill them with batter and put them on a cookie sheet!  You can bake like 50 at a time!!!  They peel off nicely for eating and the are a perfect size….a little bit bigger than a mini cupcake, but not as large as regular sized one.
I purchased the Solo cups in a pack of 200 at HY Louie, but you can also get them online (click here).  200 cups cost $4.69…that's so worth it!
Works like a charm…