After reading about Accessory Scout on one of my favourite blogs, A Piece of Toast, I couldn't wait to jump in on one of their Sunday night auctions! And, surely, i scored some brilliant pieces of their lucite accessories…at more than reasonable prices. Many of you have seen me sporting a wristful of these bangle beauties…LOVE THEM! And if not, i've probably been wearing one of their lucite chain necklaces….and one of you will be doing the happy dance to receive one of these kicking necklaces too! Read to the bottom to see how you can enter your name!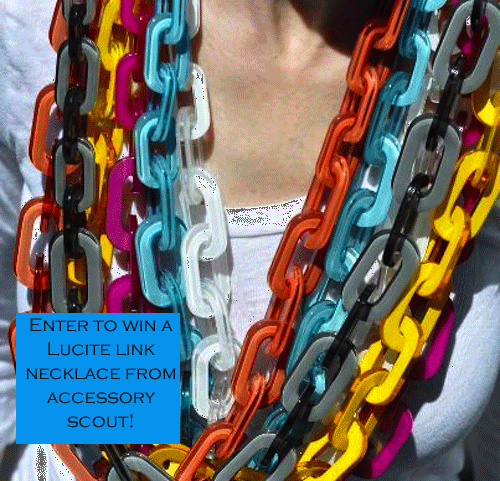 Meet Julie of Accessory Scout!
1. How did you get Accessory Scout started?
Combining 10 years of experience in retail sales with my love for all things fashion, I set out to create a business that would offer trendy fashion at affordable prices. The result is Accessory Scout, a business that sells women's accessories on fixed-price flash sales on Facebook on Sundays at 8 pm CST. Magazines and blogs always feature beautiful items, and it's easy to look fabulous and feel great wearing expensive luxury goods. I wanted to create that same look and feeling at prices that don't break the bank. At Accessory Scout, our goal is to feature fabulous pieces priced below $40.
Something else fun: Accessory Scout recently launched Scout This, a complementary, personalized styling service where customers can submit a photo of an outfit that needs accessorizing to scout@accessoryscout.com) , and we'll email photos of suggested items for the outfit and occasion.
It's Accessory Scout's mission to help you find an accessory that completes an outfit and lets you feel beautiful and confident to accomplish whatever it is you want to do!
2. We love the different textures, colours and finishes that Accessory Scout offers. Where do you search out/find your fabulous jewelry?
We scout out the trends in accessories – scarves, statement bangles, necklaces, handbags appearing in magazines, blogs, Instagram, markets, word of mouth referrals, and feedback from customers.
3. If you had to choose one go-to accessory for this summer what would it be?
Hands down it's the bangle! I've been wearing layered bangles for so long it doesn't feel right leaving without something on my wrist. For summer, I'm adding pops of bright color with Lucites and enamels to the metal bracelets I wear every day.
4. Where or from whom do you get your inspiration?
I lose track of time looking at street style images that are on social media – Twitter, Pinterest, blogs, and Tumbler. It's inspiring to see creativity instantly in a fluid space that encourages interaction with others. When I was growing up, I was mesmerized by fashion magazines. There was an emphasis on runway fashions and expensive head-to-toe looks. I still subscribe to magazines, but like that technology allows us to see fashion incorporated into a person's everyday life – even when the style portrayed is so different than my own.
5. In a nutshell, how do your Sunday night auctions work?
How to Shop Accessory Scout Auctions' Facebook Sales on Sundays at 8 pm CST
Like Accessory Scout Auctions on Facebook at https://www.facebook.com/AccessoryScout. To buy an item, all you have to do is comment "SOLD" on the photo of that item along with your PayPal e-mail address. You'll receive a PayPal invoice within 24 hours. Pay the invoice within 2 days and the item is shipped to you at no cost (within the US) and no tax, if you're outside of Texas. It's as simple as that. Add Accessory Scout to your Sunday night to-do list!
6. I'm out on a limb even mentioning the word FALL (summer is still not in full swing here in Vancouver!), but what do you see as upcoming trends for this fall?
I love color – so I'm excited to see burnt orange, vibrant pinks, mustard yellows, and jewel tones mixed with neutrals for fall! I think fall fabrics like tweed pair well with metal and leather accessories. I'm looking forward to mixing prints by adding a scarf with silky tops and blazers.
Thanks, Julie, for visiting with us…and for allowing us to spread the love with one of your lucite necklaces! The winner will get to choose from grey, white or orange.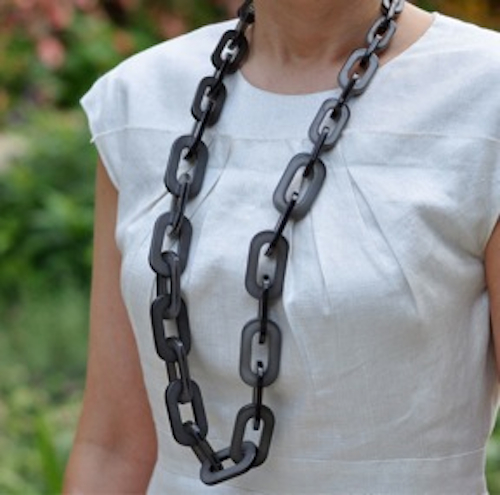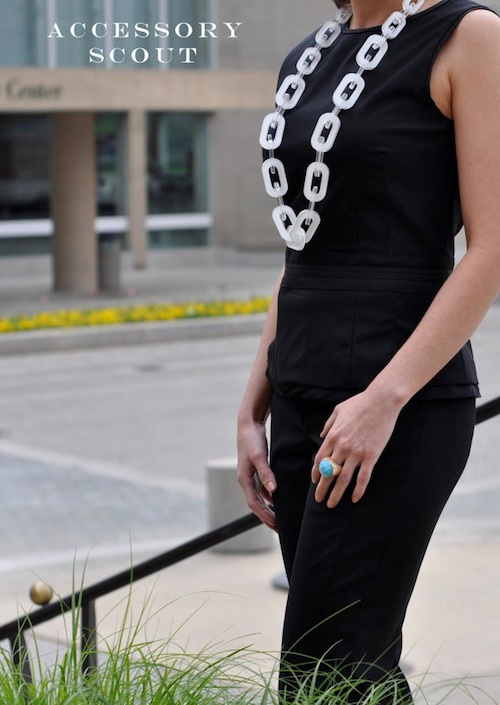 TO ENTER:
1. Visit Accessory Scout on Facebook and click on the "Like" tab.
2. Leave a comment below with your name and email, telling us which colour of Lucite necklace you would opt for (grey, white or orange) and what you'd pair it with!
Entries can be submitted until Tuesday, July 2, 2012 at 4:00pm PST
Someone's gonna be a lucky lady!!!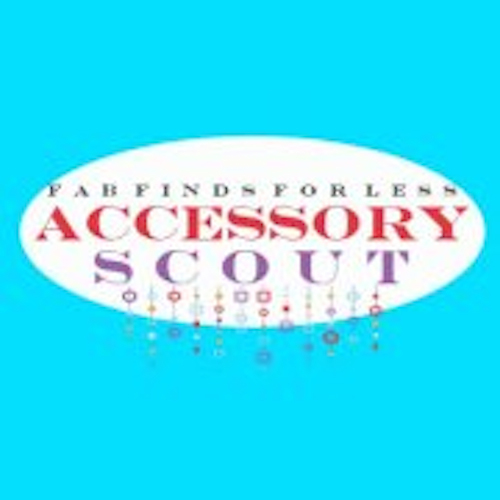 [No purchase necessary to enter this giveaway.. The winner will be contacted via email once we close the comments on July 2nd. The lucky winner will be announced on our post shortly thereafter!]