A foodie friend and i were having a conversation not long ago about…well, food of course..when she mentioned she had made some kick butt fish tacos. Well, i do believe my stomach started growling almost instantaneously and i knew fish tacos would be on the menu at my house in no time! What do i love about them? They're quick, simple and soooo fresh! The only negative? We did have to serve them Jessica Simpson style and present them as "Chicken of the Sea" to my son…who happily chowed down and asked for seconds.
Did i mention easy?? I used a recipe from the Food Network "Grilled Southern Fish Tacos with Cabbage Slaw". Click here for the link. Throw together buttermilk, jalapeño (i omitted this), smoked paprika, fresh lime juice, salt, and pepper in a ziploc bag and then add your fish fillets. I also added some garlic, coriander and cumin for extra flavour. The recipe calls for halibut, but i used Basa, which is a very mild, white fish. Let the fish marinate for 30 minutes. Either grill the fish on the barbie or, in the case of the pouring rain we had that evening, we grilled it in the oven for about 25 minutes.
The cabbage slaw was just as easy. Shred the cabbage and red onion with the food processor. Mix together sour cream, chipotle pepper, lime juice, honey, kosher salt and pepper together to make the yummy dressing. Add the dressing to the shredded cabbage and throw in some fresh cilantro to finish. What i love about this recipe is that it can be made up to 8 hours before serving! Give it time to let the flavours develop.
And tacos just aren't complete without guacamole. i am highly addicted to fresh guacamole..or shall i call it avocado salsa? i'm not into the mushed up stuff..i like to make it super chunky so you can see all the different ingredients! I throw together avocado, onion, tomatoes, cilantro, lime juice, cumin, salt and pepper. So fast but really so flavourful!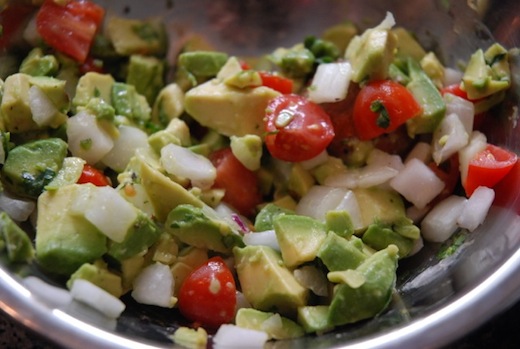 This dish is like a meal with its different components..and pretty healthy too. You can skip the cheese and sour cream with these tacos because there is so much flavour..you don't even miss the cheese (i can hear my hubby gasping as i type this…no cheese?? ok, i let him have some, but really, i prefer it without!!). It's a keeper..i'm def making this recipe again..and hopefully when i can share it with friends!
i almost felt like i was in mexico..well, except for the beach…and the ocean…and the sand…oh ya, and the sun. Seriously!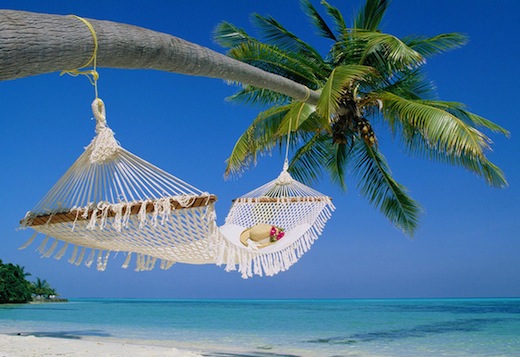 ps. my guilty conscious got the best of me, and after his first taco, i felt compelled to explain to Lincoln what "Chicken of the Sea" meant….for him it meant he was done dinner! He's not quick to admit that he loved them before he knew!!