If any of you are feeling the heat with kid's schedules, activities, and occasionaly (gasp) my own personal appointments and outings, then we could talk! Just call my cell phone, cuz i won't be at home..hehe! This stage of life has us Sisters looking for quick meals that can be packed up for our dancing girls, or eaten on the fly by our NHL aspiring sons. When i'm in a time crunch, i tend to pull out my arsenal of salads. Make them meal sized, colorful, filling and composed of something from each of the food groups..that's the goal here!
Here are our faves:
The combination of bocconcini cheese, chicken and roast peppers…along with the homemade croutons make this salad plain old yummy!
Steak, seasoned with paprika, garlic powder, cayenne pepper and other spices add a "kick" to this salad. I add feta cheese, instead of blue cheese…Delish!
3. BBQ Chicken Salad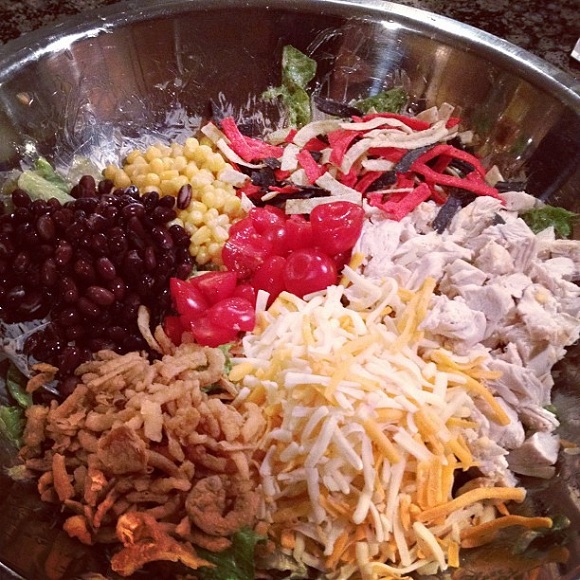 This is a definite favorite in our house….and can be thrown together in minutes! Add your favorite greens, rotisserie chicken pieces, avocado, grape tomatoes, shredded cheese, black beans, corn, tortilla strips and crispy onions. Toss with Kraft BBQ Ranch Dressing.
Add freshly chopped cilantro. * Tortilla Strips and Crispy Onions can be purchased already packaged in the produce section of Safeway…under the label, Gourmet Fresh)
4. Grilled Chicken Salad
Combine 1 homemade and 1 storebought dressing for bold flavor.
Mix your greens and chicken (if you're loving the rotisserie chicken, it's a no brainer!) and toss with the lime vinaigrette as below. Top with tortilla strips, cilantro and peanut satay drizzle..store bought versions available in the asian foods aisle.
Lime Vinaigrette: We use the Best of Bridge's recipe from "A Year of the Best"
1/4 cup freshly squeezed lime juice
1 tbsp liquid honey
1/4 tsp crushed red pepper flakes
1/4 tsp dry mustard
1/4 cup sugar
1/2 cup vegetable oil
Salt and Freshly ground pepper
Pour lime juice and honey in blender and add pepper flakes, dry mustard and sugar. Whirl. Slowly pour in oil and whirl until thoroughly blended. Add salt and pepper to taste. Set aside in refrigerator until ready to use.
5. Warm goat cheese salad with grilled olive bread
While this salad may take a little longer, it is so-o-o worth it…just make sure you have enough goat's cheese! I have to tell everyone in advance how many cheese rounds they can each have, or it'll get physical! To speed up the process, prepare the goat cheese rounds early in the day…the dressing can also be made the day ahead. To round out the meal, i top with grilled chicked breasts. Serious yum factor!
I'm thinking you can tell that we love feta by now! But, honestly, this is a standout recipe!  Make it a meal by adding your favorite protein..we opt for grilled chicken/turkey breasts on top.
6 great salads that will satisfy even the men..whipped up in short order. Not bad, hey?