As my daughters enter the "tween" world, and begin the lifelong regime of womanhood…you know…washing, moisturing, exfoliating, grooming, tweezing, plucking (if you're a man, you've probably tuned out by now!), i have been thinking more and more about providing them with some natural choices. I'm by no means a "green" type person… i wish i were, and i have many green friends, so really, it may just be rubbing off on me little by little! Harsh chemicals are something that i don't want my girls, or me for that matter, slathering on my face….which got me to thinking…and, consequently, researching!!
So…this weekend, we did a little experimenting. And i have to say, i surprised myself!
Here are some of the delightful finds we came across and experimented with:
NATURAL EXFOLIATOR/FACIAL -Skinsational Honey-Almond-Lime Exfoliator (found on Lauren Conrad's website).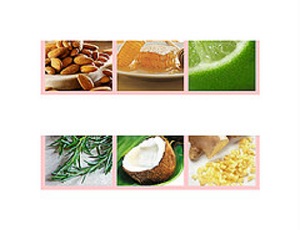 3 tbsp. of honey
•2 tbsp. of ground almond
• 1/2 lime (squeezed for juice)
Steps
1. Mix the honey and ground almond, squeezing in 1/2 a lime as you mix. This mix will keep in fridge for 3-5 days
2. Rub gently on your face…then rinse and pat dry.
Why these ingredients? Well the ground almonds provide the abrasive properties, as well as containing Vit A & E and iron. Honey has been used as a natural cure for wounds, burns and cuts as it is able to absorb moisture from the air and promote healing. Its antibacterial properties prevent infection and functions as an anti-inflammatory agent, reducing both swelling and pain, and even scarring. The Lime functions as an antioxidant. Need i say more? My skin is calling out to these!
Best of all? It took less than 5 minutes to make! My girls and i all tried it and the verdict was unanimous: we loved the smell, as well as the fresh feel of our skin afterwards. This scrub can be used as a full body scrub as well. The remainder is now sitting in my girl's bathroom…and there's an argument as to who it belongs to!
HANDMADE LOTION
Another fabulous website i came across was A Sonoma Garden The natural approach to many of the items we don't even consider is refreshing…as well as super economical! We started by whipping up a batch of her Homemade Hand Lotion I can honestly say I've never EVER made a lotion from scratch, but this may just be the start of something new! With the help of a local soap-making supply business, whom i discovered just this weekend, i was able to find everything on my list and more! The call for Emuslifying Wax threw me a little off, but once i discovered Tanna of Suds'n Scents, i was in business! She also offered a myriad of different essential oils. My love for Thailand took over and i honed in on the Lemongrass oil. I LOVE this fragrance!
WHIPPED SHEA BUTTER
Once my lotion was made, i got a little alchemy crazy and decided to try the whipped shea butter recipe i found as well! For dry, chapped skin, nothing beats shea butter! The recipe was also on A Sonoma Garden. Check out her recipe…i followed it exactly!
So, you ask? Will i be ditching my delicious visits to Sephora, Bath and Body Works and Ulta? Honestly, no! There are too many prettily packaged bottles of this and that!! But….i WILL continue to make the exfoliating scrub and lotions for my girls and me. I do truly want them using products that are fresh and chemical free. And now that i've made the batches of lotion, they're good to go for up to 6 months. The lemongrass hand lotion might just become a favorite gift to give. Find a pretty container to package it in and you're set!
Have fun experimenting with ingredients already in your home! My girls and i decided to make a face mask tonight.. we blended:
~half an avocado (contains Vitamins A & E)
~half an over-ripe banana (good for acne prone skin)
~ 1 tbsp chopped cucumber (a natural toner)
~ 1 tbsp yoghurt (hydrates skin)
~ 1 tbsp olive oil (antioxidant)
We slathered it over our faces and let it sit for about 20 minutes (we were warned it might itch a bit, and indeed, it did…it was like we could feel it cleaning out our skin!) Rinsed and then patted with a cool cloth to close the pores. The purpose was to bring impurities to the surface, which it did almost immediately. Crazy! We're going to keep experimenting with items in our kitchen! Strawberries are next (they contain alpha-hydroxy acid which clears up acne)
Where are the pics of me with my face covered in green goop? A girl has her limits, call me vain!!!
Now that we've covered some natural homemade skin remedies, we're hunting for household rememdies that will make the everyday, just a little easier! Watch for a blog post coming SOON!