Laurel and I already posted our Valentine's dinners that we prepared for our hubbies, so today will be a bit lower key for both of us.  Truth to be told, we will be running the kids from dance competition to dance class, rushing home to make the boys and our hubbies dinner, and then back to dance!   Good thing we celebrated early!
If you are short on time today, there are still ways that you can show your love to your hubby, your boyfriend, your kids, your girlfriends, and anyone else in your life that you value and appreciate!  Valentines is not just a romantic holiday!
Recently, I went to David's Tea to buy the "Organic Skinny" tea that I've been drinking in my quest to slim down a bit!  They were promoting their "Organic Hot Lips" tea and I politely said, "No thanks!"  But the clerk opened the lid and once I smelled it, I had to give it a try.  If you like cinnamon, you'll love this tea!  This green tea also has peppercorns and chili pepper.  I love it!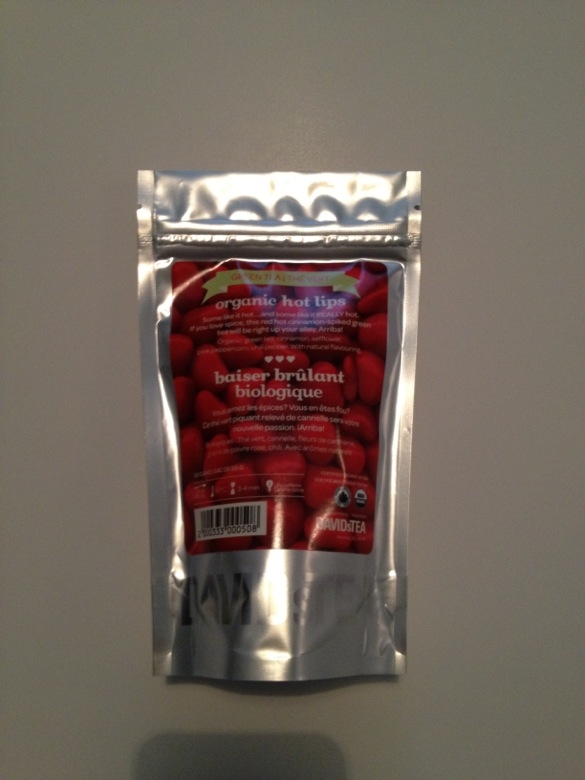 Last week a friend brought me a bag of loose leaf Rooibos Vanilla tea to try. What a treat!  Tea makes a great gift!
Don't have time to go shopping?  You can send  your love and appreciation with a Starbucks E-Card  You can chose your own design and amount and it will show up in their inbox!  Love it!  I would pick the heart design.  It's the same adorable one that's on their cups right now.

Another great idea that kids LOVE is an iTunes card. I know that my kids love to be able to buy their newest favourite song or save up to buy a movie.  You can buy iTunes cards almost anywhere, but you can also purchase gift certificates online and email them to the recipient.
Valentine's Day really isn't about the gifts….it's just letting the people that matter most to you know that they are loved and appreciated.  Pack your kids a treat in their lunch, bring your friend a coffee, or show up and take your hubby for lunch….these things are small but make the other person feel special!