Since coming home from Hawaii, Laurel and I and our hubbies have been trying to get healthier and shed our Christmas layer with Herbalife.  The plan allows for a "reasonable" dinner consisting of a palm-sized portion of lean protein, about two cups of colourful veggies and about 1 cup of a whole grain…quinoa was suggested as a good option.  I had used quinoa a bit before, but I've looked into it more and have tried using it in different ways.  The great thing about quinoa is that is acts a bit like a chameleon…it's great at taking on flavours and can be used for sweet or savory.
Quinoa is known to be an "ancient grain" or a "superfood".  Quinoa is high in protein, it's gluten-free, it's high in fibre and vitamins and contains all 8 essential amino acids.  For more information on the nutritional value of quinoa, go to http://www.quinoa365.com/whyquinoa.html
Most recipes call for cooked quinoa.  Follow the package instructions, but usually you need to rinse the quinoa first, then add two parts water to one part quinoa in a pot, cover, bring to a boil, then simmer covered for about 15 min.  Fluff with a forks and you are good to go.
Here are some of our fave quinoa recipes and here's to getting healthier while eating great tasting food!
1.  Almond- Cranberry Quinoa Cookies http://www.bonappetit.com/recipes/2012/01/almond-cranberry-quinoa-cookies
I made these yesterday and they were REALLY good.  Had to say that my expectations were not too high and I was pleasantly surprised.  My daughter, Dylan, loved them too which is a bonus.  She doesn't love eating meat and these cookies have protein in them!
A couple of notes for the recipe…I baked them at 350 degrees and not 375.  I also baked them for 5 minutes, turned the pan, and then let them bake another 5 minutes.  I prefer a chewier cookie.  Also, when you form them on the pan, you need to pat them down like this….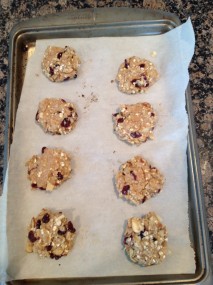 or they will end up being quinoa balls, like my first attempt!  Epic fail!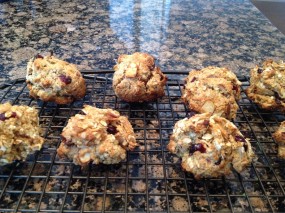 Vicki saw our tweet about this recipe.  She made them with dried cherries and loved them.  Great idea!
2.  Quinoa Tabouli – this is a light, fresh tasting side to most any dinner
TABOULI from http://www.quinoa.net/181.html

2 cups quinoa, cooked                                   1/2 tsp basil
1 cup chopped parsley                                   1/2 cup lemon juice
1/2 cup chopped scallions                               1/4 cup olive oil
2 TBL fresh mint or 1 TBL dried mint           salt and pepper to taste
1 garlic clove, pressed                                 lettuce leaves, whole
1/4 cup olives, sliced
Place all ingredients except lettuce and olives in a mixing bowl and toss together lightly. Chill for 1 hour or more to allow flavors to blend. Wash and dry lettuce leaves and use them to line a salad bowl. Add tabooli and garnish with olives. Serves 4
3.  The first time I ever had quinoa was when my friend, Andrea, made this salad.  I'm not sure of the exact recipe that she used, but here's one that I've found that is very good.   http://www.epicurious.com/recipes/member/views/COPYCAT-EARLS-WEST-COAST-PRAWN-SALAD-WITH-CITRUS-HONEY-VINAIGRETTE-50072117
This salad is REALLY good!  And if you don't want to make it, you can order it at Earl's, however, it is only available seasonally (spring/summer).
4.  Quinoa Greek Salad – ok, this is an easy one!!  Mix cooked quinoa with diced up cucumbers, grape tomatoes, cut up bell peppers, olives, crumble in a bit of feta and add your favorite Greek dressing!  So good!  Thanks to our reader Candice for the tip!
Here's what our readers had to say about quinoa…
Libby said, "One of my favorite things to add to quinoa is edamame, and a greek quinoa salad is always good!"~adding edamame increases the protein…great idea!
Rachel added, "This one is delicious: http://www.justataste.com/2011/07/quinoa-with-corn-and-scallions/ "~this sounds soooo good…love that the dressing has some sweet and sour to balance the flavours!
Kathie said, "This tasted excellent. Next time I am going to add some asian spice, soya sauce and bean sprouts for a different take! http://allrecipes.com/recipe/shrimp-quinoa/detail.aspx "~great idea to cook the quinoa in chicken broth to add even more flavour!