Pam and I have become fans of what we call "organic modern"… clean, simple and contemporary, but with the hard edge knocked off. Modern taken to an extreme length can sometimes come off looking sterile and cold. We love to inject the "organic" vibe into it.. the warmth, some color and some natural materials that we are surrounded with here on the West Coast.
So here was our take on organic modern flowers for our Blog Launch Party. The other idea we wanted to demonstrate was that there is an abundance of supplies that can be used for free. Start looking around your yard, and you'll be surprised at what can be picked, snipped and and trimmed. Bonus!
The elements: Grasses, Moss, Quince, Birch, Roses and Kermit Mums
GRASSES ~ For a striking base, we made a grass runner by weaving the blades together!
 We had a friend help us make the centerpiece for our food table…no flowers, just grass. You won't get a much more budget friendly option out there!
QUINCE ~ A friend had scads of these little fruits from a tree in her backyard. I personally had never heard of quince before, and thinking that many others would also be stumped by this little gem, we considered briefly calling them Sugarplums… alas, truth prevailed but wow, did we have fun using them here, there and everywhere!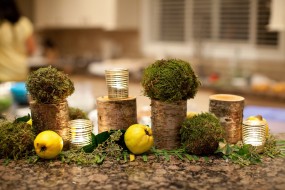 MOSS ~ with the bribe of Lego, I had a little friend of mine collect a huge garbage bag of moss! Thank you Justin! We used the moss to make decorative spheres, as well as a base for our floating arrangement.
 The floating arrangement in Pam's bathtub
We also made some unique box arrangments…simple to assemble
A current fave of ours is the use of birch, with its light color and earthy texture.
Love the color of kermit mums…the green is so fresh and "alive"…
Using an oasis ball, the kermit mums were cut short and poked in..easy!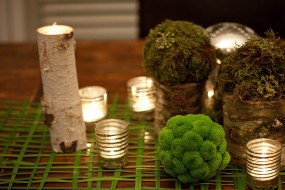 Looking for a unique way to display candles, we opted to cut some birch into 6 inch heights. Pam's husband, Jason, drilled out the top so we could place votives in. This was one of my favorites…in fact, I have some on my mantle right now as part of my Christmas decor.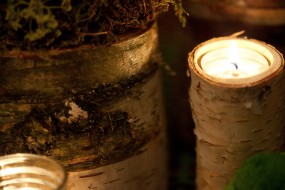 We had a ton of fun making these arrangements and could not have done it without our friend, Denise…as well as our phantom "florist", a friend who prefers sticking behind the scenes!
Pictures courtesty of Pinball Photography as well as me:)