Easter Brunch Egg and Chicken Sausage Bake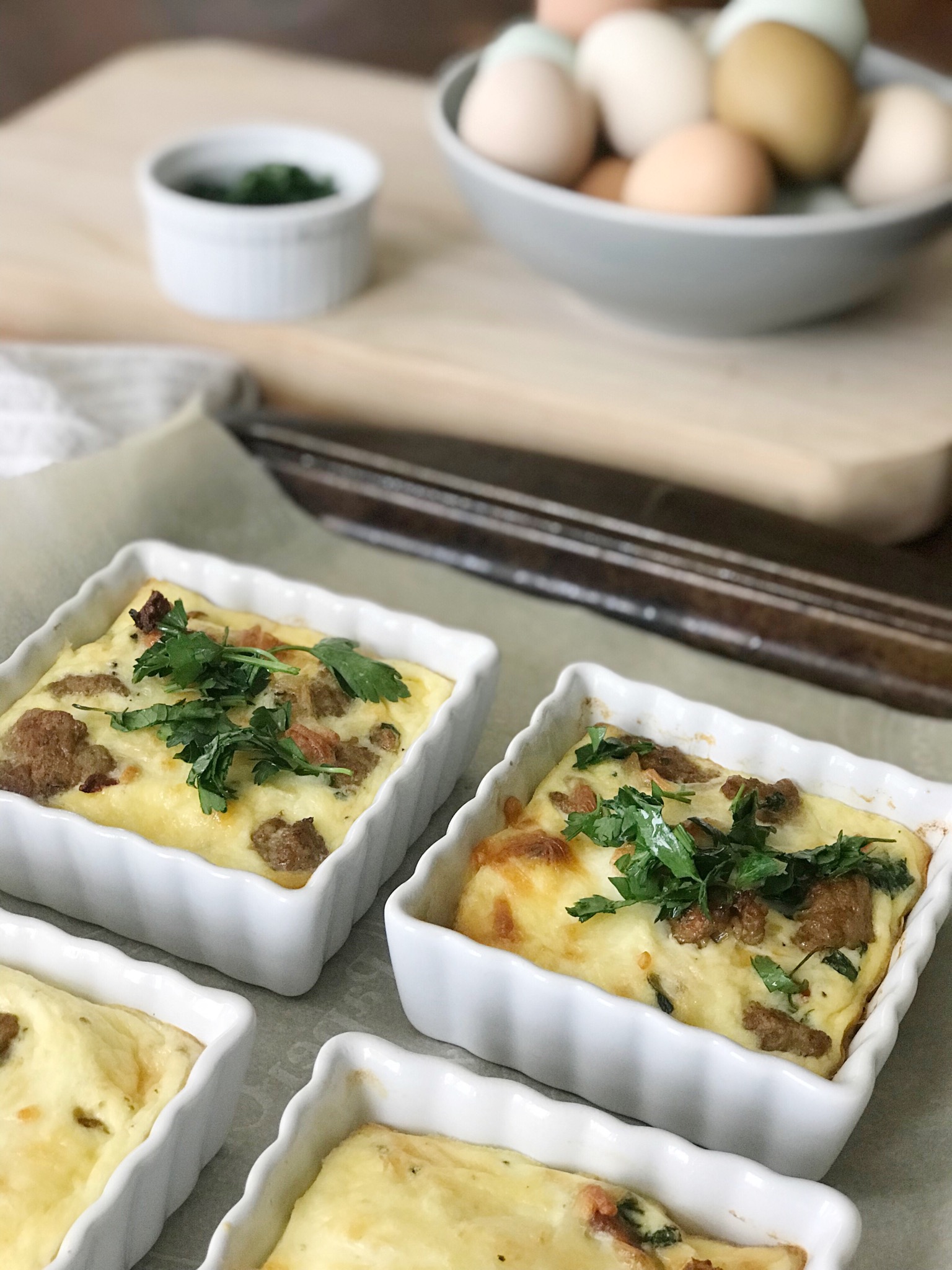 2 - 300 gram packages Rossdown Farms Organic Chicken Sausage, Mild Italian, casings removed
1 large red bell pepper, diced
2 large shallots chopped
2 garlic cloves, minced
4 Tablespoons chopped fresh Italian parsley
2-3 teaspoons olive oil
5 large eggs
3 large egg yolks
1 cup half and half
1 cup whipping cream
2 cups grated Italian 4 cheese mix
½ teaspoon salt
½ teaspoon pepper
Preheat oven to 350 degrees F.
Spray 8-10 ramekins (depending on size), or a 9 x 13 glass baking dish with olive oil spray.
Saute red pepper in 1 teaspoon olive oil until soft, about 5 minutes. Set aside.
Remove sausage from casings.
Saute sausage in 1-2 teaspoons olive oil in nonstick pan, breaking up into small pieces as it cooks, about 10 minutes.
Add shallots and garlic and saute 3 minutes.
Add red peppers and 2 Tablespoons Italian parsley and stir 1 minute.
Divide sausage mixture between ramekins or spread in glass baking dish. This can be done the day ahead. Cover and refrigerate.
Whisk together eggs, egg yolks, half and half, whipping cream, cheese, salt and pepper in a large bowl and mix well.
Ladle egg mixture over sausage mixture, ensuring the cheese is evenly divided.
If using ramekins, place them on baking sheet.
Bake until tops are golden brown and knife inserted into the centre comes out clean, about 20-25 minutes for ramekins and about 35 minutes for 9 x 13.
Let stand 5 minutes before serving.
Top with remaining chopped Italian parsley.
Recipe by
Sugar Plum Sisters
at https://sugarplumsisters.com/2018/03/easter-brunch-egg-and-chicken-sausage-bake/