Chickpea Cookie Dough Balls (Vegan)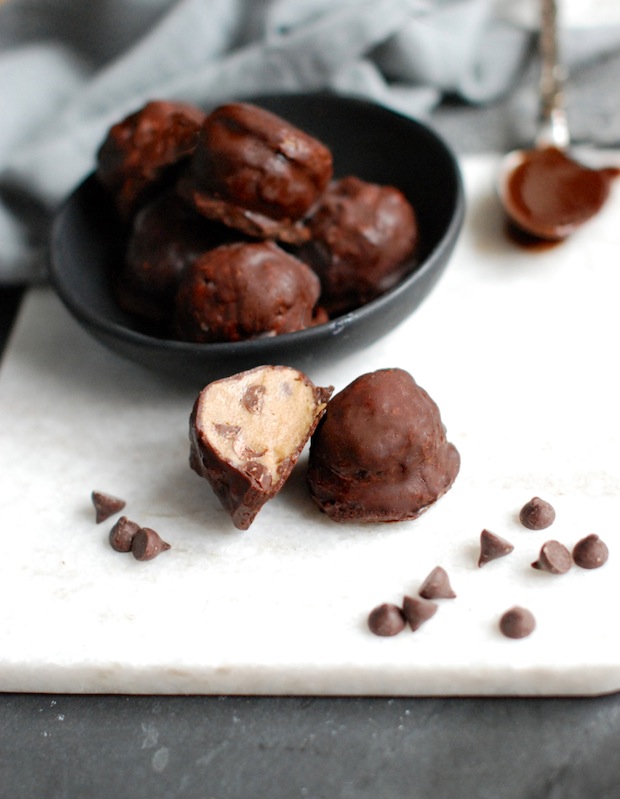 2 c. cooked (or canned) chickpeas
¼ c. flour (I used Cloud Nine Gluten Free Mix)
¼ c. almond butter
⅓ c. maple syrup (or honey if not vegan)
1 tsp cinnamon
1½ tsp vanilla
½ tsp + pinch sea salt
½ c. chocolate chips (I use Life Brand's vegan mini chips)
½ c. coconut oil
½ c. cacao powder
¼ c. maple syrup
½ tsp salt
Combine all dough ingredients, minus the chocolate chips, in a food processor and pulse until silky smooth. Transfer mixture to a bowl and stir in the chocolate chips. Set in the fridge to firm up.
In a double broiler on the stove, heat your coconut oil and then add cacao powder, maple syrup and salt. Stir until completely incorporated. Remove from heat and set aside to chill a bit.
Remove dough bowl from fridge and, using an ice cream scooper (any size you wish), create dough balls. Place these on a parchment lined plate or cookie sheet and place in freezer for about 20 minutes to firm up some more. This will make them easier to roll into perfect spheres.
Once nice and firm, remove dough balls from freezer, roll into balls with your hands and dip into chocolate. Repeat this step to create a thicker chocolate shell…and if you want to get really crazy, you could roll freshly dipped balls in coconut, chopped nuts, or more mini chocolate chips.
Recipe by
Sugar Plum Sisters
at https://sugarplumsisters.com/2016/02/healthy-cookie-dough-balls/