Tomato and Basil Crostini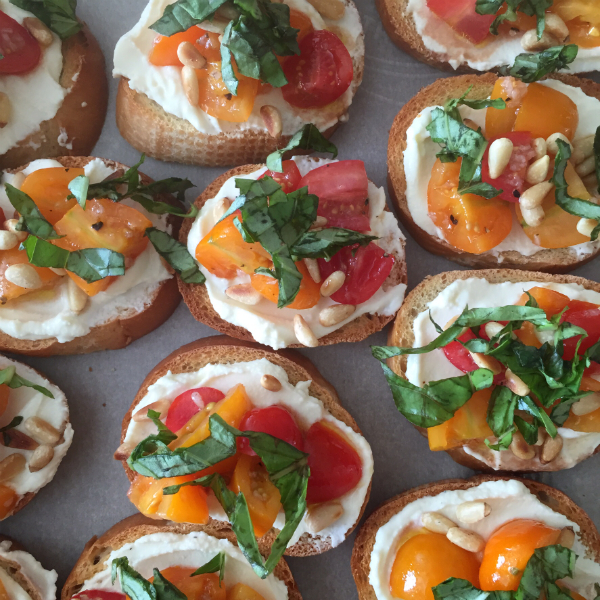 Author:
adapted from Ina Garten
1-2 fresh baguettes
3 Tablespoons olive oil
6 ounces feta, crumbled
2 ounces spreadable cream cheese
⅔ cup good olive oil, divided
2 Tablespoons freshly squeezed lemon juice
Kosher salt and freshly ground black pepper
2 teaspoons minced garlic (2 large cloves)
2 Tablespoons red wine vinegar
2 pounds ripe heirloom tomatoes or multicolored cherry tomatoes
3 Tablespoons toasted pine nuts
3 Tablespoons finely julienned fresh basil leaves
Preheat oven to 425 degrees.
Slice up the baguette and brush with olive oil. Place on a cookie sheet or two.
Bake for 6-8 minutes, until lightly browned. Set aside.
Toast pine nuts over medium heat in small pan on stove. Watch closely as they will only take a few minutes to brown.
For the whipped feta, place the feta and cream cheese in the bowl of a food processor fitted with the steel blade or a Magic Bullet.
Pulse until the cheeses are mixed.
Add ⅓ cup of the olive oil, the lemon juice, ½ teaspoon salt, and ¼ teaspoon pepper and process until smooth.
For the tomatoes, up to an hour before serving, combine the garlic and vinegar in a medium bowl.
Whisk in the remaining ⅓ cup olive oil, 1 teaspoon salt, and ½ teaspoon pepper.
Cut up tomatoes into ½ inch dice.
Add the tomatoes, stir gently, and set aside for 10 minutes (or for longer, put in the fridge covered).
To assemble the crostini, spread each slice of bread with a good amount of whipped feta.
With a slotted spoon, place the tomatoes on top.
Put the crostini on a platter and scatter with the pine nuts. Sprinkle with the basil and serve.
Recipe by
Sugar Plum Sisters
at https://sugarplumsisters.com/2015/08/tomato-and-basil-crostini/