Israeli Salad with Grilled Halloom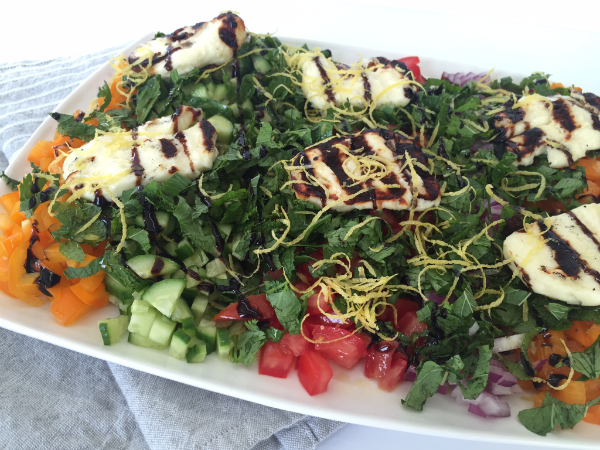 Author:
Adapted from Feasting at Home
2 large tomatoes
2 large orange peppers
3 mini cucumbers
½ red onion
¼ cup fresh cilantro
¼ cup fresh mint
4 Tablespoons olive oil
Lemon (juice and zest)
2 Tablespoons rice vinegar
Salt and pepper
250g halloom or halloumi cheese
olive oil
balsamic glaze
Heat barbecue to medium low heat
Chop tomatoes, peppers, cucumbers and onions into a very fine dice. The smaller the better.
Place in lines on a deep platter.
Chop up fresh herbs and top veggies with them.
Zest the lemon and set aside.
Juice the lemon and combine with olive oil and rice vinegar and season with salt and pepper to taste.
Cut cheese into ⅓ inch slices.
Brush each side of the cheese with olive oil.
Place cheese on the barbecue and turn after grill marks develop, about 2 minutes on each side.
Pour dressing on salad. Top with grilled cheese and garnish with lemon zest.
You can further garnish with a drizzle of balsamic glaze.
Recipe by
Sugar Plum Sisters
at https://sugarplumsisters.com/2015/07/israeli-salad-with-grilled-halloom/