Turkey Burgers with Grilled Pineapple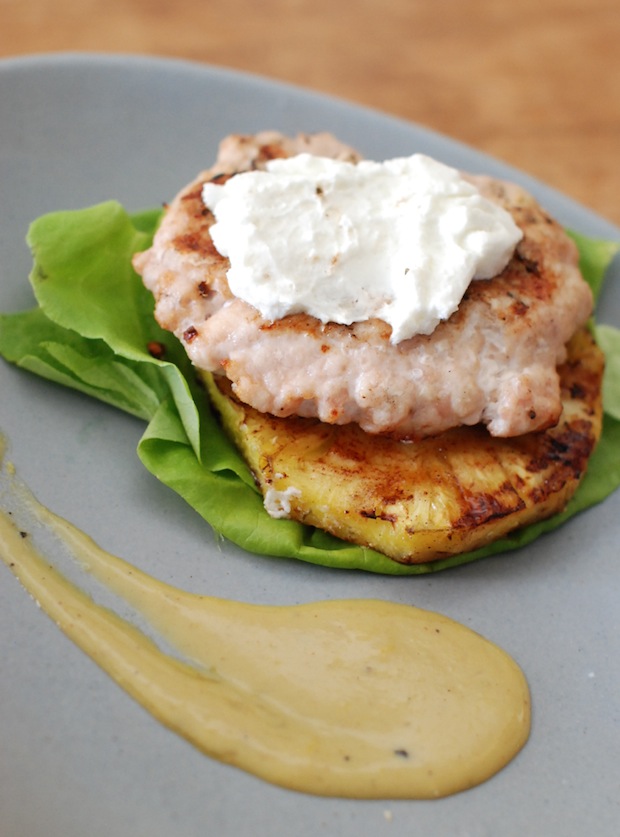 Author:
adapted from Bobby Flay and SkinnyTaste
¼ cup Dijon mustard
1 heaping tablespoon clover honey
½ teaspoon lemon zest
2 teaspoon fresh lemon juice
Salt and freshly ground black pepper
1½ pounds lean, freshly ground turkey, chilled
Salt and freshly ground black pepper
½ cup crumbled goat cheese and 8 slices goat cheese, sliced ½-inch thick
4 sesame seed hamburger buns, split and lightly grilled, optional
Butter lettuce, for serving
2 tbsp honey
1 tsp olive oil
1 tbsp fresh lime juice
1 tsp ground cinnamon
1 ripe pineapple, cut into half inch slices
Whisk together in a small bowl the mustard, honey, lemon zest, lemon juice and season with salt and pepper. Cover and refrigerate for at least 30 minutes and up to 24 hours to allow the flavors to meld.
Preheat the grill to high. Mix in ½ cup goat cheese with ground turkey and form into four 6-ounce burgers. If you are not going to cook right away, keep the burgers cold in the refrigerator.
Sprinkle the burgers on both sides with salt and pepper.
Grill until cooked through, 3 to 4 minutes on each side.
During the last minutes of cooking, add 2 slices of cheese to each burger, cover the grill and let the cheese soften slightly, about 1 minute.
In a small bowl, combine the honey, olive oil, lime juice, and cinnamon and whisk to blend. Set aside.
Lightly coat the warmed grill rack with cooking spray.
Lightly brush the pineapple with the marinade. Grill, turning once and basting once or twice with the remaining marinade, until tender and golden, about 3-5 minutes on each side.
Layer butter lettuce, pineapple, lemon mustard sauce and burger. Serve extra mustard on the side.
Recipe by
Sugar Plum Sisters
at https://sugarplumsisters.com/2015/07/turkey-burgers-with-grilled-pineapple/