Roasted Butternut Squash and Cranberry Salad with Feta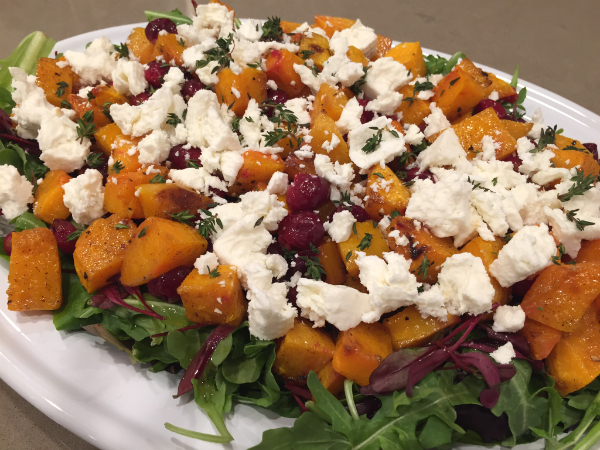 1 large butternut squash, peeled and cubed
2 Tablespoons olive oil
sea salt
freshly ground pepper
2 cups fresh cranberries
3 Tablespoons honey
cinnamon
2 Tablespoons apple cider vinegar
¼ cup olive oil
1 Tablespoons agave
sea salt
freshly ground pepper
4 cups of spring greens
1 cup micro greens
½ cup crumbled feta
fresh thyme
Pre-heat oven to 400 degrees F.
Put cubed squash on parchment lined baking sheet and drizzle with olive oil.
Sprinkle with a light layer of sea salt, freshly ground pepper and cinnamon. Toss together.
Roast for 20-25 minutes on the center rack.
While the butternut squash is roasting, blend apple cider vinegar, olive oil, agave and salt and pepper to taste for the vinaigrette.
At the 20-25 minute mark, pull out the oven rack, and add your fresh cranberries to the roasting pan.
Return to the oven for 10-15 minutes or until the cranberries have started to soften and burst a bit.
Remove from oven and add 3 Tablespoons honey. Toss together.
Put greens on a large platter and dress with the vinaigrette.
Top with roasted butternut squash and cranberries and crumbled feta.
Garnish with fresh thyme leaves.
Recipe by
Sugar Plum Sisters
at https://sugarplumsisters.com/2014/12/butternut-squash-cranberry-and-feta-salad/